How do I know if my Rx – Prescription is Covered?
If the drugs are generic, they should all be covered, right?
The way to check if a drug is covered under your  to go to each insurance companies web page on this website or this page for Covered CA!!!,  (note Covered CA controls and sets standards for both Covered CA and Direct – off Exchange)   after getting a FREE quote and subsidy calculation and find the formulary.  
If the formularies are not on that page, email us and we will add it.
Health Insurance Company
Formulary
Customer Service
Anthem Blue Cross of California
Formulary
(855) 634-3381
Blue Shield of California
Formulary
(855) 836-9705
Chinese Community Health Plan
Formulary
(888) 775-7888
Health Net
Formulary
(888) 926-5133
Kaiser Permanente
Formulary
(800) 464-4000
L.A. Care Health Plan
Formulary
(855) 270-2327
Molina Healthcare
Formulary
(888) 858-2150
Oscar Health Plan of California
Formulary
(855) OSCAR-55
Ext. 2
Sharp Health Plan
Formulary
(800) 359-2002
Valley Health Plan
Formulary
(888) 421-8444
Western Health Advantage
Formulary
(888) 563-2250 Covered CA
Here's how to check Blue Cross Formulary list.
Go to the Blue Cross formulary.  I will grant, it's complex, mainly as it's for members, not shoppers. I believe it's the Select list – I got an email yesterday clarifying that on group plans…
This is one reason not to wait till the last minute to shop plans. Especially, when dealing with an unexpected extension of Open Enrollment. If one were to pick a plan at the beginning of Open Enrollment or special enrollment, they have 30 days FREE look, could cancel and still have time to pick a NEW plan!
So, just list each Rx in the search box, unfortunately Exemstane doesn't show up. Here's a pdf of the select RX list. One must be VERY careful with spelling!!! I googled and the correct spelling is exemestane. That is covered as tier 4.
So, go back and check out the FREE quote, click on details, compare up to three plans and see what the co pay is for tier 4 and in this case Silver 87. Thus 15% co insurance after the $50 deductible.
I will grant you that this is a LOT of work. More than I as an agent can do for a client, given the cut rate, near minimum wage commissions under Health Care Reform. That's why we use this website so much, to give information without spending hours on the phone.
Blue Shield Formulary Search pdf
How to request a formulary exception
We will use the Blue Shield Gold plan as an example.
Formulary Page
Search all Rx
1 page pdf on how to access Rx
In this case, Symbicourt is non-formulary and requires an exception based on Medical Necessity and maybe a review of the UM Utilization Management guidelines.
How does one request an exception?
Let's take a look at the Gold Plan Evidence of Coverage.
Check out page 23 where there is an explanation of the Outpatient Prescription Drug Benefit  It says one needs prior authorization
Some drugs, most Specialty Drugs, and  prescriptions for Drugs exceeding specific quantity limits require prior authorization by Blue Shield for Medical Necessity, as described in the Prior Authorization/Exception Request Process section. The Member or his/her Physician or Health Care Provider may request prior authorization from Blue Shield.
How to get prior authorization is on page 27
The Member, his/her Physician or Health Care Provider may request prior authorization by submitting supporting information
For formulary exceptions, the prescriber's supporting statement must indicate that the non-formulary drug is necessary for treating an enrollee's condition because all covered  drugs on any tier would not be as effective or would have adverse effects, the number of doses under a dose restriction has been or is likely to be less effective, or the alternative(s) listed on the formulary or required to be used in accordance with step therapy has(have) been or is(are) likely to be less effective or have adverse effects. CMS.gov
to Blue Shield.  Once all required supporting information is  received, Blue Shield will provide prior authorization approval or denial, based upon Medical Necessity, within two business days.  Coverage requests for Non-Formulary Drugs in standard or normal circumstances will have a determination provided within two business days or 72 hours, whichever is earlier; the same requests in exigent circumstances will have a determination provided within 24 hours.
Contacting Blue Shield page 79   Customer Service toll free at 1-800-200-3242
If we are your appointed agent, no charge, we can help you do this, if you send us the supporting documents.
I could not find how to check medications I am on, are covered under the Plan or not.
My generic medications:
Exemstane 25mg,  Sertaline 50 mg  Amlodipine 5 mg  Lansoprazole 30 mg
What if my Rx are not on the formulary, how can I get an exception?
Nexium-Dosage-20/22 MG-She must be on it because of her acid reflux and throat lining issue
Symbiacort-80/4.5-Must have for daily use in order to prevent breathing distress.
Oxcarbazepine-150 MG Tablet.-My daughter must be on this medication. Her Doctor said that is no replacement brand for this. Her Dr. said she MUST be on this exact prescription
Holistic alternative for erectile dysfunction to Viagra?
Definition of Status of Rx in Formulary List
Status
Definition
Tier 1
Most generic drugs and low-cost, preferred brand drugs
Tier 2
Non-preferred generic drugs, preferred brand drugs, or drugs recommended by Blue Shield's Pharmacy and Therapeutics (P&T) Committee based on drug safety, efficacy, and cost
Tier 3
Non-preferred brand drugs, drugs recommended by Blue Shield's P&T Committee based on safety, efficacy, and cost, or drugs that generally have a preferred and often less costly therapeutic alternative at a lower tier
Tier 4
Drugs that are required by the Food and Drug Administration (FDA) or drug manufacturer to be distributed by specialty pharmacies, drugs that require training or clinical monitoring for self administration, drugs manufactured using biotechnology, or drugs with a plan cost (net of rebates) greater than $600
Non-formulary
Non-formulary

Drugs not listed that meet the Tier 4 description require a formulary exception based on medical necessity to be covered at the Tier 4 share of cost. All other drugs not listed require a formulary exception based on medical necessity for coverage at Tier 3.
Definition of Restrictions
Restriction
Definition
Age Restriction
Prior authorization may be required if your age does not fall within the FDA, manufacturer, or treatment guideline recommendations.
Contraceptive drugs and devices
Contraceptive drugs and devices covered at no charge.

 

Contraceptive drugs and devices
Contraceptive drugs and devices may be covered at no charge with prior authorization.
Gender Limit – Female Only
Coverage is restricted to females.

Prior authorization may be required if the FDA, manufacturer, or treatment guidelines do not recommend the drug for a gender.

Gender Limit – Male Only
Coverage is restricted to males.

Prior authorization may be required if the FDA, manufacturer, or treatment guidelines do not recommend the drug for a gender.

Limited Access
Limited Access/Distribution

Only available through select pharmacies that are designated by the manufacturer.

Limits/Notes
Coverage

 

restrictions

 

or

 

limits

 

for

 

drugs.
Prior Authorization
Prior

 

authorization

 

is

 

required

 

to

 

determine coverage

Quantity Limit
The prescription quantity covered is limited. Prior authorization is required for greater than the limit.
Retail & Mail Pharmacy Access
Tier 4 drugs available at retail and mail order pharmacy.
Short Cycle Drug
Short Cycle DrugInitial prescriptions for select Specialty Drugs can be dispensed for a 15 day trial supply. The applicable Copayment or Coinsurance will be pro-rated.
Specialty Pharmacy
Must be obtained through a network specialty pharmacy.
Step Therapy
Coverage is

 

determined

 

based

 

on

 

use

 

of

 

other

 

first-line

 

therapies/drugs. Copied from BS Website
Steve Shorr
Website Introduction Video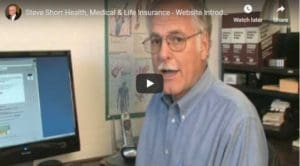 Instant Health Quotes & Enroll
15 Reasons to appoint us as your broker – No extra charge
Our Webpage on Insurance Coverage for 
Guaranteed Issue - No Pre X Clause
Quote & Subsidy Calculation
Find out your premium with Covered CA
or Direct without Subsidies

No charge for our complementary services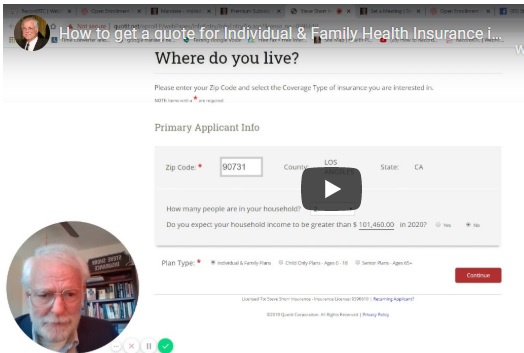 How to use our FREE Quote Engine, Subsidy Calculator  and get the MOST from the experience.
When you get a FREE quote, you can also see the benefits, view actual brochures, MD and Hospital Lists all ONE easy process with no obligation & it can be anonymous.   Enter your zip code, date of birth, family - household taxation relationships (MAGI - Definition),    Estimated MAGI - Modified Adjusted Gross Income for the upcoming - current year.  Last years tax return only gives an idea so that Covered CA can approve your advance tax credit to help pay premiums.
If you qualify for tax credits - subsidies and want them in advance (Pros-Cons) of filing your taxes click on "Health On Exchange" - Covered CA, illustrated below.
This website and are individual consultation are provided to you FREE of Charge!  We are paid by Covered CA and/or the Insurance Companies to help you.  When you fill out the Covered CA ONLINE Application, just appoint us as your agent under Find Help in the Upper Right Hand Corner so that we get paid for helping you.  Click here for screen shots for more detail of how to do it.  If you prefer, you can pay us a consultation fee in lieu of appointing us as your agent, for educational services only.
You can then see all the quotes on the exchange, showing the Cost Share Reduction - Enhanced Silver  if available, subsidy - tax credit amount and your net premium.    If you click "Off Exchange" you will see more plans and companies which  may have larger provider lists.   Scroll down for more screen shots.
Then click on "View Plan Details" - "View Doctor's & Providers" - to compare and get more information.  Please note that the quote engine does not show enhanced silver, but shows silver at 70%.  Check our chart for the better silver coverage.
Learn more about the right to change plans when Silver Level Enhanced Changes
To apply, click on apply now or use the links in the right hand column, ON THIS PAGE, but it will have you redo the quote for that specific company.   The price is the SAME, no matter if you use us, go direct to Covered CA or the Insurance Company, as mandated by law!  If applying through Covered CA, be sure to sign the form to appoint us as your agent.  It's not all the easy to figure out how to do it on their website.
If you have any questions email [email protected] or call us 310.519.1335