This is an historical page.
See the current Health Net page for 2016 information.
Watch this page – we should have 2016 information shortly.  Learn More

2015 Plan Overviews
Direct

PPO Platinum 90

Gold 80

     Silver 70

Bronze 60

Minimum Coverage    EPO Platinum 90

  Gold 80

Silver 70

Bronze 60

Minimum Coverage   Paper Application 2015
Covered CA Plans
CommunityCare HMO Platinum 90  ♦  Gold 80  ♦ Silver 70
Silver Cost-sharing Reduction
(Enhanced Silver)  Plan Overviews
2015 PureCare HSP Plan Overviews
PureCare HSP Bronze 60   ♦   Minimum Coverage  ♦  EPO Platinum 90
 Resources & Links
Provider – MD Search ♦  Instructions
Comparison HMO – EPO – PPO in and out of Covered CA Networks – InsureMeKevin.com
Hints on getting coverage – terms – glossary for 2014 healthnet.com/
Letter to Members about billing problems in February and March.   cl.s4.exct.net/
4,100 Health Net Members cancelled by Covered CA!!!  HN Bulletin   Friendly Competitor Commentary  Must act by Sunday 12.21.2014!!!  – Turns out to be a "hoax?"    Excerpt of Email from Covered CA 12.23.2014     Please be advised that Covered California is not terminating policies from Health Net. What this email is referring to is the Health Net PPO policies that are not going to get auto enrolled due to that particular plan no longer being offered by Health Net.
In order for those clients to get a new plan, they need to go in and manually choose one.
All of these clients that currently have a Health Net PPO plan have already previously been notified by Health Net that their plan is not going to be offered in 2015. If your client is currently on a Health Net PPO plan, they need to choose a new plan by 12/21 in order to receive a 1/01/15 effective date for whatever new plan they choose.
Deal Direct Instant Health Net Quotes & Enrollment Paper Application Email or Call us 310.519.1335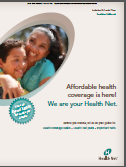 2014 Plan Overviews – 2015 Health Net dropping PPO? ♦ More and new HSP plan ♦ HN Official Agent Notification ♦ Agent Announcement for 2015
80 Page Brochure – All Plans 2014 ♦ Take ONE Brochure – All plans Matrix 2 pages
PPO Platinum 90% $20/$0 Gold 80% $30/$0 ♦ Silver 70% $45/$2000 ♦ Bronze 60& $60/$5000 ♦ Catastrophic $0/$6350
CommunityCare HMO Platinum 90% $20/$0 ♦ Gold 80% $30/$0 ♦ Silver 70% $45/$2,000
Provider – MD Search Instructions ♦ 2014 Formulary
Preventative Care


More on Preventative Care PPACA
Glossary 2014 Adult Dental Pediatric Dental
Southern CA Rates Northern CA
Call us 310.519.1335 Stay away from Covered CA, unless you need subsidies.
Member Website Demo
Account Service Unit: 1-800-447-8812
Historical Information
Health Net will let members their options for 1.1.2014 on 9.27.2013.Broker Blast Unfortunately for some, HMO plans in many counties will not exist anymore. Read the letter you just rec'd from Health Net. BE SURE TO RESPOND and let HN know what plan you want! There are several plans that HN will be offering that are not in Covered CA. Members can just renew, shop the private market-FREE Quotes or if they qualify for subsidies we can help you apply through Covered CA (The exchange). Online quoting and enrollment for HN will be available 11.1.2013 for 2014. If you need a rate before that, email us and we can get it for you, using the pdf rate manual.

PPO & HSA Plans
40 pages 1.2013 Rev.

HMO 40 and Value 50 Plans
40 Pages 1.2013
Bank Draft form
Health Net Employer Groups
Broker Only
9.2013 Memo about 1.1.2014 mapping
Broker Contacts
Book of Biz Guide
Broker Proposal Guide
underwriting guidelines