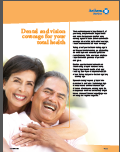 Blue Cross Individual & Family Dental Plans
Dental Plans cover things like Root Canals, Dentures, Braces, routine cleaning.
Email us for the most recent information
2017 Brochure Dental & Vision Rev 9.2016  *  Rates & Premiums
or use the ONLINE tool for free dental quotes  from
where their website, brochures are EXCELLENT!
Call 310.519.1335 or email us ([email protected]) for Blue Cross details.
What plans do you have to take care of your families dental and putting food on the table should the breadwinner pass away?
We suggest you look over  these brochures, from our Agent Portal – downloaded 12.1.2015
Tri-Fold Overview Brochure 2 pages rev 9.2015
ACA Dental and Vision EHB Essential Health Benefits – CHILDREN – Pediatric – All You Need is Anthem Blue Cross Rev 12.2013
Dental and Vision Application – Be sure to put in our name as agent and email back to us…
          Dental, Vision and Life – Guide 2014 2 pages
          CA Dental and Vision coverage 12 pages
          CA DENTAL PRIME 4 pages