Federal COBRA and California Cal-COBRA   basically provide that if you are no longer covered under your Employer's group health plan, you can keep the group coverage regardless of your health and with no pre-existing condition clause for 18 (Federal) or 36 months (California) at 2 to 10% more premium than your employer was being billed from the Insurance Company.
APRA COVID Stimulus bill may pay your premium see  Section 9501  CBO Estimate Subtitle F 
Since everything now is Guaranteed Issue with No Pre-X under Health Care Reform, consider going on an Individual Plan.
Even if it's NOT Open Enrollment, there is Special Enrollment, as you have just lost coverage MEC Minimum Essential Coverage.  Under Special Enrollment, your coverage is the first of the month after you apply, rather than the crazy 15th and miss a month deadline.  Emails dated 1.21.2015 2:07 PM
If you have problems obtaining your COBRA,  or CAL COBRA coverage, we can lead you in the right direction.  It's basically though something that you arrange directly through your Former Employer's HR Department or Insurance Company.
We suggest that you get Quotes for the Healthy Members of your Family and see if you can get a better alternative than COBRA.  Not all members of the family have to take COBRA for one member to get coverage.  With your own Individual coverage you have the option of taking a higher deductible, HSA Health Savings Account or not taking maternity-pre ACA ObamaCare,   dental, life or vision to save $$$.

When must you be notified of your right to get COBRA?
When there occurs a "qualifying event" that entitles persons covered by an employer group health plan to elect continuation coverage, such as the employee's termination of employment or death, the divorce of the employee and his or her spouse, or a dependent child's ceasing to qualify for dependent coverage under the plan, a notice of the right to elect continuation coverage generally must be sent to each person (termed in the COBRA law a "qualified beneficiary") who has that right.
If the "qualifying event" is the employee's termination, reduction of hours or death, the employer has 30 days after the event (or, if later, 30 days after the date coverage is lost) to notify the plan administrator, which in turn must give the notice of COBRA rights within 14 days to persons entitled to elect coverage. (If the employer and the plan administrator are the same, it has the full 44 days to give the notice.)
How soon the notice is provided affects how long eligible persons have to elect continuation coverage because they must be given at least 60 days from the date of the notice. Wilcox & Savage Esq.  *   Reporting & Disclosure Guide (DOL)
Q-1: What is a qualifying event?
A-1: (a) A qualifying event is an event that satisfies paragraphs (b)…
(b) An event satisfies this paragraph (b) if the event is any of the following—
(3) The divorce or legal separation of a covered employee from the employee's spouse;
(c) An event satisfies this paragraph (c) if, under the terms of the group health plan, the event causes the covered employee, or the spouse or a dependent child of the covered employee, to lose coverage under the plan. For this purpose, to lose coverage means to cease to be covered under the same terms and conditions as in effect immediately before the qualifying event. … If coverage is reduced or eliminated in anticipation of an event (for example,… an employee's eliminating the coverage of the employee's spouse in anticipation of a divorce or legal separation), the reduction or elimination is disregarded in determining whether the event causes a loss of coverage. 26 CFR 54.4980B-4 Qualifying Events
Gross Misconduct?  Might prevent you from getting COBRA
Call us to discuss 310.519.1335.    We will open up Tax Facts with details we can't post due to copyright.
When can COBRA rates to go up?
The applicable premium must be fixed for a 12-month "determination period." ERISA § 604 (3); Treas. Reg. § 54.4980B-8, Q/A-2(a) §1164 (3). Therefore, a mid-period increase in insurance rates will not permit a mid-period increase in the COBRA premium charged to QBs. Heart of Matters.com benefitslink.com/
The law limits the conditions when the applicable premium may be increased during a determination period.
A determination period is any 12-month period selected by the plan that is applied consistently from year to year. During a determination period, a plan can increase the premium only in the following three cases:
(1) The plan has previously charged less than the maximum amount permitted and the increased amount required to be paid does not exceed the maximum amount permitted; or
(2) The increase occurs during a disability extension and the increased amount required to be paid does not exceed the maximum amount permitted; or
(3) A qualified beneficiary changes the coverage being received. Because the law is clear in its guidance for premium increases, it is advisable to consult your benefits professional or legal counsel when passing on rate increases to COBRA participants for reasons not stated above. (cobrapoint.com)
Legal Separation?  Unofficial Separation?
When your COBRA rates change, you can get a special enrollment into an individual plan.
Lapse?  Re-Instatement?  Grace Period? COBRA
There is a minimum 30-day grace period for each successive payment due date. Payment is considered made on the date it is postmarked (if it is mailed), not the date of the check or the date the payment is physically received by the Plan. (cms.gov Page 15 Section V # 4,  dol.gov, vantaggiohr.com Treasury Regulation   §54.4980b-8 Question # 5)
Under the new regulations, qualified beneficiaries must receive what is called an "Early Termination Notice" if they lose coverage due to failure to make payment by the due date or within the grace period. (dol.gov/)
Steve's VIDEO introduction to Cal COBRA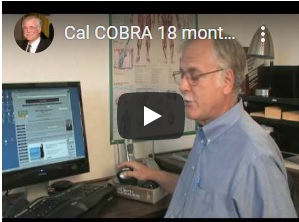 Employee's guide to COBRA –
Department of Labor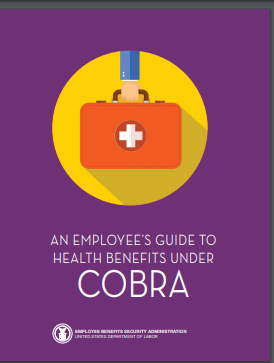 *********
Art Gallagher Employers Guide to COBRA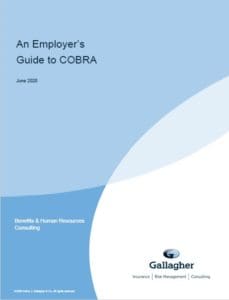 Our Webpage on COBRA    *    Cal COBRA 
Get Individual Guaranteed Issue ACA/Obamacare Quotes -
Subsidies if you make less than 600% of Federal Poverty Level!
No Pre X Clause!
No wait for Open Enrollment as you get Special Enrollment when you lose COBRA or your Employer Group Plan!
Questions that may come up when one loses  their job-based coverage
COBRA FAQ's
http://www.cvtrust.org/   is one of the state's largest self-funded PPO public schools' trust Since they are self funded the trust comes under the "self-funded or insured" exemption in the webpage above.
You can get coverage within 60 days of losing COBRA without having to wait for open enrollment special-enrollment-triggering-events/
Got a notice that I wont be offered Cal-Cobra after my 18 months of Federal Cobra
on my Heath Insurance because of "Health Reform".
***I'm not aware of any provision of Health Reform that changed the rules of Cal COBRA. I double checked the law on the State's website leginfo.legislature.ca.gov and don't see that it's been repealed.
1. Does the Department of Labor have a FAQ Section or FAQ'?
2.  Where can I get more details on MY specific plan and options?
Find your Evidence of Coverage, SAMPLE,  and you can get TONS of detail on HIPAA, COBRA & Cal COBRA
8.  Do you have an FAQ section for Cal COBRA? What is Gross Misconduct?
9.   What notices must the Employer give the Employee?