There is a 12 month trial period (free-look) in which you can test drive an MAPD.  This trial period can be  either when you first turn 65, or you drop a Medi-Gap plan to enroll in a MAPD Plan.
Sometimes, there might be a "Underwriting Holiday" where you can change to the Insurance Company celebrating the Holiday, regardless of how long it's been!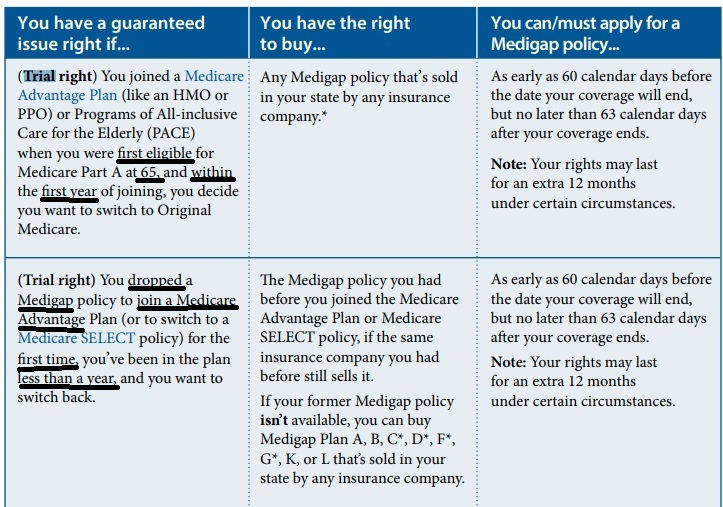 Publication 02110  Choosing a Medi-Gap Policy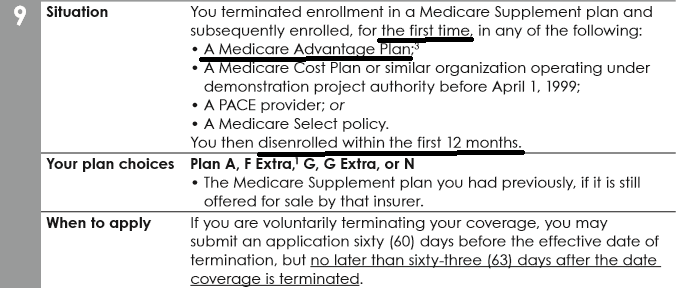 Blue Shield Guaranteed Issue Rights
CA Health Care Advocates *  Medicare & You – See link in Side Panel
FAQ's
What if you are past the 12 month period – but less than 2 years?
Email us and we can send you the information for the unnamed company below.
I don't like the unnamed company or just want to know how I can get a Medi-Gap plan.
There might be other guaranteed reasons for you.  See our webpage on that.
I don't have a guaranteed reason, what kind of underwriting is there?
The Medicare Advantage

O

pen

E

nrollment Period ( #MAOEP)
During the MA OEP, Open Enrollment MA plan enrollees customers may:

enroll in another MA PD plan or disenroll from their MA plan and return to Original Medicare.

Individuals may make only one election during the MA OEP.:

| | |
| --- | --- |
| Who can use the MA OEP: | MA OEP occurs: |
| Individuals enrolled in MA plans as of January 1 | January 1 – March 31 |
| New Medicare beneficiaries who are enrolled in an MA plan during their ICEP (Initial Coverage Election Period) | The month of entitlement to Part A and Part B – the last day of the 3rd month of entitlement |

Individuals may add or drop Part D coverage during the MA OEP. Individuals enrolled in either MAPD or MA-only plans can switch to:

• MA-PD (Medicare Advantage)
• MA-only
• Original Medicare (with or without a stand-alone Part D plan)
The effective date for an MA OEP election is the first of the month following receipt of the enrollment request.

NOTE:
The MA OEP does not provide an opportunity for an individual enrolled in Original Medicare to join a MA PD plan. It also does not allow for Part D changes for individuals enrolled in Original Medicare, including those enrolled in stand-alone Part D plans.  Medicare Managed Care Manual Chapter 2 *   Section 30 - Election Periods  *  CA Health Advocates.org  * 42 CFR §§ 422.62 & 422.68  *  Medicare & You - See link in Side Panel * 
You have the opportunity to make one change to your  health coverage during the annual Medicare Advantage Open Enrollment Period.
FAQ's 
What type of plan can you switch to during the annual Medicare Advantage Open Enrollment Period?
During this time, you can:
Switch to another Medicare Advantage plan. (You choose a plan that covers prescription drugs or one that does not cover prescription drugs.)
Disenroll from an MAPD plan and obtain coverage through Original Medicare.
You can apply for Medi Gap, but it may not be guaranteed issue and require underwriting.  If that's your plan, get approved for Medi Gap FIRST!!!
If you choose to switch to Original Medicare during this period, you have until March 31 to join a separate Medicare prescription drug plan to add drug coverage.   We are not interested in writing people though who wait till the last minute.  If that's your plan please find another agent or go direct to Medicare.Gov  Things get lost...
When will your membership end?
Your membership will end on the first day of the month after you enroll in a different Medicare Advantage plan or we get your request to switch to Original Medicare. If you also choose to enroll in a Medicare prescription drug plan, your membership in the drug plan will begin the first day of the month after the drug plan gets your enrollment request.    Evidence of Coverage  §2.2 page 240 *  Page 52 Medicare Manual * 42 CFR 422.62(a)(3)  *   insuremekevin.com/new-medicare-advantage-open-enrollment-period-for-2019/ 
New MAPD Open Enrollment Period  1.1 to 3.31
VIDEO on MAPD NEW Open Enrollment Period
Medicare & You - See link in Side Panel