VIDEO What is APTC Advance Premium Tax Credit
Interactive Tax Assistant (ITA)
Am I eligible to claim the Premium Tax Credit? 
Tax #Estimators
ACA What You Need To Know  #5187 
Kaiser Foundation reports that 27% of uninsured individuals are eligible to purchase a bronze plan with $0 premiums after subsidies in 2019.  Silver plans with cost-sharing reductions (CSR) for single individuals with incomes below 200% of the poverty level 
can be purchased
 for roughly $20 to $130 per month after subsidies, depending on an enrollees' income.
KFF
 *
https://www.irs.gov/pub/irs-pdf/i1040gi.pdf

Requirement To Reconcile Advance Payments of the Premium Tax Credit
The premium tax credit helps pay premiums for health insurance purchased from the Marketplace. Eligible individuals may have advance payments of the premium tax credit made on their behalf directly to the insurance company.
If you or a family member enrolled in health insurance through Covered CA  and advance payments of the premium tax credit were made to your insurance company to reduce your monthly premium payment, you must attach Form 8962 to your return to reconcile (compare) the advance payments with your premium tax credit for the year.
Covered CA  is required to send Form 1095-A, listing the advance payments and other information you need to complete Form 8962.
1. You will need Form 1095-A from the Marketplace.
2. Complete Form 8962 to claim the credit and to reconcile your advance credit payments.
3. Include Form 8962 with your Form 1040, Form 1040-SR, or Form 1040-NR. (Don't include Form 1095-A.)
For an introduction - See the  general explanation of subsidies and how they work.
If you  received premium assistance you MUST file taxes.
When you file, the IRS will check to see if the amount of income you  reported to Covered California is the same as the amount of income they actually made.  The IRS will also check to see if their family size is the same as when they applied.  The IRS will compare, or "reconcile," the amount of premium assistance they qualify for based on their actual income and family size reported on their tax return with the premium assistance they received during the taxable year.
Enrollees who experienced a change in income or household size but have not reported this information to Covered California are at risk of having to pay more at tax time.   If needed, Covered California or us as your agent, no extra can work with these enrollees to reduce their current premium assistance to minimize this consequence.  Just use the button above to get a quote.
Subsidy might have to be paid back at tax time,   if new income not reported.  LA Times 9.9.2013
CNN 4.27.2015 reports that H & R Block reports average refund lowered by $729 due to under reporting MAGI income.
1.12.2015 CA Health Line on ACA and tax issues if there is a change in income.
Tax Return Deadline
H & R Block advises to file a return and reconcile your credit by April 18, or request an extension so you have more time to file your taxes. An extension will give you until October 17 to file your return and reconcile any credit you received through Covered CA
Will I have to file a federal income tax return to get the premium tax credit? 
Yes.  For any tax year, if you have APTC in any amount or you do not have APTC but you plan to claim the premium tax credit, you must file a Form 8962, and attach it to your federal income tax return for that year. If you have any APTC, you will use Form 8962 to reconcile the difference between the APTC made on your behalf and the actual amount of the credit that you may claim on your return. This filing requirement applies whether or not you would otherwise be required to file a return.
If APTC is made on behalf of you or an individual in your family, and you do not file a tax return, you will not be eligible for APTC or cost-sharing reductions to help pay for your Marketplace health insurance coverage in future years. This means that you will be responsible for the full cost of your monthly premiums. IRS.gov
Compliance with filing requirement.
(i) Covered CA  may not determine a tax filer eligible for advance payments of the premium tax credit if HHS notifies the Exchange as part of the process described in § 155.320(c)(3) that advance payments of the premium tax credit were made on behalf of the tax filer or either spouse if the tax filer is a married couple for a year for which tax data would be utilized for verification of household income and family size in accordance with § 155.320(c)(1)(i), and the tax filer or his or her spouse did not comply with the requirement to file an income tax return for that year as required by 26 U.S.C. 6011, 6012, and implementing regulations and reconcile the advance payments of the premium tax credit for that period.
(ii) Notwithstanding the requirement in paragraph (f)(4)(i) of this section, the Exchange may not deny eligibility for advance payments of the premium tax credit under paragraph (f)(4)(i) of this section unless direct notification is first sent to the tax filer, consistent with thestandards set forth in § 155.230, that his or her eligibility will be discontinued as a result of the tax filer's failure to comply with the requirement specified under paragraph (f)(4)(i) of this section.
Report changes as they happen - within 30 days!
Visit our webpage on how to report changes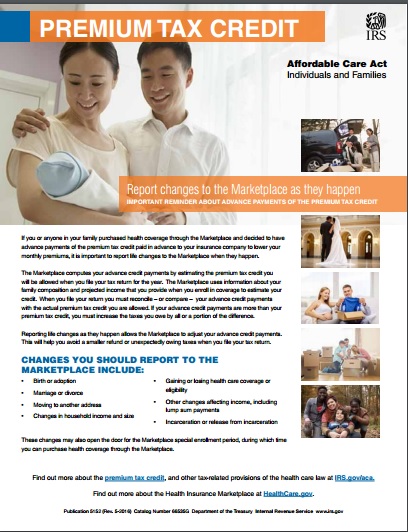 Covered CA's Webpage on Reporting Changes