Texas vs USA
California v Texas
Supreme Court rules in favor of Obamacare
Supreme Court rules in favor of Obamacare 
Read More  LA Times June 17th 2021 *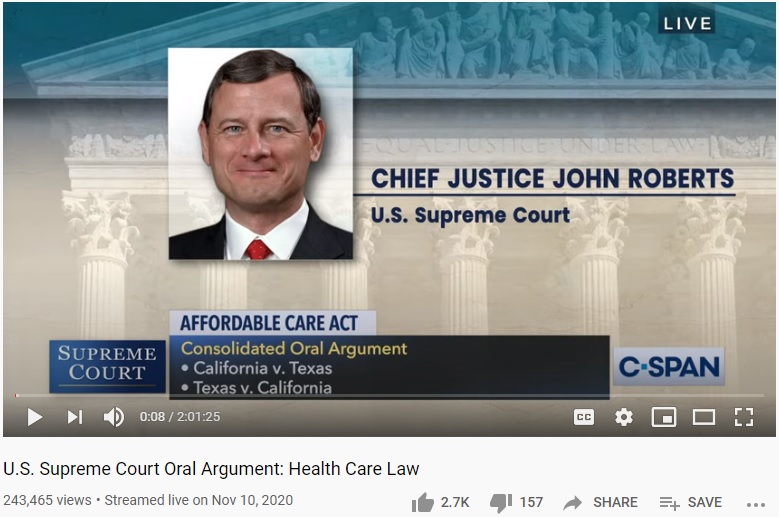 Will the court case on Tuesday cancel everything for 2021?
ACA Declared Unconstitutional * case stayed Court Listener * , so everything is the same for now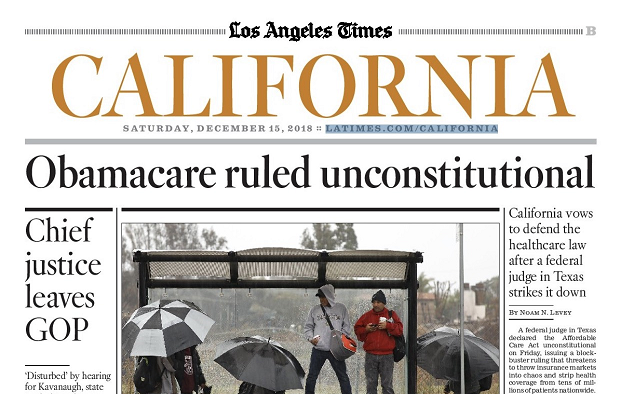 More LA Times Analysis of what the ruling may mean and likelihood of appeal.
The case is expected to be heard in January 2021 (Coronavirus delays?) in the Supreme Court.
Learn More
New York Times 6.26.2020 
Modern Health Care 3.2.2020
The 5th U.S. Circuit Court of Appeals in New Orleans * Opinions * This opinion 198 pages * ruled that the individual mandate is not constitutional because it cannot be construed as a tax.  The case goes back to U.S. District Judge Reed O'Connor in Texas to determine whether the rest of the law can be saved. Modern Health Care 12.19.2019 * LA Times 12.15.2019 *
Obamacare survives to fight another day.  Careless judicial interference has the potential to be especially pernicious when it involves a complex statute like the ACA, which carries significant implications for the welfare of the economy and the American populace at large.  APPELLATE JUDGE CAROLYN DINEEN KING   LA Times 12.19.2019 *
USA Today, striking down ACA/Obamacare would open a path to better more affordable care 12.12.2019
Trump's held office for 3 years – no sign of replacement plan  LA Times 12.30.2019 *
Commonwealth Fund 12.19.2019 * Kaiser Foundation 11.27.2019 Potential impact of key provisions
July 11, 2019 Kaiser Health News – ending the ACA would also create chaos in other parts of the health care system that were directly or indirectly changed under the law's multitude of provisions, such as calorie counts on menus, a pathway for approval of generic copies of expensive biologic drugs and, perhaps most important politically, protections for people with preexisting conditions.
June 27, 2019
Who has standing to sue – standing to intervene, bring the case to court?  Some legal experts said the request did not bode well for the future of President Barack Obama's signature domestic policy achievement.  More generally, this order suggests that the Fifth Circuit panel may be hostile to the ACA and inclined to support the red states If the 5th Circuit upholds the lower-court ruling — which would almost certainly put it back in front of the Supreme Court — it would create a political and logistical mess for the Trump administration and Congress. Republicans repeatedly failed to repeal and replace Obamacare while they controlled both the House and the Senate in 2017 and have little appetite to revisit health reform. Read more at:  Washington Post  *  Politico  *  Washington Post *
***********
DOJ won't defend or appeal the ruling ACA/Obamacare is unconstitutional and says everything should be scrapped, then start over.  Los Angeles Times * NPR *  Modern Health Care *  CNBC * 
Because many everyday Americans would otherwise face great uncertainty during the pendency of appeal The Court finds that the December 14, 2018 Order declaring the Individual Mandate unconstitutional and inseverable should be stayed. 30 page order *
Notice of Appeal 1.3.2019 * CA Attorney General states he's going to stand up for the law of the land, keep the no pre x clause in the law.
ACA Provisions that could be out
The ACA's system of premium subsidies for low- and moderate-income households;
Medicaid Medi-Cal MAGI – no asset test expansion
young people to stay on their parents' health plans up to age 26;
a narrowing of the "doughnut hole" that saddles some Medicare enrollees with higher costs for prescription drugs.
pre-existing medical conditions from being turned away for insurance or charged higher premiums than the general population.
If the Pre X protections of ACA are struck down, what laws prior to ACA come back to life?
What alternatives are there?
What might Congress or CA do to protect those with Pre X conditions?
AB 1672 for Small Groups guaranteed coverage with 2 or more employees, including husband and wife as owners. Scroll down and view the Q & A on that page too. 6.15.2018 LA Times  refers to 12 month guaranteed on Pre X. I'm not exactly sure which exact law they are talking about.
In fact, Californians would already be temporarily cushioned by existing state rules that protect people with preexisting conditions for 12 months [Citation Needed] if that portion of the Affordable Care Act is struck down.  Try below about Federal HIPAA.
Mr. MIP and PCIP High Risk Pools – might come back Association plans? CA Single Payer SB 562 See our website on TrumpCare.
One example might be the MacArthur Amendment that requires states to set up a program for High Risk Individuals.
See our main page on Pre X and check out the HISTORICAL section
Related Pages in
Section
[child-pages] [sibling-pages]
SUMMARY
Department of Justice who is defending the case for the Federal Government, in their 49 page brief filed May 1, 2019 came to this conclusion!
The district court correctly held that the individual mandate is unconstitutional in light of the elimination of its penalty, that the guaranteed-issue and community rating provisions are inseverable from the mandate, and that the remainder of the ACA is  inseverable in turn.  Accordingly, the court's judgment should be affirmed on the merits, except insofar as it purports to extend relief to ACA provisions that are unnecessary to remedy plaintiffs' injuries.
Boy, that's a convoluted mouthful.  Here's Health Affairs.org reporting
DOJ had taken a highly unusual position in Texas by declining to defend the constitutionality of the mandate and major provisions of the ACA that protect people with preexisting conditions. These provisions are guaranteed issue, community rating, the ban on preexisting condition exclusions, and discrimination based on health status.
The injury is that these rules "limit choices in the insurance markets that both plaintiffs would prefer."
As examples of non-injurious ACA provisions, the DOJ points to the ACA's amendment of certain criminal statutes for health care fraud and anti-kickback violations.   May 2, 2019 * March 26 * April 12 *
The court ruled (view 55 page ruling)  that the law's individual mandate could not be severed from the rest of President Barack Obama's landmark healthcare law.
Leaning on the U.S. Supreme Court decision that the ACA is a tax, U.S. District Judge Reed O'Connor said that the entire law was invalidated by the 2017 Tax Cuts and Jobs Act, which zeroed out the individual mandate penalty.
In his ruling, O'Connor said that in both 2010 and 2017 Congress knew that the individual mandate couldn't be severed from the popular coverage protections and guaranteed issue.  The Trump administration had declined to defend the healthcare law and asked the judge to eliminate its guarantee of coverage for people with preexisting health conditions.
A spokesperson for California Attorney General Xavier Becerra said defendant states will appeal the decision. The case will now go to the U.S. Court of Appeals for the Fifth Circuit. Modern Health Care 12.14.2018 *  Los Angeles Times * CA Health Line – and more reporting *
CBS News – ACA Unconstitutional
No Injunction – So, good for 2019
CNN Report on ACA Ruling – Unconstitutional
Crux of the Case 
Main Point
Here's my extraction of what I feel is the crux of the case where Texas asks the Federal Court to declare the ACA unconstitutional.  Here's Commonwealth Funds. USA Federal – Response to Texas Application to have ACA no longer enforceable  6.7.2018
In the Affordable Care Act (ACA), Pub. L. No. 111-148, 124 Stat. 119 (2010), Congress fundamentally altered the American health-insurance system by imposing a "[r]equirement" for most Americans "to maintain minimum essential coverage." 26 U.S.C. § 5000A(a). In light of the basis on which the Supreme Court previously held that this "individual mandate" survived constitutional scrutiny, the United States agrees with the Plaintiffs that Section 5000A(a) must now be struck down as unconstitutional in light of the amendments that were made to it in the Tax Cuts and Jobs Act (TCJA), Pub. L. No. 115-97, 131 Stat. 2054 (2017).
the United States explained to the Court in NFIB, Congress's own "findings establish that the guaranteed-issue §2701 and community-rating provisions [no charge for Pre Existing Conditions 45 CFR §147.108   The preexisting conditions clause prohibits insurers from refusing coverage to people with prior illnesses, or charging them more because of it.] are inseverable from the minimum coverage provision." Br. for Resp't (Severability) at 45, NFIB, No. 11-393 (citing 42 U.S.C. § 18091(2)(I)). The remainder of the ACA, however, can stand despite the invalidation of those provisions.
CA Xavier Becerra – INTERVENOR-DEFENDANTS' BRIEF IN OPPOSITION to stopping the ACA from being law 6.7.2018
The remedy that Plaintiffs seek is also profoundly undemocratic. Plaintiffs ask this Court to impose an outcome by judicial fiat that Congress rejected through the legislative process.
Since the ACA became law in 2010, ACA opponents in Congress have tried—unsuccessfully—to repeal it at least 70 times. But the fact that Congress (through the Senate) voted down each of those efforts leads to one unavoidable conclusion: the Congress that passed the ACA, the Congress that passed the Tax Cuts and Jobs Act (TCJA), and every Congress in between, has decided to leave nearly every provision of the ACA in place, choosing instead to modify one provision reducing the future tax penalty for individuals who do not maintain health insurance. That reflects the will of the people, as expressed through their democratically elected representatives over multiple election cycles.  There would be an enormous human cost from invalidating the ACA. Lastly, a preliminary injunction would also disserve the public interest because it would upend the status quo and wreak havoc on the healthcare market for patients, providers, insurance carriers, and the federal and state governments.  Court Filing 
For the reasons stated above, the Court grants Plaintiffs partial summary judgment and declares the Individual Mandate, 26 U.S.C. § 5000A(a), UNCONSTITUTIONAL. Further, the Court declares the remaining provisions of the ACA, Pub. L. 111-148, are INSEVERABLE and therefore INVALID. The Court GRANTS Plaintiffs' claim for declaratory relief in Count I of the Amended Complaint.  Page 55 *
Covered CA – says don't worry about this ruling for 2019 EastCountyToday *  The judge did not issue an injunction ordering the government to stop carrying out the law, however, meaning that its provisions will remain in effect pending further action.  "We will continue with open enrollment. There is no impact to current coverage or coverage in a 2019 plan," Seema Verma, the administration's top official overseeing the law, said in a statement.  Los Angeles Times *
Earlier Briefs & Filings
View on Pacer  *  Court Listener  * Order May 16, 2018 The motion is ripe for review. Having considered the motion, briefing, and applicable law, the Court finds that the Proposed Intervenor States' Motion to Intervene (ECF No. 15) should be and is hereby GRANTED for the reasons stated below. BRIEF OF PLAINTIFFS – Texas (with our comments, highlights, annotations) IN SUPPORT OF APPLICATION FOR PRELIMINARY INJUNCTION 4.26.2018 Texas V US  Memorandum Opinion & Order 3.5.2018 Complaint for Declaratory & Injunctive Relief 2.26.2018
Plaintiffs ask this Court to preliminarily enjoin the entire Patient Protection and Affordable Care Act (ACA), a landmark piece of legislation that has enabled more than 20 million Americans to gain health coverage, has restructured nearly one-fifth of the national economy, and has become central to the healthcare system of our country over the past eight years.  Court Filing 
News Reports
An estimated 50 to 130 million Americans have preexisting conditions, such as arthritis or diabetes. If the Trump administration has its way, insurers could deny coverage or charge higher premiums to consumers with preexisting conditions in the individual market or exclude their preexisting conditions from coverage, unless prohibited by state law.
The ACA provisions the Trump administration asked the court to invalidate affect all forms of private health coverage — individual, small group, large group, and self-insured employer plans.
If the ACA is invalidated, protections under the
 prior law,
 the Health Insurance Portability and Accountability Act, would likely come back into force.   Under that law, they would prohibit your employer from refusing to cover you or charging you more because of a preexisting condition, but your employer plan could refuse to cover preexisting conditions for up to a year if you failed to maintain continuous coverage. 
CNN  6.14.2018 *  
CNN 3.1.201
8