What are Grandfathered PLans?
Grandfathering Exemption?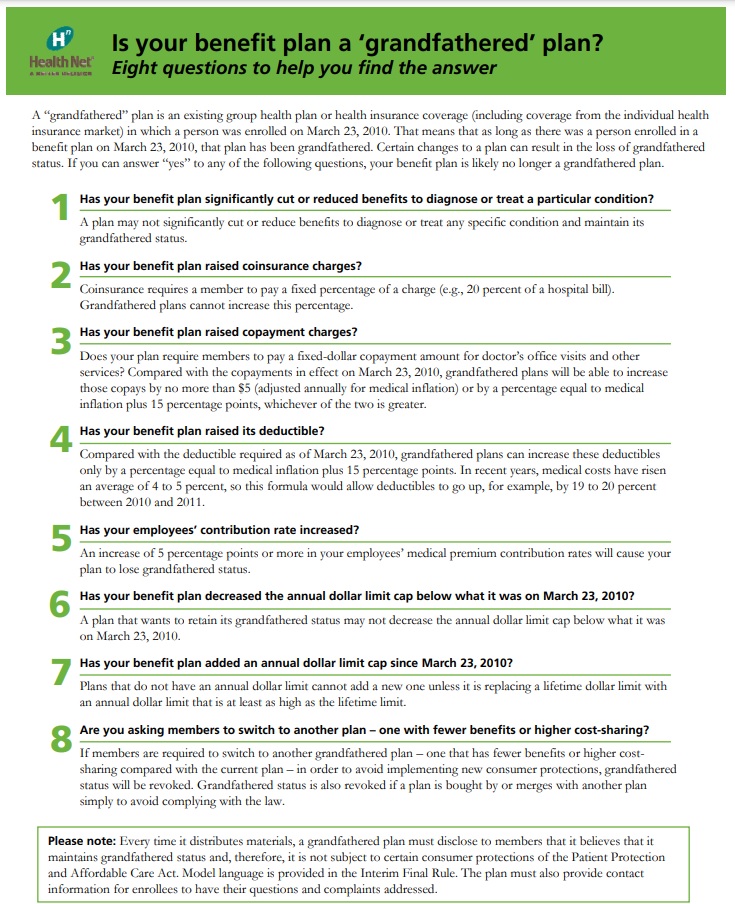 Advantage of a Grandfathered Plan

The primary one  is that in 2014 the rating for the nongrandfathered plans will be subject to additional taxes and fees. These could total upwards of 50% higher than a comparable grandfathered plans. Since the rates will be so much higher than the grandfathered plans we feel it would be a good idea to keep those plans until at least we see how the rates look like in 2014.Excerpt of Email Rec'd 1.25.2013 from a Major Insurance Company
However, the
Government says NO
in Q & A on their website at healthreform.gov
Individual Grandfathered plans are "closed" plans, no longer sold to new applicants. It is possible that premiums or costs may increase because new, healthy applicants are no longer being added to the closed "pool" of members. Premium changes for all plans, whether "closed" or open to new sales, are driven by several factors. These include increased consumer demand for services, rising prescription drug costs, advances in medical technology, and benefits and/or taxes required by state and federal legislation. Blue Cross Flyer

make some changes to the benefits their plans offer,

raise premiums or change employee cost-sharing to keep pace with health costs within some limits, and

continue to enroll new employees and their families.
The bottom line is that under the Affordable Care Act, if you like your doctor and plan, you can keep them, subject to "Narrow Lists."    But if you aren't satisfied with your insurance options today, the Affordable Care Act provides for better, more affordable health care choices through new consumer protections.  (healthreform.gov)
Wikipedia on Health Reform & Grandfathering
No more RAF – Rating Adjustment Factor  §10753.14 in Employer Group Plans
Insurance Companies NOT offering Plans?
Thus the End of Grand Fathering?
It looks like Grandfathering is OVER for Individual Plans in 2015.
Blue Cross is dropping 79 plans.
California Health Line 10.3.2014 reports Blue Cross, Kaiser and various other insurers are not renewing pre ACA plans, that don't have the 10 essential benefits and other provisions of ACA.
FAQ's
Which will be less expensive Grandfathered or Not?
Is there any difference in Premium Taxes or other fees or taxes imposed by Health Care Reform?

Blue Shield Info and Tools on Grandfathering
General Client  Resources & Links
Research & Technical Links
Talk about allowing non-grand fathered plans to go three more years?
california health line.org/2014/3/5/  but this didn't happen in CA due to Covered CA
contract regulations Page 14 Section e
Group Health Plans CAN change Insurer's without affecting Grand Father Status. (
HHS.gov Amendment
)
SB 1446 Grandmothering
for Group Plans
If you change to a different plan, but with the same Insurance Company and
the same rules in your Employee Handbook, is the plan still grandfathered?
FAQ
***Grandfathering means that if your coverage was in place on 9.23.2010, when the Affordable Care Act was enacted, President Obama promised that you could keep it, as long as there were no "major" changes to you coverage.  See 8 Questions to see.  
Question We have, per our [Employee] Handbook, carved out a [Management] carve outs, class of covered employees.  this has been in force well before 2010

We are a small business,  less than 10 employees
the covered employees have always been just 2.  One of the employees recently went into medicare.  since needed 2 employees to make a group

***That's not exactly correct, see §10753  (q) (1) "Small employer"

we converted to an individual plan for the remaining employee.  The plan stayed with the same insurance co. but not in our companies name.
So, would this still be be considered "grandfathered?

Answer ***No.  Sounds like major changes to me.   Check this links for details about cutting or lowering coverage, coinsurance, payments, deductibles, employer contributions, annual limits. HealthCare.gov  *   BlueShieldCA.com   *    Our Page on Grandfathering   *   HN Flyer

While it doesn't appear that Salary Discrimination under Section 2716 is being enforced, you can't call an Individual Plan a Group plan, nor can your company take the deduction under IRC Section 106!
Whatever happened to grandfathered #rates & premiums our our policy. Seems that every time the policy renews it's a lesser coverage?

Grandfathered plans has nothing to do with stopping rate increases or changes in benefits at policy renewal.  Grandfathering means that the plan can stay basically the same as it was, if you had the plan before February 2010 when the ACA was passed.
Insurance rates, premiums, benefits, deductibles are basically a function of the Medical Loss Ratio  medical-loss-ratio-mrl/
Which means that the Insurance Companies are mandated to pay out 80 cents in claims on every dollar they take in, in premium. So, the more they pay in claims, the more they have to charge in premiums.
Anthem Blue Cross Grandfathered PLans being #discontinued! 
Anthem Blue Cross will be discontinuing the  grandfathered plans below, the rest of their plans are good. The last day of coverage for these plans is December 31, 2022.
Contract Code Plan description
1518 Basic 1000

7900 Basic 1000
PE25 Basic 1000
PE26 Basic 1000

Z165 SmartSense 2500 Full RX
Anthem Blue Cross will  let you know your  options sample letter  for selecting a new plan during
Blue Cross doesn't have any downgrade options - that is, the ability to just select a different grandfathered plan.  You'll have to
Affected members will still receive rate action notifications through the end of the year.