Welcome to Tennis in San Pedro, CA
San Pedro Tennis
RSVP's and invites are now on Tennis Point.com
Email Steve Shorr to get on the list
Sunday 8 AM for Tennis.
10 AM Brunch  Optional?

RSVP
For now, we are a FOUR SOME Doubles Group.   The first 4 to RSVP are on.  Everyone else is welcome to come to brunch.

How about we make this a "Walk On" Group

Just show up and
5 – we'll rotate on change over – FAST Four

USTA Southern is proud to offer an exciting format to short sets format known as Fast4 Tennis. The alternative format focuses on a few simple rules:

The first to four games wins the set
No-ad scoring is used
Service lets are played
First-to-five-point tiebreakers apply at 3 games all

Our local San Pedro rules don't have the tiebreaker at 3 all.

6 – two people play singles
7 – 2nd court plays Australian
8 – two courts with four each

If we are not "Walk On" RSVP closes Saturday 2 PM.   If you RSVP or show up unannounced after that, you buy coffee for everyone.
It's not the organizers responsibility to email reminders.  Check the website Monday morning for the next Sunday.
All known San Pedro Tennis Groups
Tennis #Welcome Page

Tuesday Night Peck Park   
South Bay Tennis Center - Adult Clinics - Lessons

Hi Steve, we have amazing adult classes for 3.5 players. Our schedule is Tuesday and Thursday mornings from 9 to 1030 and Tuesday and Thursday evenings from 6 to 730.
We also offer a class on Sunday mornings from 930 to 11. All of these classes have a court with 3.5 level players.
Our workouts for adults have multiple courts since we do get different levels that are showing up so we have usually 2 to 3 coaches and 2 to 3 different levels you'll fit in somewhere into one of the courts.
We run around and hit a lot of balls play a lot of double points sweat and have a really good time together!
The cost of the class is $25 and I'm sure you will love it it is a drop in program so please feel free to come anytime you want or text me when you wanna come so I can alert the coaches to a new customer.
COURTNEY HANCE 310-415-1969
________________________________________
#Coman vs Tie Breaker
Under USTA Los Angeles Rules… Is a tie breaker done Coman or "regular?"
Official National Rules USTA rules just rec'd from my USTA Captain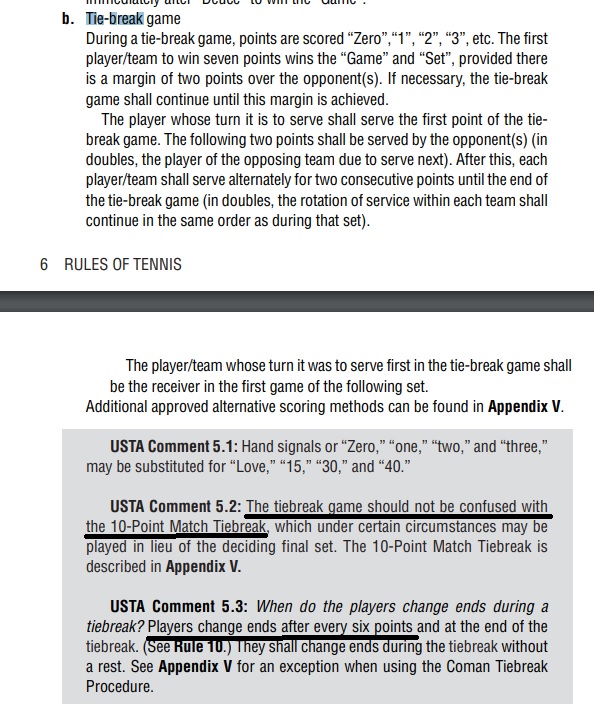 The best of three sets with a 10-point match tiebreak in lieu of the third set will be used, unless a change is necessary due to unplayable conditions.

Page 41

the local tiebreak procedure shall be used to determine the winner of the team match. If no such local tiebreak procedure exists, Reg. 2.03H Procedures in the Event of a Tie shall be used in order to determine a winner of the team match.

Page 46

Coman Tiebreak Procedure: An alternative procedure that may be used with the Set Tiebreak or Match Tiebreak where ends are changed after the first point, then after every four points, and at the end of the Tiebreak. The scoring is the same as a traditional Set or Match Tiebreak. Beneficial in doubles as players continue to serve from
the same side as during the set. (See FRIEND AT COURT – Part 3: USTA Reg. I.E.(1)c.)

Match Sets & Scoring


10 Point Coman New England Easy Reference
Amazon Laws
USTA SoCal.com

Scoring Tie Break USTA Southern CA


Here's a simple solution…play better than your opponent…beat them before you need a tie break. Just this humble chair umpires opinion. 😂😂😂

Hello Team,

Below is a summary of local league rules. .

1. Scoring format for ALL Beach Cities Leagues shall be third set [Coman] Match Break . That's mean in lieu of the third set, we play Match
Tiebreak: First player/ team to reach 10 points leading by 2 wins the match. No coaching, no new balls.
2. Match Time is DEFAULT time at any PUBLIC court facility.

Best regards,

***Problem is, this isn't really a citation. The "local" rules don't say they are Beach Cities League or even USTA!

Well I found the beach cities league website and the rules are there

https://www.ustasocal.com/wp-content/uploads/2021/03/Coman-Tiebreak-Procedure-1.pdf

What about these rules from New England USTA that state:

Coman Tiebreak Procedure

The Coman Tiebreak procedure is identical to the regular tiebreak procedure except that the players change ends after the first point and then after every four points until the conclusion of a tiebreak.

The Coman Tiebreak procedure is used for all tiebreaks played during a match.

That's for New England, we are talking Nationally & Southern CA USTA. Note the League Reference Guide cited above says the 10 point Coman is only used in lieu of a 3rd Set