If someone is over 65 and not eligible for no premium Part A Hospital Medicare there was a BIG debate when ACA/Covered CA/Obamacare started.  It's now well settled that they can.  Here's proof, the 1095 A showing the subsidy!
Our webpage on 1095 A Proof of Health Coverage for the past year
Video about Covered CA – if no Premium Free Part A – jump to 2:30 

VIDEO  Medicare & the Market Place
Jump to 2:30 for those not eligible for No Premium Part A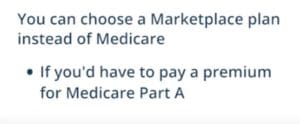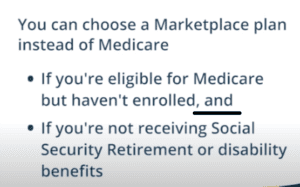 Moulder Law – Flow Chart
VIDEO What is APTC Advance Premium Tax Credit
Interactive Tax Assistant (ITA)
Am I eligible to claim the Premium Tax Credit? 
Learn More About Your Health Insurance Tax Documents | Covered California VIDEO   
Tax #Estimators
ACA What You Need To Know  #5187 
Kaiser Foundation reports that 27% of uninsured individuals are eligible to purchase a bronze plan with $0 premiums after subsidies in 2019.  Silver plans with cost-sharing reductions (CSR) for single individuals with incomes below 200% of the poverty level 
can be purchased
 for roughly $20 to $130 per month after subsidies, depending on an enrollees' income.
KFF
 *