Welcome website visitor
Are you New to Medicare? 
Learn about how to enroll in Part A Hospital and Part B Doctor Visits and then follow the link to Medicare's site where you can enroll.  We are happy to help you enroll and there is no extra charge when you get plans  supplement Medicare, like Medi Gap, Part D Rx and Medicare Advantage.
We will try to give you everything you want to know in Plain English.  Medicare might be very confusing.  IMHO, if one just takes some patience and reviews the information and brochures, both from us and from Official Medicare Pamphlets, it should get clear.  If not, email us, * set a meeting, * ask us a question right on our website, you don't have to even leave your name.
We highly recommend that you at least glance through   Medicare & You Publication # 10050 which  gives an EXCELLENT Overview and most of the Information you will ever want to know. 
If you are viewing this webpage on a full screen monitor, we show many of the Medicare Brochures to the right, if you are viewing on a smartphone, just scroll down.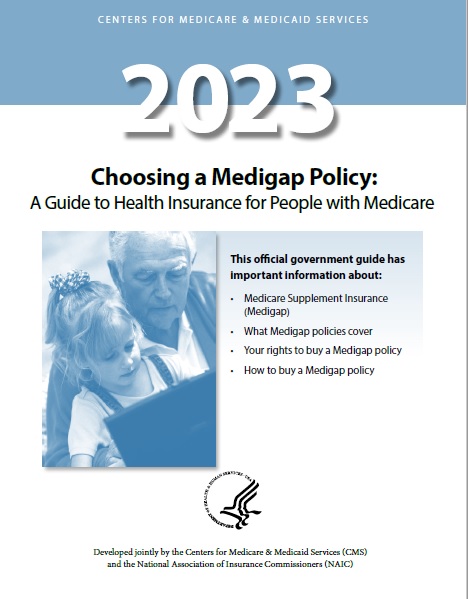 Medi Gap pays the medical expenses that Original Medicare Part A (Hospital) and Part B (Doctor) doesn't.  Check out the chart on this page to see what Medicare Pays, what you pay and what a Medi Gap plan pays. 

If you have a Medigap policy and get care, Medicare will pay its share of the Medicare-approved amount for covered health care costs. 

Then

, your Medi-gap policy will pay its share. You're responsible for any costs that are left. Medicare.Gov *

Original Medicare, Medicare Advantage nor Medi Gap pay for long term care either in a nursing home or at home care.    Get more information on Long Term Care here.  Even if you think you can't afford any extra premiums, there's a lot of valuable information to help with planning.
#Medicare10050 and You  2024
Everything you want to know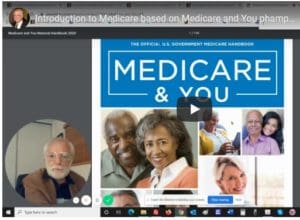 ***********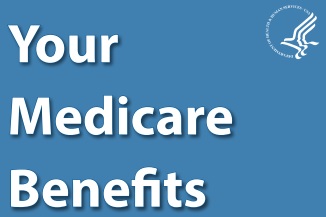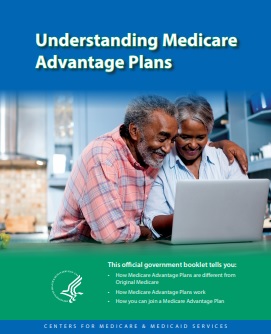 Insurance Companies get a fee from the Federal Government, when you enroll in an MAPD plan.  MAPD Plans must cover all A & B services Medicare.Gov *
That's why the premium is very low or ZERO!
Set a phone or Skype Meeting

We can now do SOC Scope of Appointment, before the Meeting via a 3 minute recorded  meeting 2 days before.  AHIP Training Module 4 Page 14 *

#Intake Form - We can better prepare for the meeting
Do I just sign up with a Medicare Advantage Company and automatically get * Parts A & B or do I have to get those from Medicare.Gov  *   VIDEO
Get Quotes, Full Information and Enroll
MANDATED wording!:  Think Advisor * ''We do not offer every plan available in your area. Any information we provide is limited to those plans we do offer in your area.  Please contact Medicare.gov or 1–800–MEDICARE to get information on all of your options.''
       We disagree with the above wording, as we can use the same tools on Medicare.gov as they do!
FYI  a 4.27.2022 HHS Office of the Inspector General report found that MAPD plans denied 13% of prior authorizations that would have been covered under original Medicare (Conversely, Medi Gap, just follows what Medicare pays.)

MAPD plans often include Dental &  Part D - Rx Prescriptions   and often have NO premiums!  How is that possible? The Federal Government pays them around $700/month to handle your medical care.  You must continue to pay your Medicare Part B premium of about $170/month.  It's best to apply when you turn 65 for the supplement plans or advantage plans, as that's the main "Open Enrollment" period, guaranteed issue for any plan. 

Medicare Advantage Plans also have an annual open enrollment now known as AEP Annual Election Period October 7 to December 15th.

Additional Coverage is important as Medical Bills are increasing Seniors Credit Card Debt or leading to possible bankruptcy?
You cannot buy additional coverage through #Covered California
if you have premium-free Medicare Part A Hospital
Medicare complies with Health Care Reform, so you do NOT need to get a an Individual policy or a subsidized one from Covered CA.  It fact, it's illegal for anyone to sell you a policy!  Kaiser Health News * Covered CA Medicare Fact Sheet * Medicare.Gov Medicare & Market Place #11694  * CMS.Gov FAQ Medicare & Marketplace * HealthCare.Gov when - how to change from Covered CA to Medicare  * Social Security §1882  * Health Care.Gov
NOTE: This information also applies to people younger than 65 whose benefits begin the first month they receive disability benefits because they have Amyotrophic Lateral Sclerosis (ALS), better known as Lou Gehrig's Disease, and to people younger than 65 who have Medicare because of a disability and are receiving SSDI Social Security Disability Insurance.
There are a lot of ands, if or buts in this complex issue.  Please refer to the source material below.  There are some exceptions, but they are very complex.  Don't even think of getting a 1/2 correct answer over the phone. If you have to pay for Part A Hospital, then are options, like subsided Covered CA Plans. Email us [email protected] or ask a question below.
Video about Covered CA – if no Premium Free Part A – jump to 2:30  Medicare & the Marketplace (Covered CA
Medicare vs Covered CA - Publication 11694
Links & Resources 
(3)(A)
(i) It is unlawful for a person to sell or issue to an individual entitled [no premium] to benefits under part A or enrolled under part B of this title (including an individual electing a Medicare+Choice plan [MAPD] under section 1851)—
(I) a health insurance policy with knowledge that the policy duplicates health benefits to which the individual is otherwise entitled under this title or title XIX,
(II) in the case of an individual not electing a Medicare+Choice plan, [aka MAPD Medicare Advantage] a medicare supplemental policy with knowledge that the individual is entitled to benefits under another medicare supplemental policy or in the case of an individual electing a Medicare+Choice plan, a medicare supplemental policy with knowledge that the policy duplicates health benefits to which the individual is otherwise entitled under the Medicare+Choice plan or under another medicare supplemental policy, or
(III) a health insurance policy (other than a medicare supplemental policy) with knowledge that the policy duplicates health benefits to which the individual is otherwise entitled, other than benefits to which the individual is entitled under a requirement of State or Federal law.
(ii) Whoever violates clause (i) shall be fined under title 18, United States Code, or imprisoned not more than 5 years, or both, and, in addition to or in lieu of such a criminal penalty, is subject to a civil money penalty of not to exceed $25,000 (or $15,000 in the case of a person other than the issuer of the policy) for each such prohibited act. Sec. 1882. [42 U.S.C. 1395ss] 
Our webpages that touch on this Issue:
Prescription Drug 2022 #RxGuide
PDF # 11109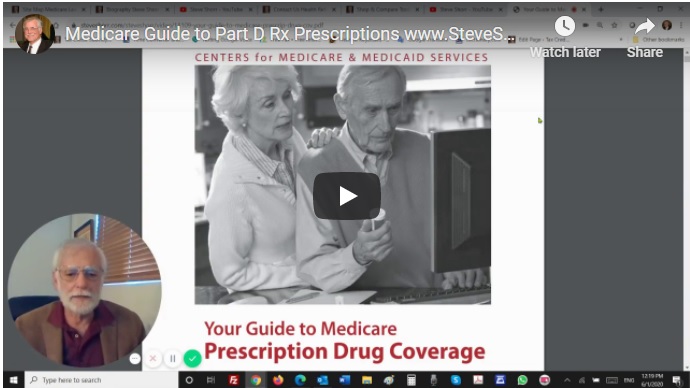 *****************
Coverage Gap - Donut Hole $2,000 Cap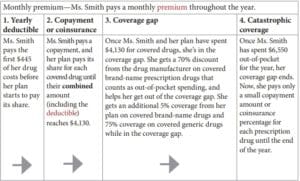 ******************
cms.gov/History cms.gov/KeyMilestones.pdf
govbooktalk.gpo.govhappy-birthday-medicare/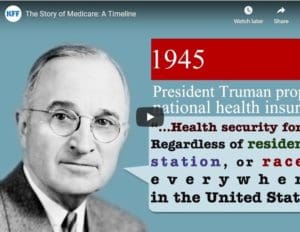 Retiree's Facing Higher Health Care Costs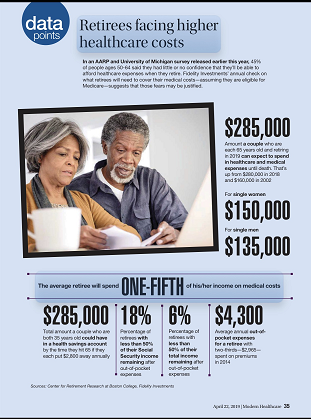 Consumer Resources & Links
CBS News 10.2015 How will you get Health Insurance in Retirement?

Law Help

.org  Medicare
medicare.gov/cost/ deductibles, co pays, premium
Reforms to the Medicare payment system are meant to promote greater efficiency in the healthcare delivery system by restructuring Medicare reimbursements from fee-for-service to bundled payments.[44][45] Under the new payment system, a single payment is paid to a hospital and a physician group for a defined episode of care (such as a hip replacement) rather than individual payments to individual service providers. In addition, it has been asserted that the Medicare Part D coverage gap (commonly called the "donut hole") will shrink incrementally, closing completely by January 1, 2020.[46]   Wikipedia
The CBO averred that the bill would "substantially reduce the growth of Medicare's payment rates for most services; impose an excise tax on insurance plans with relatively high premiums; and make various other changes to the federal tax code, Medicare, Medicaid, and other programs"[216]—ultimately extending the solvency of the Medicare trust fund by 8 years.[249]

Q & A on Medicare's Website ♦ 
Set a personal Consultation Time