AARP – UHC  fillable pdf and you can type your signature!
It's Generic, so it can be used for ANY company.
MAPD & Part D Rx Telephone & Face to Face Meetings
require a Scope of Appointment
Before a sales meeting, the agent  must obtain a completed and signed Scope of Appointment form from each for example both husband and wife Medicare-eligible consumer – prospect present at a telephonic or in-person one-on-one plan presentation of a Medicare Advantage and/or Prescription Drug Plan product
Agents are required that when  conducting marketing activities, in-person or telephonically, that they nor their Plan/Part D Sponsor Insurance Company may not market sell or present any health care related product during a marketing appointment beyond the scope that the beneficiary agreed to before the meeting CMS 2018 Marketing Rules – 70.4.3
The Plan/Part D Sponsor must document the scope of  the appointment prior to the appointment
SOA documentation is subject to the following requirements:
The documentation may be in writing, in the form of a signed agreement by the beneficiary, or a recorded oral agreement.
Any technology (e.g., conference calls, fax machines, designated recording line, pre-paid envelopes, and email) can be used to document the scope of appointment.
Marketing Standards   (g) Market any health care related product during a marketing appointment beyond the scope agreed upon by the beneficiary, and documented by the plan, prior to the appointment (48 hours in advance, when practicable).  and (h),  422.2268(g)
Scope of Appointment
Meeting Authorization – Blue Shield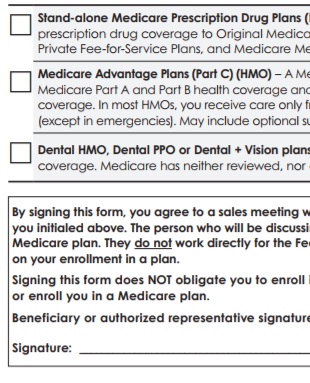 Video
Insurance Companies get a fee from the Federal Government, when you enroll in one.
That's why the premium is very low or ZERO!
Interpretation?
Humana's guidance & interpretation  10.2015  Click to enlarge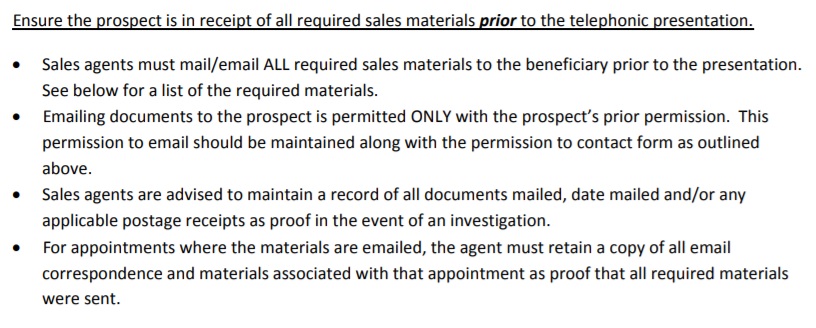 Definition Marketing Activities
20 – Communications and Marketing Definitions 42 CFR §§ 422.2260, 423.2260 
Communications means activities and use of materials to provide information to current and prospective enrollees. This means that all activities and materials aimed at prospective and current enrollees, including their caregivers and other decision makers associated with a prospective or current enrollee, are "communications" within the scope of the regulations at 42 C.F.R. Parts 422, 423 and 417.
Marketing is a subset of communications and includes activities and use of materials that are conducted by the Plan/Part D sponsor with the intent to draw a beneficiary's attention to a MA plan or plans and to influence a beneficiary's decision-making process when selecting a MA plan for enrollment or deciding to stay enrolled in a plan (that is, retention-based marketing). Additionally, marketing contains information about the plan's benefit structure, cost sharing, and measuring or ranking standards.
Hey fellow agents:

Let's meet for lunch, video conference  and talk about it. 
My guess is, only other agents are googling for this page. 
How about we meet and exchange ideas?   
Email me, [email protected] or set a meeting time.  
Well this get's confusing…
Guidance on Plain Meaning Rule and how to read and interpret law, rules & statutes
Secret Shopper's Check List 423.2262,
Review and distribution of marketing materials 423.2268 (g) and (h)
Standards for Part D marketing 42 CFR 422.2262, Marketing Materials
2016 Research
70.9.3 Scope of Appointment 2016 – Medicare Marketing Rules
When conducting marketing activities, a Plan/Part D Sponsor may not market any health care related product during a marketing appointment
The term used in the actual guidelines is Marketing Appointment – NOT Face to Face!  This is one reason why I hate the crappy slide presentations in AHIP and most training seminars.  They don't show you the actual code or reference material.
beyond the scope that the beneficiary agreed before the meeting with that individual.
42 CFR 422.2262 Review & Distribution of Marketing Materials
422.2268(g) and (h) can't market what's not listed in the scope of appointment
423.2262 Part D Rx Review of marketing materials
423.2268 (g) and (h) Part D can't market what's not in scope of appointment
Medicare Training Wikipedia – Meeting