What are Medicare Advantage Plans?
Medicare Advantage Plans MAPD are also known as Medicare Part C and/or Medicare + Choice.  MAPD plans generally include low co-pays, deductibles, an HMO type list of doctors and hospitals. and often include Dental and Part D – Rx Prescriptions with low or no premiums.  The main enrollment requirement is that you must have both Part A Hospital and Part B Doctor Visits which runs about $148/month.  
If you join a Medicare Advantage Plan, you'll still have Medicare but you'll get your Medicare Part A (Hospital Insurance) and Medicare Part B (Medical Insurance) coverage from the Medicare Advantage Plan, not Original Medicare. In most cases, you'll need to use health care providers who participate in the plan's network.  Very few if any plans offer out-of network coverage, other than emergencies or urgent care. Remember, in most cases, you must use the card from your Medicare Advantage Plan to get your Medicare-covered services.  Keep your Medicare card in a safe place because you'll need it if you ever switch back to Original Medicare.
Check out the Official Understanding Medicare Advantage Brochure at the right if you have a full screen monitor or scroll down or click the link to view.
Get Quotes, Full Information and Enroll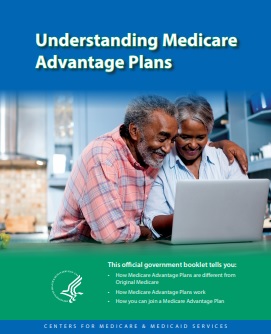 Insurance Companies get a fee from the Federal Government, when you enroll in an MAPD plan.  MAPD Plans must cover all A & B services Medicare.Gov *
That's why the premium is very low or ZERO!
#Intake Form - We can better prepare for the meeting
Do I just sign up with a Medicare Advantage Company and automatically get * Parts A & B or do I have to get those from Medicare.Gov  *   VIDEO
Get Quotes, Full Information and Enroll
MANDATED wording!:  Think Advisor * ''We do not offer every plan available in your area. Any information we provide is limited to those plans we do offer in your area.  Please contact Medicare.gov or 1–800–MEDICARE to get information on all of your options.''
       We disagree with the above wording, as we can use the same tools on Medicare.gov as they do!
FYI  a 4.27.2022 HHS Office of the Inspector General report found that MAPD plans denied 13% of prior authorizations that would have been covered under original Medicare (Conversely, Medi Gap, just follows what Medicare pays.)

MAPD plans often include Dental &  Part D - Rx Prescriptions   and often have NO premiums!  How is that possible? The Federal Government pays them around $700/month to handle your medical care.  You must continue to pay your Medicare Part B premium of about $170/month.  It's best to apply when you turn 65 for the supplement plans or advantage plans, as that's the main "Open Enrollment" period, guaranteed issue for any plan. 

Medicare Advantage Plans also have an annual open enrollment now known as AEP Annual Election Period October 7 to December 15th.

Additional Coverage is important as Medical Bills are increasing Seniors Credit Card Debt or leading to possible bankruptcy?

Authorized Agent
Email us [email protected]

NEW Name:  Elevance Health
Blue Shield of California Authorized Agent - Broker

#Get Quotes & Enroll with Blue Shield