It's best to enroll in Medicare A & B 3 months #before you turn 65
Graphic of when you can enroll based on turning age 65  *  Publication 11036  *

Use this Medicare tool to Find out when you're eligible for Medicare.
The best time to sign up is 3 months before your 65th birthday and coverage will start on the 1st of the month of your birthday.   Be sure to let your prior carrier know at least 30 days in advance that you have new coverage and want to cancel.  Especially if it's Covered CA!  That way you don't have double premiums and duplicate coverage.
Once you enroll in Parts A & B, you are then eligible to get a Medi Gap Plan and part D Rx or Medicare Advantage (HMO) to fill in the gaps that Medicare doesn't pay.  Please note that prescription drug coverage is effectively mandatory as there is a penalty when you eventually sign up, if you didn't  sign up when you are supposed to.
Please note, if you already have Part A, you can't enroll online, you have to fill out  form OMB No. 0938-1230 !   You can mail it in, but be sure to follow up that Social Security has the form.  If not, go to your local Social Security Office and enroll.  Make sure you get a receipt! 
Please note also, that it's been reported that  your Social Security number is required, even though there is NO PLACE on the form for it!
Should you start taking Social Security too?
Screen Shot of Medicare's Enrollment Site

Checklist of what information you need to enroll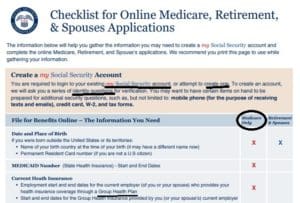 Direct Link to Medicare's Enrollment Website
Our webpage
Medicare's Video on
Medicare

#Enrolling in Parts A & B # 11036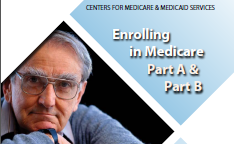 Welcome to Medicare 2021 # 11095
Enroll ONLINE for Medicare Part A Hospital & B Doctor Visits
Should I apply for Part A Hospital?
Part B Hospital?
Wait?
#Should I get Parts A & B?
FAQ's from Medicare.Gov 
Most people should enroll in Medicare Part A (Hospital Insurance) when they're first eligible, but certain people may choose to delay Medicare Part B (Medical Insurance). In most cases,    #How
It depends on the type of health coverage you may have.

Visit Our Web Pages on:
Understanding the Medicare Premium Bill
#cms500  11061 pdf
HTML - Medicare Webpage on Billing
Medicare Part A
(#Hospital Insurance)
Medicare Part A Hospital coverage helps pay for care in hospitals as an inpatient,... skilled nursing facilities, hospice care, and some home health care (see publication # 10969) but not Long Term Care.  
Most people get Part A automatically when they turn age 65 at no charge, since they or a spouse paid Medicare taxes while they were working.  You need to sign up close to your 65th birthday, even if you will not be retired by that time. (If you are getting Social Security benefits when you turn 65, your Medicare Hospital Benefits - Part A - start automatically.) 
Here's a chart it's just a illustration and is NOT official  that shows what Medicare pays, the gaps in Medicare and what you may get when you add a Medi Gap Plan or Medicare Advantage to cover those gaps.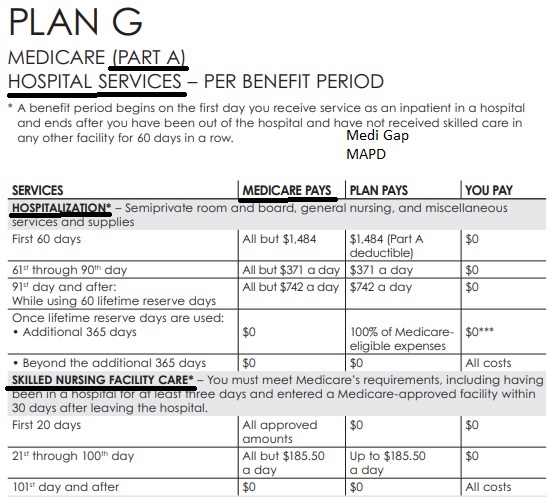 Get help with Medicare Part B  #Costs # 10126 
Medi Cal * Part B Outpatient Premium Forgiveness
Part B - Outpatient helps Pay For Doctors' services, outpatient hospital care, and some other medical services that Part A does not cover, such as the services of physical and occupational therapists, and some home health care see publication 10969, but not Long Term Care. Part B helps pay for these covered services and supplies when they are medically necessary.
The chart below is a very brief summary.  Check the actual Evidence of Coverage for the plan you want to enroll in, Medicare & You or actual Medicare documents.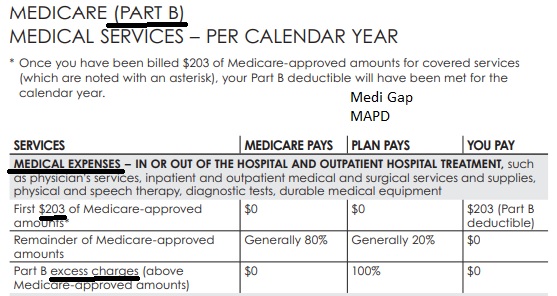 Our Webpages with more detail:
Blue Shield Authorized Agent
No extra charge to you