Part B Doctor Visits & D Rx
surcharges for those with high Income
If you earn a lot of money, be thankful.  Then open up your wallet as it will cost you a little more for Part B – Outpatient – Doctor Visits and Part D Rx.  Medi Gap premiums stay the same.  No surcharge for Medicare Advantage, but for the Rx portion.  See the chart below and the publications on the right.
Note that MAGI for Social Security is a little different here that from the definition for those under 65 in Obamacare.   MAGI is the total of your adjusted gross income [line 8 b 1040] and tax-exempt interest income.
Here's an Explanation in a Specimen MAPD Evidence of Coverage  page 20
Most Medicare beneficiaries pay the standard monthly premium, which is set to cover 25 percent of Part B and Part D program costs, but a relatively small share of beneficiaries (around 6 percent in 2015) with incomes above $87,000 for single people and $174,000 for married couples are required to pay higher premiums for Medicare Part B and Part D—ranging from 35 percent to 80 percent of program costs,  that means that your $144/month Part B premium, costs Medicare more than $429/month! and the average $36 Part D premium costs Medicare $112/month, click on footnote KFF.org to view charts! depending on your  income (Figure 1).    KFF.org
Smartphones
Try turning sideways to better view PDF's & Screen Shots
Part D Rx & B Doctor Visits
Surcharge Chart

We don't always have time to update this chart. 
Just click on chart or Medicare Costs  Publication #11579  for the latest from Medicare. 
Part D 
Higher Income Surcharge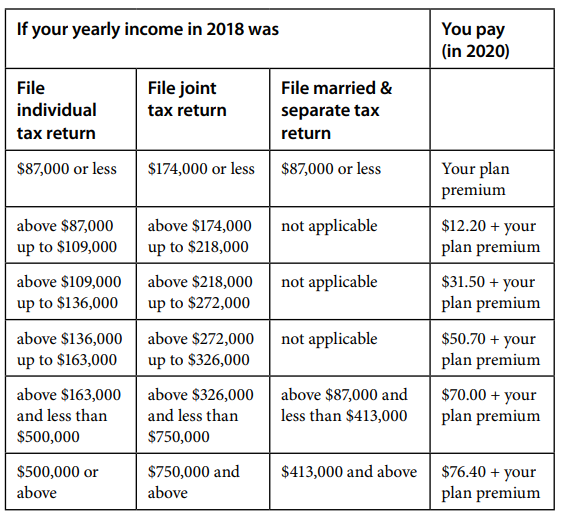 Part B Doctor Visits
Higher Income Surcharge