Medicare Advantage Communications, Marketing and Training Rules 
This is a technical page, that will cross most anyone's eyes.
General Information
Model Material Updates
Model Materials
State-Specific Information
California
Can't say this is the  "#Best Plan."
When referring to Medicare Advantage Plans
40.4 – Prohibited Terminology/Statements
You can't  Use absolute superlatives (e.g., "the best," "highest ranked," "rated number 1") and/or qualified superlatives (e.g., "one of the best," "among the highest rank") unless they are substantiated with supporting data provided to CMS as a part of the marketing review processes or they are used in logos/taglines.
If the material is submitted via the File & Use program, the supporting data must be included, along with the materials that use an absolute superlative.
The superlatives used and the data provided must be in context and may not mislead consumers. For example, a Plan/Part D Sponsor that is the only plan in the area that received a 5-star rating in customer service, but received an overall rating of 3 stars, may not promote itself as the highest ranked plan in a service area where other plans have a higher overall rating.  CMS.gov 2015 * 42 CFR 422.2262, 422.2264, 423.2262, 423.2264, 422.2268(e), 423.2268(e)
30.7 – Prohibited Terminology/Statements
Plans/Sponsors are prohibited from distributing communications that are materially inaccurate, misleading, or otherwise make misrepresentations or could confuse beneficiaries.
Plans/Part D sponsors may not:
 Claim that they are recommended or endorsed by CMS, Medicare, or the Department of Health & Human Services (DHHS);
 Use unsubstantiated absolute or qualified superlatives or pejoratives;
Note: Unsubstantiated absolute and/or qualified superlatives may be used in
logos/taglines.
 Market that they will not disenroll individuals due to failure to pay premiums; or,
 Use the term "free" to describe a zero-dollar premium, reduction in premiums (including Part B buy-down), reduction in deductibles or cost sharing, low-income subsidy (LIS), cost sharing for individuals with dual eligibility.
Note: Medical Savings Account (MSA) plans may not imply that the plan operates as a  supplement to Medicare.   CMS.gov 9.2018  *  42 CFR §§ 422.2264, 423.2264, 422.2268(a)(2), 423.2268(a)(2)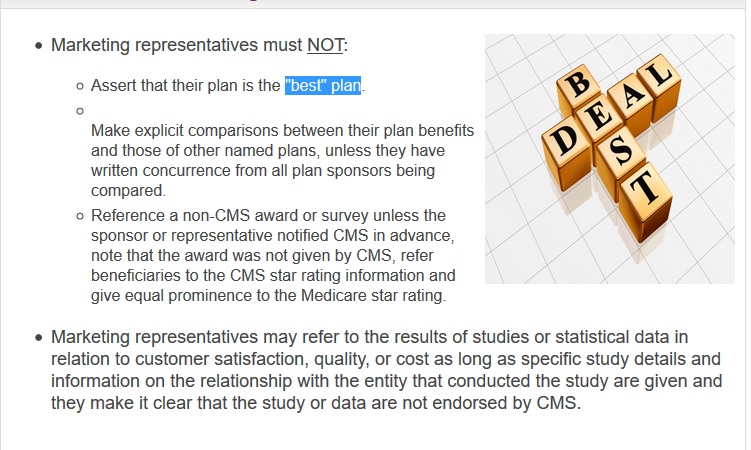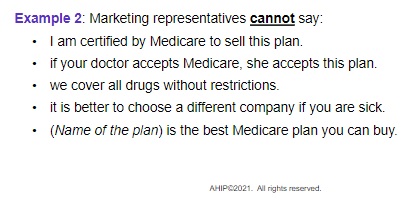 Don't
Use qualified or absolute superlatives.
EXAMPLE: "One of the best", "among the highest ranked" or refer to the plan  you are marketing/selling as "the best, the highest ranked", "rated number one", etc.
Compare an Anthem Plan (including Amerigroup and Simply Healthcare) to another Plan by name or inference unless you have written concurrence from all plan sponsors being compared, or using CMS Star rating documents.  Anthem.com  
Medicare plans and people who work with Medicare can't:
Charge you a fee to process your enrollment into a plan.
Steer you into a particular plan.
Communicate incorrect information about their plan type or use inappropriate statements like their plan is "the best" or "highest ranked." * CA Health Care Advocates  *   Medicare.Gov
Child Pages
[child-pages]