Medicare
Part D Rx Prescriptions
Part D Rx 
Introduction
Part D Rx is practically mandatory.  If you don't have coverage when you are supposed to your premium is increased  12%/year when you eventually do.
Many Part D  plans cover the gap or donut hole, just be sure to read the illustrations, brochures, Medicare Guide to Rx  and drug formularies, on or through our website.
Medicare Advantage plans generally include prescription drug coverage, including both brand-name and generic at participating pharmacies in your area.
Check out our  webpages for more details, coverage and premiums.
The Annual Open Enrollment (AEP) is from October 15th to December 7 and then your coverage will begin January 1 (Medicare FAQ.)
If you've just turned 65, you're eligible now!,  email us or review this website for details.
If you have a Medicare Advantage Plan, with or without Rx coverage and you sign up for Part D coverage, you WILL be dropped from the Medicare Advantage plan! cahealthadvocates.org
You may sign up right through our site, for Part D Rx, see the links on the respective pages,  Medicare Advantage Plan or a Medi-Gap – Supplement Plan.
Try turning your phone sideways to see the graphs & pdf's?
Prescription Drug 2022 #RxGuide
PDF # 11109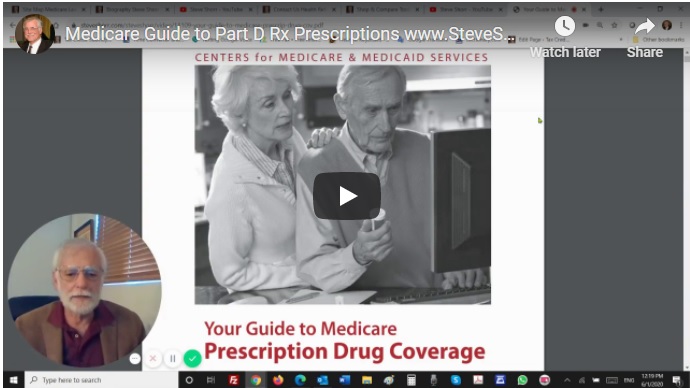 *****************
Coverage Gap - Donut Hole $2,000 Cap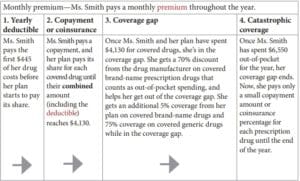 ******************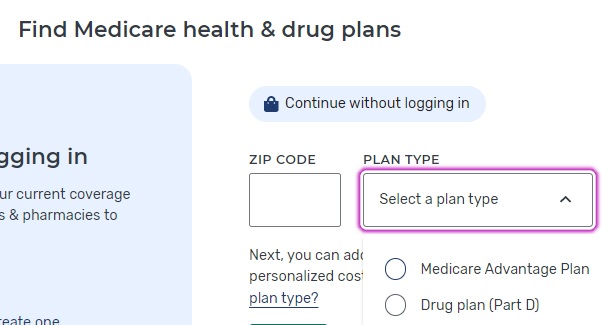 Here's the webpages for the Part D Rx plans we are agents for.
How to use the Rx & Plan Finder 
Medicare Part D Shopping Video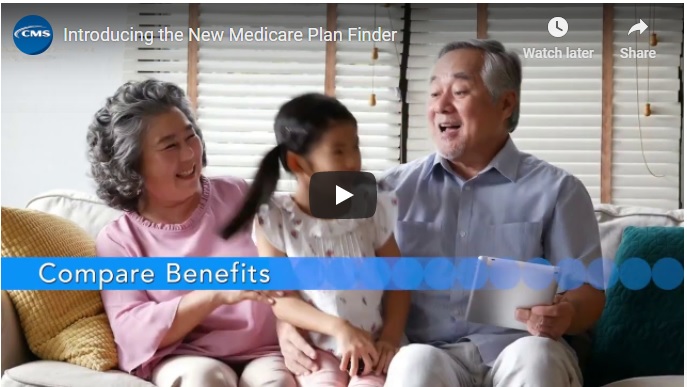 Learn more on our webpage about the Shopping Tool along with Q & A or Ask your own question at the bottom of the Q & A section
More Video's
BE CAREFUL OF THE #SNAFUS    !!!

Medicare Drug Plan Prices Touted During Open Enrollment Can Rise Within a Month

But instead of the $70.09 she expected to pay for her dextroamphetamine, used to treat attention-deficit/hyperactivity disorder, her pharmacist told her she owed $275.90
"The [Medicare] Plan Finder is an outside source and therefore not reliable information,"

We strongly urge that you use the "print" feature on Medicare.Gov and save your work!  Also, check the website of the Insurance Company you want to use.

The "Total Yearly Cost of Care" does not provide personalized or transparent information. For example, when a consumer inputs or changes personal data, such as drug information, his or her total estimated costs do not change. This is not mathematically possible based on the plan benefits. Additionally, the tool does not share what is included in the total cost. As a result consumers will likely see the total cost and assume they are receiving a personalized and tailored estimate which may not be accurate.
The estimated total yearly cost of care is flawed. On a plan that has reduced benefits year over year, the expectation would be that the "estimated total yearly costs" would increase. However the tool is inaccurately estimating the consumer's costs will decrease. It doesn't make mathematical sense. For consumers on a fixed income and cost conscious, this could be detrimental to their situation.
Most supplemental benefits are not included in the total yearly cost of care. Over the past several years supplemental benefits have expanded and provided members with options that not only treat, but prevent illness and increase quality of life. We know the high value of benefits such as vision, dental and hearing to our consumers, and they are a key way we are partners in care with our members. Some of the benefits that are not included are:

Transportation lists copay but not number of rides.
Eyeglasses list copay but does not share if benefit covers frames, lenses or contacts.
Wellness Programs include a long list of possible items including fitness, nurse hotline, Personal Emergency Response and telehealth, that can't be lumped into a single "covered" or "not covered" benefit.  Excerpt from UHC Agent Memo  * Forbes *  GAO 7.2019 Report *