If someone was over 65 and not eligible for no premium Part A Hospital Medicare was a BIG debate when ACA/Covered CA/Obamacare started.  It's now well settled that they can.  Here's proof, the 1095 A showing the subsidy!
Our webpage on 1095 A Proof of Health Coverage for the past year
Video about Covered CA – if no Premium Free Part A – jump to 2:30 

VIDEO  Medicare & the Market Place
Jump to 2:30 for those not eligible for No Premium Part A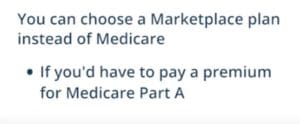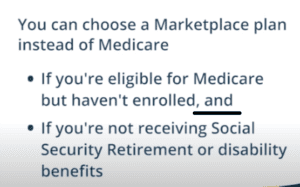 VIDEO What is APTC Advance Premium Tax Credit
Interactive Tax Assistant (ITA)
Am I eligible to claim the Premium Tax Credit? 
Tax #Estimators
ACA What You Need To Know  #5187 
Kaiser Foundation reports that 27% of uninsured individuals are eligible to purchase a bronze plan with $0 premiums after subsidies in 2019.  Silver plans with cost-sharing reductions (CSR) for single individuals with incomes below 200% of the poverty level 
can be purchased
 for roughly $20 to $130 per month after subsidies, depending on an enrollees' income.
KFF
 *
Q & A from Medicare Page
. My father and mother have had Covered CA 
Silver 94 PPO
 plan, with 
APTC – Advanced Premium Tax Credit
 since 
ACA
 – ObamaCare  went into effect. Their income is below 
FPL – Federal Poverty Level
 but through two years of consecutive 
appeals hearing
, the Judge had ordered 
Covered CA that they are eligible for APTC since they are not eligible for non-MAGI Medi-Cal
 (since both my dad and mom are above 65, and have assets more than Medi-Cal limits, and they cannot spend down).
***But does the IRS agree with that when they file 1040 and 8962 Premium Tax Credit
I would like to see that order.
Both my dad and mom have been legal permanent residents (green card) at the time of the appeals in 2016 and in 2015. They are eligible for Medicare but are not eligible for premium-free Medicare, and Covered CA did send them a letter stating that people who are not eligible for premium-free Medicare and who dont enroll in Medicare could be eligible for APTC. Just like last two years, again for 2017, Covered CA has told them that we are not eligible for APTC for 2017 coverage. My dad became a US citizen late 2016. But they continue to be ineligible for Medi-Cal, or premium-free Medicare. And without APTC,
***What if they just take the credit when they file their taxes at the end of the year?
they cannot afford to get an affordable minimum qualified health plan – minimum essential coverage.
They have filed for an appeal, but if you can point us to any sections of the ACA, or Federal Code of Regulations
***CFR  §1.37-1   General rules for the credit for the elderly.   *   §1.37-2   Credit for individuals age 65 or over.
or California regulations, or special rules/clarifications, or IRS notes that we can represent to the judge during our hearing, it would be really helpful.
It is strange that while they would be eligible for APTC as non-citizen aliens (as decided by the Judge last 2 years), their becoming a citizen makes it worse for them.
***How so?