Introduction to Health Savings Accounts HSA 
Health Savings Accounts (HSA's) IRC 223 * allow you to save money, premium & Federal taxes but apparently not CA taxes, by getting a qualified Silver or Bronze  high-deductible health Insurance  plan (HDHP).  So, no, generally a grandfathered plan won't do that. High deductible Bronze plans have lower premiums than say Silver, Bronze or Platinum.  See button below for a proposal.   Premiums vs co pays, deductibles etc, are a function of the MLR Medical Loss Ratio, where Insurance Companies are mandated to pay 80c and 85c of every dollar in premium in claims or pay rebates.  So, if you don't think you'll have tons of low end claims, an HSA might be the thing for you.
See Introduction in the HSA Guidebook for a simple explanation.
Sterling Administration You Tube Video Help! What exactly is an HSA Health Savings Account? 
You can put in – deposit any amount at any time, up to the contribution limits.  You don't have to put in deposits if you don't feel like it.  Best of all, you can put in a deposit, just before you pay any part of your  deductible.
The contribution to your HSA is tax deductible, lowers your Adjusted Gross Income on line 25 of 1040 with Form 8889 attached.   Graph of savings. 
You can withdraw from your HSA tax free  any   allowable medical  expenses (IRS Publication 502, Internal Revenue Code (IRC) §213 [d])) Aetna even some Health Insurance Premiums through your HSA bank account – debit card.  The maximum contributions Wells Fargo  * IRS *  SHRM * are in the  table below. If you are over age 55 an additional $1k can be deposited.  An HSA is very similar to an IRA, except that it is for medical expenses.
When you retire, the money in your account can still be used for medical and some Insurance Premiums, without paying taxes. Check out this article on why you need an emergency fund. 
Without an HSA or having an EmployER sponsored plan,  medical expenses are not usually deductible unless they are more that 10% PPACA 9013 of adjusted gross income IRS Publication 969.PDF  California tax* IRS publication 502 *  Here's an FAQ on having an Employer Sponsored HSA.   Often though Employer's prefer richer plans – Los Angeles Times.  
One might also consider a supplemental accident plan to cover the deductible in a Bronze HSA Plan.
ACA Health Reform does not appear to have any effect on HSA's other than the change from 7.5% to 10% that one would have to otherwise incur for premiums and expenses to be deductible and over the counter medications must have a prescription. PPACA 9013 healthcareexchange.com cigna.com hsawells fargo While there is a $2k deductible limit for individuals and $4k for families, to qualify as an essential benefit, since the HSA account provides reimbursement, 42 USC 18022 (2) there should be no problem.  Check with your tax or legal adviser.
Try turning your phone sideways to see the graphs & pdf's?
#

Contribution and Out-of-Pocket Limits


for Health Savings Accounts and High-Deductible Health Plans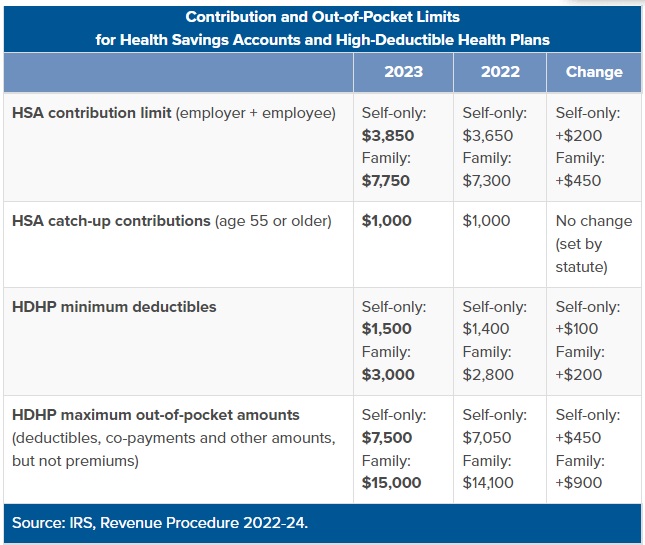 HDHP maximum out-of-pocket amounts (deductibles, co-payments and other amounts, but not premiums)
Source: IRS, Revenue Procedure 2021-25.  *  SHRM.org *
#Sales Brochures
Learn More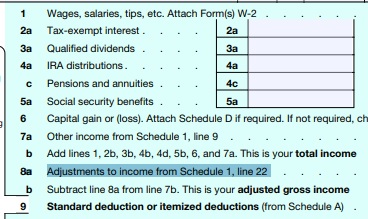 What's this about #embedded & aggregate deductibles?
Individual vs Family Deductibles?
Under family coverage, an embedded deductible is the individual deductible for each covered person, embedded in the family deductible. While it might not sound like a good thing to have two deductibles, it actually works to provide better coverage for individual members because once each family member meets his or her embedded deductible, health insurance begins paying for covered services, regardless of whether the larger family deductible is met.
Contrast this to a non-embedded deductible, also referred to as an aggregate deductible. Under an aggregate deductible, the total family deductible must be paid out-of-pocket before health insurance starts paying for the health care services incurred by any family member. While family coverage with an aggregate deductible may have a lower monthly premium, coverage won't kick in until the total family deductible is met. In contrast, family health plans with an embedded deductible may help ensure that there is coverage for individual family members once they meet their embedded deductible, regardless of whether the family deductible is met. Unfortunately, the Summary of Benefits and Coverage won't necessarily tell you if the deductible is embedded or not; you may have to call the plan to learn how the deductible will be applied for your coverage.   Learn More⇒ Center on Health Insurance Reforms   AB 1305
If two or more on a policy it's the Family Deductible NOT individual, with a family max?
See excerpt of Blue Cross Bronze HSA Page 55 on Family or Individual Deductible
NEW for 2016!!!  Embedded – HSA plans had an aggregate deductible where one person could meet the entire family deductible.   Now a family member will not be charge more than the individual deductible and be able to receive benefits sooner.  BC RSM Email 9.29.2015    SHRM.org   AB 1305 2015 Bonta
2017 NEW Laws & Regulations effective 1.1.2017  AB 1305, 339 & 1954  SB 999 – Deductible & OOP Maximums FAQ's
What is the Maximum that can be contributed to an HSA – Health Savings Account?