How can a Health Savings Account save me premiums and Taxes too?
Health Savings Accounts (HSA's) IRC 223 * allow you to save money, premium & Federal taxes by getting a qualified Bronze  high-deductible health Insurance  plan (HDHP), as higher deductible plans have lower premiums, as a function of the MLR Medical Loss Ratio, where Insurance Companies are mandated to pay 80c and 85c of every dollar in premium in claims or pay rebates.  
The contribution to your HSA is tax deductible, lowers your MAGI – Modified Adjusted Gross Income  and shown on line 25 of 1040 with Form 8889 attached. 
One then pays their   allowable medical  expenses (IRS Publication 502, Internal Revenue Code (IRC) §213 [d])) Aetna through your HSA bank account – debit card.  The maximum contributions Wells Fargo  * IRS *  SHRM * are in the  table below. If you are over $55 and additional $1k.  An HSA is very similar to an IRA, except that it is for medical expenses.
When you retire, the money in your account can still be used for medical and some Insurance Premiums, without paying taxes.
Without an HSA or having an EmployER sponsored plan,  medical expenses are not usually deductible unless they are more that 10% PPACA 9013 of adjusted gross income IRS Publication 969 .PDFCalifornia tax*IRS publication 502
One might also consider a supplemental accident plan to cover the deductible in a Bronze HSA Plan.
Donald Care proposals often tout HSA's.  The Patient Freedom Act by U.S. Senators Bill Cassidy and Susan Collins talks about PRE Funding HSA's.   AHCA Rev 3.6.2017 page 85 et seq
ACA Health Reform does not appear to have any effect on HSA's other than the change from 7.5% to 10% that one would have to otherwise incur for premiums and expenses to be deductible and over the counter medications must have a prescription. PPACA 9013 healthcareexchange.comcigna.com hsawells fargo While there is a $2k deductible limit for individuals and $4k for families, to qualify as an essential benefit, since the HSA account provides reimbursement, 42 USC 18022 (2) there should be no problem.  Check with your tax or legal adviser.
Trumps HSA's are a scam Blog Insure Me Kevin.com 11.21.2016
FREE – Instant NO obligation Quotes
Are you viewing this on a Smart Phone?
Try turning sideways to view screen shots & pdfs.
#Contribution and Out-of-Pocket Limits
for Health Savings Accounts and High-Deductible Health Plans
 
 2021
2020
2019
 
HSA contribution limit (employer + employee)
$3,600 Individual

$7,200 Family

Self-only: $3,550
Family: $7,100
Self-only: $3,500
Family: $7,000
 
HSA catch-up contributions (age 55 or older)
Same
$1,000
$1,000
 
HDHP minimum deductibles
Same
Self-only: $1,400
Family: $2,800
Self-only: $1,350
Family: $2,700
 
HDHP maximum out-of-pocket amounts (deductibles, co-payments and other amounts, but not premiums)

$7,000 Individual
$14,000 Family

Self-only: $6,900
Family: $13,800
Self-only: $6,750
Family: $13,500
 
Source: IRS, Revenue Procedure 2019-25. *  SHRM.org  * Blue Cross Bulletin 10.29.2020 *
Kaiser VIDEO – How does a High Deductible Plan Work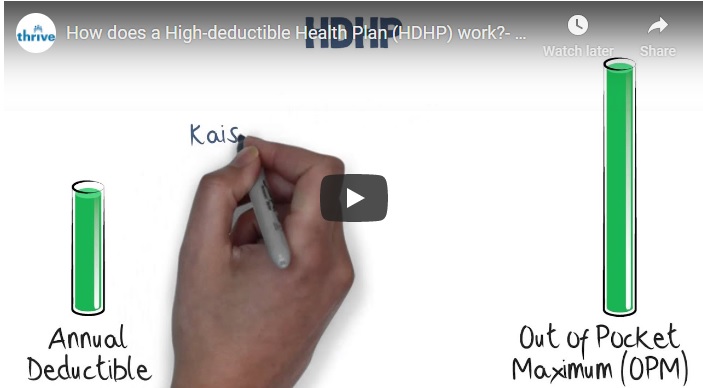 Suze Orman
What is an HSA VIDEO 
What's this about embedded & aggregate deductibles?
Individual vs Family Deductibles?
Under family coverage, an embedded deductible is the individual deductible for each covered person, embedded in the family deductible. While it might not sound like a good thing to have two deductibles, it actually works to provide better coverage for individual members because once each family member meets his or her embedded deductible, health insurance begins paying for covered services, regardless of whether the larger family deductible is met.
Contrast this to a non-embedded deductible, also referred to as an aggregate deductible. Under an aggregate deductible, the total family deductible must be paid out-of-pocket before health insurance starts paying for the health care services incurred by any family member. While family coverage with an aggregate deductible may have a lower monthly premium, coverage won't kick in until the total family deductible is met. In contrast, family health plans with an embedded deductible may help ensure that there is coverage for individual family members once they meet their embedded deductible, regardless of whether the family deductible is met. Unfortunately, the Summary of Benefits and Coverage won't necessarily tell you if the deductible is embedded or not; you may have to call the plan to learn how the deductible will be applied for your coverage.   Learn More⇒ Center on Health Insurance Reforms   AB 1305
If two or more on a policy it's the Family Deductible NOT individual, with a family max?
See excerpt of Blue Cross Bronze HSA Page 55 on Family or Individual Deductible
NEW for 2016!!!  Embedded – HSA plans had an aggregate deductible where one person could meet the entire family deductible.   Now a family member will not be charge more than the individual deductible and be able to receive benefits sooner.  BC RSM Email 9.29.2015    SHRM.org   AB 1305 2015 Bonta
2017 NEW Laws & Regulations effective 1.1.2017  AB 1305, 339 & 1954  SB 999 – Deductible & OOP Maximums FAQ's
What is the Maximum that can be contributed to an HSA – Health Savings Account?