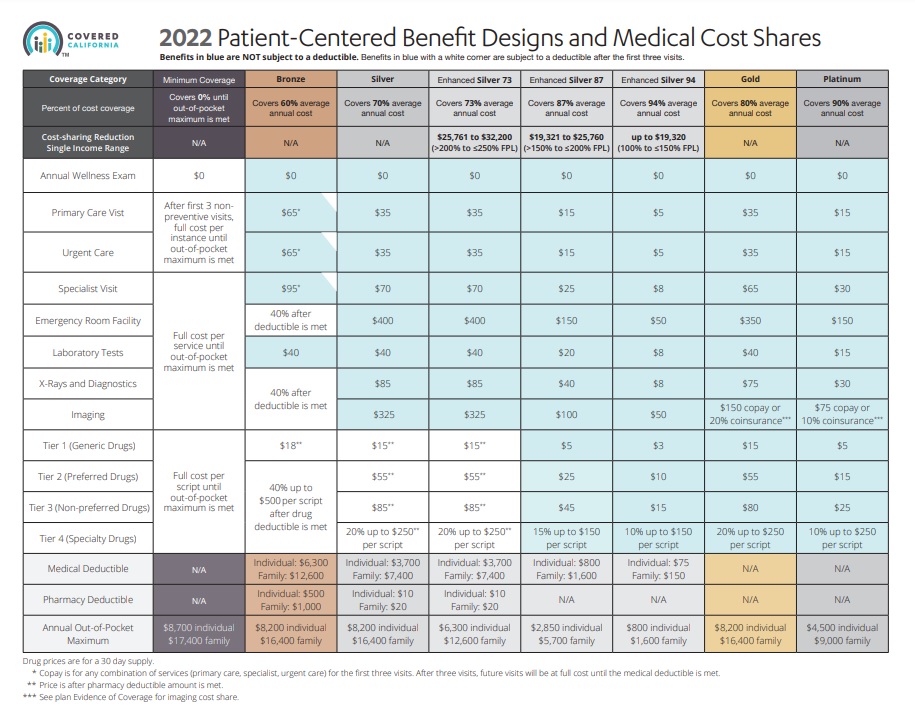 #Report changes as they happen - within 30 days! 10 CCR California Code of Regulations § 6496

10 days for Medi Cal 22 CCR § 50185
Our webpage on ARPA & Unemployment Benefits - Silver 94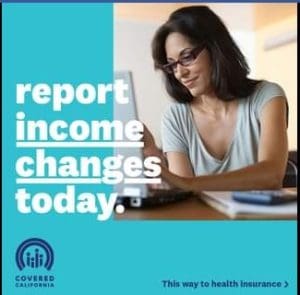 IRS Form 5152 - Report Changes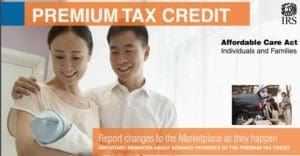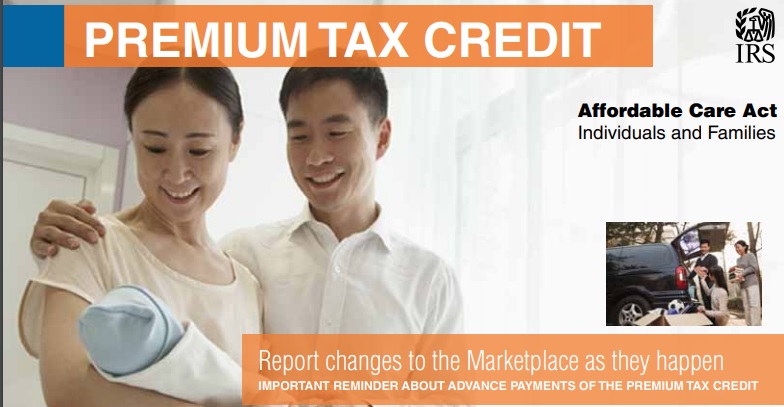 All our plans are Guaranteed Issue with No Pre X Clause
Quote & Subsidy Calculation
There is No charge for our complementary services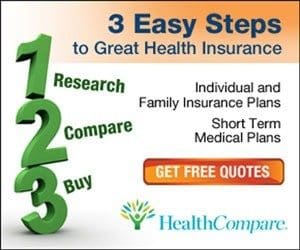 Watch our 10 minute VIDEO
that explains everything about getting a quote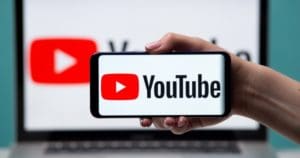 Our Quote Engine Takes all the complexity out of using pencil and paper to figure out the premiums per the Obamacare/ACA rules under   CFR §1.36B-3 *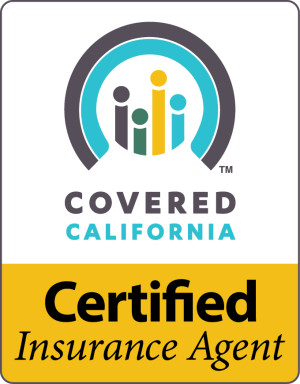 #Covered CA Certified Agent  
No extra charge for complementary assistance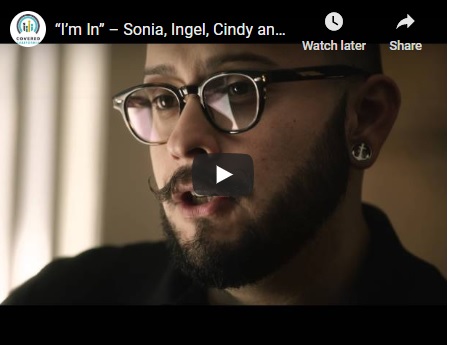 What is #Catastrophic Coverage
less benefits than Bronze
One can qualify for the  Catastrophic level,  Health Care.gov  (high deductible) if they are under 30 or the premium is unaffordable as being more than 8% of income, or possibly a hardship exemption.    Blue Cross Blue Shield .  See the  Federal Hardship Exemption Form for more information.

Check our Quotit Calculator for rates and benefits.  Very few people bother with Catastrophic – Especially if they qualify for enhanced silver.
Learn more on HealthCare.gov

Exemption Forms

https://www.healthcare.gov/exemption-form-instructions/
Right-click this exemption application form (PDF) link for hardship exemptions, like homelessness, bankruptcy, eviction, or foreclosure.
Right-click this exemption application form (PDF) for affordability exemptions AND residency in:

California, Colorado, District of Columbia, Idaho, Maryland, Massachusetts, Minnesota, New York, Rhode Island, Vermont, Washington

Comparison to Bronze & Rates
FAQ's 
When/if you think it appropriate I am ready to file a complaint with the state insurance board. Oscar shouldn't have such a problem selling a policy to someone with an ECN in hand.

1st of all, this website is probably the most authoritative site for Catastrophic Coverage in California. We've only had two visitors in the past 30 days. Generally, Catastrophic isn't any less premium than Bronze and there are no subsidies. Finding any information about these plans, without getting into "bogus" plans is difficult. If you've found anything authoritative on catastrophic or minimum coverage plans, please post those links in comments below.

That said, I'm not surprised that the Insurance Companies are having difficulty finding a procedure to sell you a plan. What kind of crazy thing is this, the "family glitch?"

I don't think that a week for an Insurance Company to research something is all that long. I just sent a follow up email.
I seriously doubt that the DOI Department of Insurance or Managed Health Care would even know what you're talking about if you made a complaint.
Please, when referring to other website, provide the exact URL. I don't see why anyone would want the catastrophic – minimum coverage plan. The rate isn't much less than Bronze.Please advise what hardship you qualify for and why. We must have facts & proof, before making determinations and recommendations.
Please get a quote, use the icon in the upper right and then we can better discuss what best fits your needs & wants.
Child & Related Pages
[child-pages]