The Four  Metal Levels, Bronze, Silver (Enhanced Silver), Gold & Platinum based on actuarial value (AV) are Health Care Reform attempt to make shopping and comparing easier.
So, it's pay now or pay later if you get a lower priced plan, that pays less in benefits.  However, there is a stop loss – maximum out of pocket, so an a million dollar claim, it won't really matter.   Do you think your medical bills will be higher or lower than average for your age & zip code?   Get a free instant quote now, including the calculation of the  Cost Sharing Reductions in the Enhanced Silver 73-94% and subsidies – advance premium tax credit, if you qualify based on your income & Federal Poverty Level (Chart).    Here's instructions to appoint us as your Covered CA agent so that we can get paid for assisting you, at NO ADDITIONAL charge.
Expected  Payout (AV)       Bronze 60%    Click here for Enhanced Silver 70% – 94%     Gold 80%     Platinum  90%
Click here to enlarge the Benefits Chart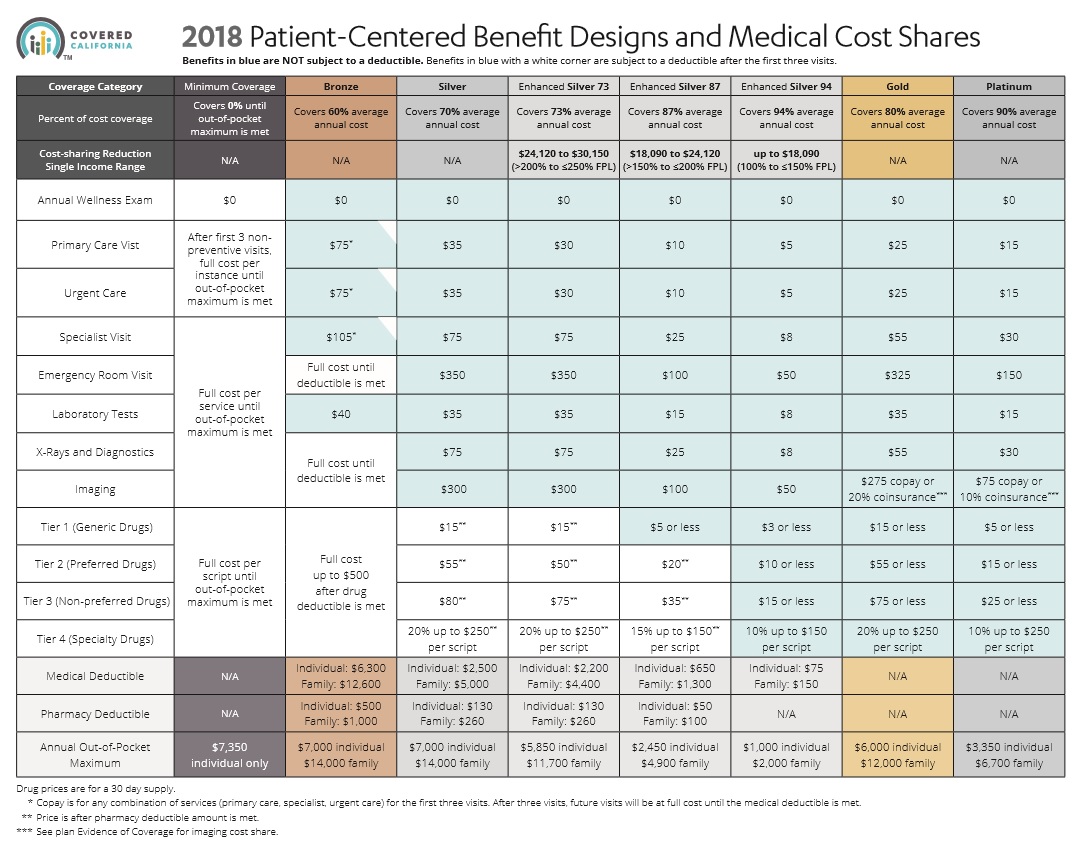 | | | |
| --- | --- | --- |
| What are the four metal levels? | Understanding Health Care Costs | How to find plan that fits budget |
Resources & Links
2017 Plan Booklet – Metal Tiers
One chart for Metal Levels and Enhanced Silver Cost Share Reductions
Covered CA now allows different metal levels for each member of family – Learn More CA Health Line 8.15.2016 * Insure Me Kevin.com 8.2.2016
Child & Related Pages
Compare Hospitals Outcomes
(California Choice – Web MD Tool)
CMS said it will enforce the Affordable Care Act's cap on annual out-of-pocket health care spending for individuals, regardless of whether consumers have an individual or family health plan.  the rule capped maximum out-of-pocket costs at $6,850 for individual plans and $13,700 for family plans annually.  Learn More⇒  Our Rx Page  ♦ Modern Health Care 9.15.2015 ♦  Final Market Rules 45 CFR Parts 144, 147, 153, 154, 155, 156 and 158
Bronze – Co Insurance after Deductible?
Covering Costs of High Deductible Plan?
More detail on Metal Tiers (Covered CA Agent Training)
What are Covered California standard benefit designs?
Health insurance plans must follow Covered California's standard benefit designs.  With standardized benefits, consumers can accurately compare health insurance plans, because the benefits are the same for all plans offered in the Covered California marketplace. Additionally,  standardizing benefits ensures that the selected health insurance plans define what the consumers get and limit the consumer's out-of-pocket costs by type of service.
There is also a Catastrophic level,   (high deductible) that one can qualify for, if they are under 30 or the premium is unaffordable as being more than 8% of income.  Open Congress.org   Blue Cross Blue Shield    Blue Shield Catastrophic plan        Email us for rates.  [email protected]
AB 639 (Chaptered) would Prohibit any [Insurance] product from being offered other than those with a standardized product design [metal level]  in the family  market.   Sounds like what we have with Medi Gap policies.
Get the most recent status at http://leginfo.legislature.ca.gov/
I agree it will stifle innovation, so do you want same o same o or to be able to get a plan that fits your needs.  On the other hand isn't it just a mathematical calculation to see what the actuarial value and essential benefits  is?    Get a FREE quote for Medical Coverage.   Term Life Insurance