Instant Health Net ONLINE Quotes & Enrollment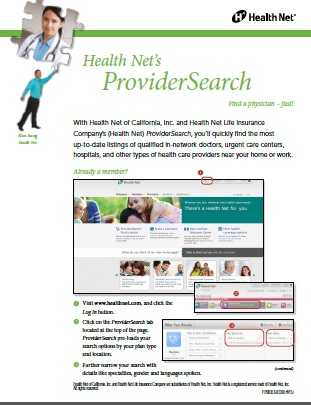 ONLINE Provider Search
Guide – 8 page pdf for brokers 4.2015
Public 1.2015
Understanding your Explanation of Benefits (EOB) 5.2015

Commercial Claim Form  English

03/31/15
HMO/POS Travel Guide English

    06/19/15     PPO  English

  04/16/15
2015 Health Net dropping PPO? ♦  More and new HSP plan ♦ HN Official Agent Notification ♦  Agent Announcement for 2015 ♦
2015 IFP portfolio
For 2015, we will offer:
Two new tailored network-based plans.

A Health care service plan (HSP) Pure Care Network in Southern California (on- and off-exchange).

Health Care Service Plan (HSP) is a benefit plan using health care provider arrangement whereby an entity, such as Health Net, contracts with a group of Physicians or other medical care providers, called Participating Providers, who agree to furnish services at the negotiated rate known as the Contracted Rate.  Bronze EOC Page 119
Health Net PureCare HSP Service Area is the geographic area in California where Health Net has been authorized by the California Department of Managed Health Care to contract with providers, market products, enroll Members and provide benefits through approved Individual HSP health plans. A listing of the Participating Providers in the Health Net PureCare HSP Service Area, including Primary Care Physicians, are available on the Health Net website at www.healthnet.com. You can also call the Customer Contact Center at the number shown on your Health Net I.D. Card to request provider information.Bronze EOC Page 119

An Exclusive Provider Organization (EPO) plan in Northern California (on- and off-exchange except in Mariposa, Monterey and San Benito counties). We are awaiting regulatory approval.

HMO plans in Southern California (on- and off-exchange) using our CommunityCare network. We will continue to offer these popular HMO plans in platinum, gold and silver metal levels.
Related Pages in Health Net  Section