Coverage for Orthotics
All health plans and insurers to are now required to offer (make something available for those who want it) coverage for orthotic and prosthetic devices
and services as follows:
Annual and lifetime maximums for orthotic and prosthetic devices and services cannot be lower than the maximums applicable to other plan benefits; and
Copayments, coinsurance, deductibles, and maximum out-of-pocket amounts cannot be higher than the most common amounts on the benefit plan.  AB 2012  Health and Safety Code §1367.18 Insurance Code §10123.7
What is an Orthotic?
A removable shoe insert, otherwise known as a foot orthoses, accomplishes many number of purposes, including daily wear comfort, foot and joint pain relief from arthritis, overuse, injuries, and other causes such as orthopedic correction, smell reduction and athletic performance. wikipedia.org/Shoe_insert
Foot orthoses comprise a custom made insert or footbed fitted into a shoe. Commonly referred to as "orthotics" these orthoses provide support for the foot by redistributing ground reaction forces as well as realigning foot joints while standing, walking or running. A great body of information exists within the orthotic literature describing the sciences that might be used to aid people with foot problems as well as the impact "orthotics" can have on foot, knee, hip, and spine deformities. They are used by everyone from athletes to the elderly to accommodate biomechanical deformities and a variety of soft tissue inflammatory conditions such as plantar fasciitis.[8]   wikipedia.org/Orthotics#Foot_orthoses
Medical Necessity
When Medically Necessary, benefits are available for:
Orthotics (braces, boots, splints) for foot disfigurements resulting from bone deformity, motor impairment, paralysis, or amputation. This includes but is not limited to, disfigurement caused by cerebral palsy, arthritis, polio, spina bifida, diabetes, accident, injury, or developmental disability, and
Podiatric devices, such as therapeutic shoes and shoe inserts, to prevent or treat diabetes-related complications
Covered Services include determining if You need the device, initial purchase, fitting, adjustment, and repair of a custom made rigid or semi-rigid supportive device  Sample ACA/Obamacare Policy Page 77 
Clinical Policy Rules to get coverage
Durable Medical Equipment, Prosthetics, Orthotics, and Supplies
Consumer Resources
San Pedro Shoes
Excellent Orthotics
Video Istep digital foot analysis
vimeo.com
thorlo.com  Socks
Before AB 2012, health plans and insurers were required to offer group coverage for orthotic and prosthetic devices under terms agreed upon between the employer and the health plan or insurer. AB 2012 revised the existing "mandate to offer" to stipulate that this coverage may be subject only to maximums and limitations on coverage that apply to the plan's basic health care services. The new provision is effective July 1, 2007.
Related Pages
Guaranteed Issue - No Pre X Clause
Quote & Subsidy Calculation
Find out your premium with Covered CA
or Direct without Subsidies

No charge for our complementary services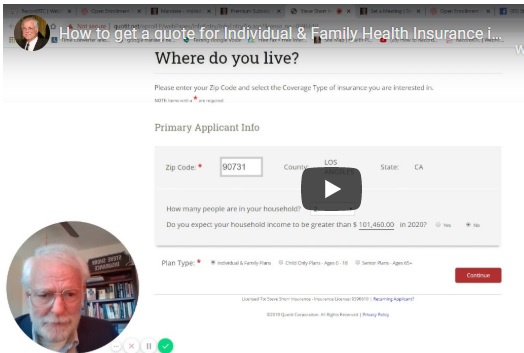 How to use our FREE Quote Engine, Subsidy Calculator  and get the MOST from the experience.
When you get a FREE quote, you can also see the benefits, view actual brochures, MD and Hospital Lists all ONE easy process with no obligation & it can be anonymous.   Enter your zip code, date of birth, family - household taxation relationships (MAGI - Definition),    Estimated MAGI - Modified Adjusted Gross Income for the upcoming - current year.  Last years tax return only gives an idea so that Covered CA can approve your advance tax credit to help pay premiums.
If you qualify for tax credits - subsidies and want them in advance (Pros-Cons) of filing your taxes click on "Health On Exchange" - Covered CA, illustrated below.
This website and are individual consultation are provided to you FREE of Charge!  We are paid by Covered CA and/or the Insurance Companies to help you.  When you fill out the Covered CA ONLINE Application, just appoint us as your agent under Find Help in the Upper Right Hand Corner so that we get paid for helping you.  Click here for screen shots for more detail of how to do it.  If you prefer, you can pay us a consultation fee in lieu of appointing us as your agent, for educational services only.
You can then see all the quotes on the exchange, showing the Cost Share Reduction - Enhanced Silver  if available, subsidy - tax credit amount and your net premium.    If you click "Off Exchange" you will see more plans and companies which  may have larger provider lists.   Scroll down for more screen shots.
Then click on "View Plan Details" - "View Doctor's & Providers" - to compare and get more information.  Please note that the quote engine does not show enhanced silver, but shows silver at 70%.  Check our chart for the better silver coverage.
Learn more about the right to change plans when Silver Level Enhanced Changes
To apply, click on apply now or use the links in the right hand column, ON THIS PAGE, but it will have you redo the quote for that specific company.   The price is the SAME, no matter if you use us, go direct to Covered CA or the Insurance Company, as mandated by law!  If applying through Covered CA, be sure to sign the form to appoint us as your agent.  It's not all the easy to figure out how to do it on their website.
If you have any questions email [email protected] or call us 310.519.1335