The Four  Metal Levels, Bronze 60, Silver 70 (Enhanced Silver 73, 87, 94), Gold 80 & Platinum 90 
are based on Expected Claims Payment – actuarial value (AV). (FAQ)   This is one way (Scroll down to Standard Benefit Designs) Health Care Reform hopes to make shopping and comparing easier.   So, if you get a lower priced plan with less or fewer benefits, co-pays, deductibles you simply pay more when you have a claim.  Don't worry, there is a stop loss – maximum out of pocket OOP, of say $7k so that you won't break the bank.  All plans cover the 10 essential benefits.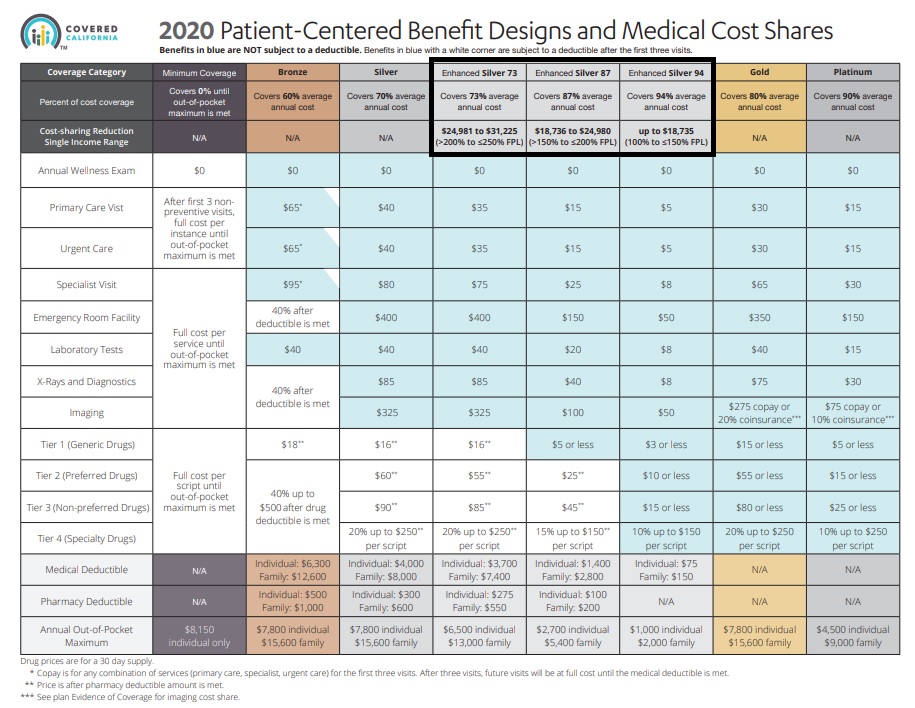 Source and see a sharper image
2021 Patient Centered Designs 
Do you think your medical bills will be higher or lower than average for your age & zip code?
Expected  Payout (AV)  MLR Medical Loss Ratio      Bronze 60%    Click here for Enhanced Silver 70% – 94%     Gold 80%     Platinum  90%
| | | |
| --- | --- | --- |
| What are the four metal levels? | Steve Explains Enhanced Silver – CSR Cost Sharing Reductions | How to find plan that fits budget |
| Our video on what plan to take if you know you will have a BIG surgery or expense coming up | |  View our webpage on OOP Maximum Out of Pocket |
|   | Understanding Health Care Costs |   |
Report changes as they happen - within 30 days!
Visit our webpage on how to report changes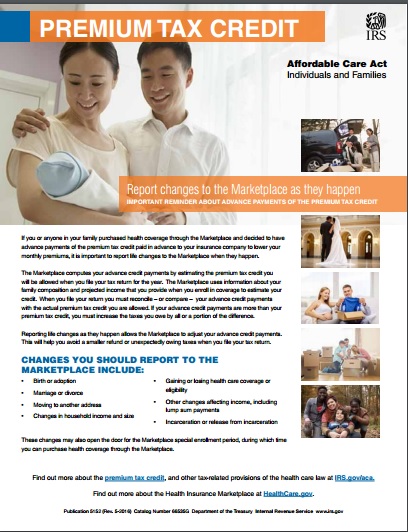 IRS Video on Life Changes
Guaranteed Issue - No Pre X Clause
Quote & Subsidy Calculation
Find out your premium with Covered CA
or Direct without Subsidies

No charge for our complementary services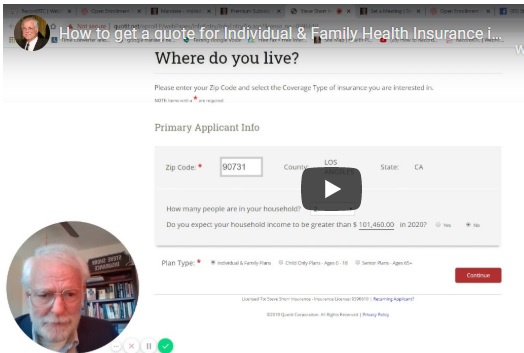 How to use our FREE Quote Engine, Subsidy Calculator  and get the MOST from the experience.
When you get a FREE quote, you can also see the benefits, view actual brochures, MD and Hospital Lists all ONE easy process with no obligation & it can be anonymous.   Enter your zip code, date of birth, family - household taxation relationships (MAGI - Definition),    Estimated MAGI - Modified Adjusted Gross Income for the upcoming - current year.  Last years tax return only gives an idea so that Covered CA can approve your advance tax credit to help pay premiums.
If you qualify for tax credits - subsidies and want them in advance (Pros-Cons) of filing your taxes click on "Health On Exchange" - Covered CA, illustrated below.
This website and are individual consultation are provided to you FREE of Charge!  We are paid by Covered CA and/or the Insurance Companies to help you.  When you fill out the Covered CA ONLINE Application, just appoint us as your agent under Find Help in the Upper Right Hand Corner so that we get paid for helping you.  Click here for screen shots for more detail of how to do it.  If you prefer, you can pay us a consultation fee in lieu of appointing us as your agent, for educational services only.
You can then see all the quotes on the exchange, showing the Cost Share Reduction - Enhanced Silver  if available, subsidy - tax credit amount and your net premium.    If you click "Off Exchange" you will see more plans and companies which  may have larger provider lists.   Scroll down for more screen shots.
Then click on "View Plan Details" - "View Doctor's & Providers" - to compare and get more information.  Please note that the quote engine does not show enhanced silver, but shows silver at 70%.  Check our chart for the better silver coverage.
Learn more about the right to change plans when Silver Level Enhanced Changes
To apply, click on apply now or use the links in the right hand column, ON THIS PAGE, but it will have you redo the quote for that specific company.   The price is the SAME, no matter if you use us, go direct to Covered CA or the Insurance Company, as mandated by law!  If applying through Covered CA, be sure to sign the form to appoint us as your agent.  It's not all the easy to figure out how to do it on their website.
If you have any questions email [email protected] or call us 310.519.1335
​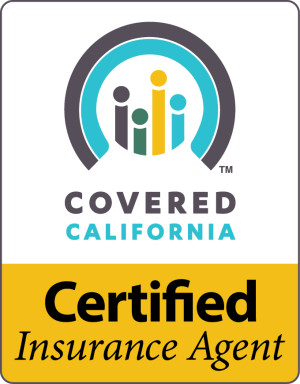 Covered CA Certified Agent  
No extra charge for complementary assistance 
Appoint us as your broker  
Set Consultation Meeting via Phone, Skype or Face to Face
Instant Health Quotes & Enroll
including subsidy calculation
Videos on how great agents are
Enrolling in health plans has helped people focus on their families and careers, and feel protected against unexpected medical issues.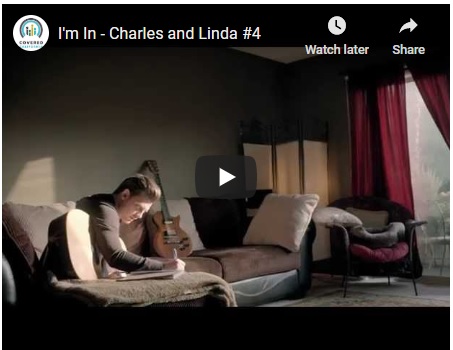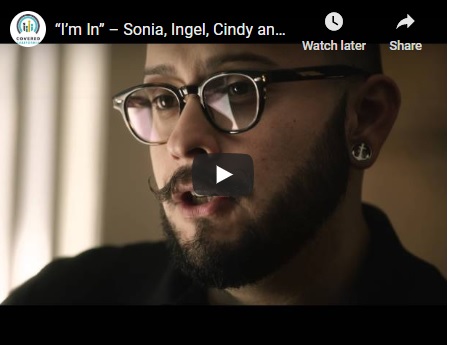 Best Value – Which Metal Level? Deductible?
i am on the Gold 80 [PPO]  vs   platinum  But the issue is the price.
In looking at the rates and coverage, do you agree that the BS 1850 PPO is the best option and coverage for the price.
***It's something we have to discuss.  It's all 80% loss ratio.  How are you defining best?  Please send a screen shot of the rates.  Our quote engine won't have the accurate approved rates till for next year till just at or before Open Enrollment .  IMHO everything now is just SWAG (Scientific Wild Assumptions and Guesses).
Where are you getting the rates?
We get to keep all of the same doctors just have a deductible and office visits etc are more…Agree/disagree?
***Right.  On a major claim, the out of pocket maximum is virtually the exact same at just about $6,800.  How much of this premium are you writing off in your business either as Section 106 or self employed line 29?  Whereas, the difference in out of pocket is not deductible, unless you go over 10% of income?
The Bronze with HSA – Health Savings Account doesn't really look that attractive, what's your tax situation?
I will look into Covered CA
***What is your estimated MAGI income for 2017?  I strongly suggest you wait till 11.1.2017 to shop around and get the subsidy calculations from our quote engine.
but i have heard only nightmares..Do not know if those rumors are true?
***Everything I know about Covered CA is on my website.  Use the search feature above.  What rumors are you talking about?  Unfortunately, Covered CA and Health Care Reform virtually control the entire Health Insurance Industry.  Thus, many of the negatives affect everything.  I do not deal in rumors, only verifiable facts.
Exemption Forms
https://www.healthcare.gov/exemption-form-instructions/
Right-click this exemption application form (PDF) link for hardship exemptions, like homelessness, bankruptcy, eviction, or foreclosure.
Right-click this exemption application form (PDF) for affordability exemptions AND residency in:

California, Colorado, District of Columbia, Idaho, Maryland, Massachusetts, Minnesota, New York, Rhode Island, Vermont, Washington