FINALLY, the calculators have been completed to make the Affordable Care Act much easier to understand.  One can now get the quotes, benefits, view actual brochures, MD and Hospital Lists all ONE easy to use no obligation – anonymous quote engine calculator!  Just click here, enter your zip code, enter date of birth, family – household taxation relationships (MAGI – Definition),    Estimated 2014 or after the 11.15.2014 Open Enrollment Starts 2015 Income (MAGI).   If you qualify for tax credits – subsidies and want them in advance of filing your taxes click on "Health On Exchange" - Covered CA, illustrated below.   Quick Reference Federal Poverty Level Chart.   This website and are individual consultation are provided to you FREE of Charge!  We are paid by Covered CA to help you.  Please complete this agent appointment form, so that we can get paid.
You can then see all the quotes on the exchange, showing the Cost Share Reduction – Enhanced Silver  if available, subsidy – tax credit amount and your net premium.    If you click "Off Exchange" you will see more plans and companies like Assurant and CIGNA who are not participating and may have larger provider lists.
The quote engine shows you TONS of plans and variations.  To narrow it down, click on the features and companies you are most interested in.  If you qualify for Enhanced Silver, we urge you to take it.  A 94% Silver is better than 90% Platinum!
 Then click on "View Plan Details" – "View Doctor's & Providers" – to compare and get more information.  Please note that the quote engine does not show enhanced silver, but shows silver at 70%.  Check our chart for the better silver coverage.   To apply, click on apply now or use the links in the right hand column, ON THIS PAGE, but it will have you redo the quote for that specific company.   The price is the SAME, no matter if you use us, go direct to Covered CA or the Insurance Company, as mandated by law!  If applying through Covered CA, be sure to sign the form to appoint us as your agent.  It's not all the easy to figure out how to do it on their website.
 If you have any questions email [email protected] or call us
519.1335
IRS.Gov  FAQ's on Premium Tax Credit   ♦   Publication 5120 Get it now or later  ♦   Pub 2121 Facts about Premium Tax Credit  ♦  Pub 5152 Report Income Changes as they happen  ♦   Consumer Union Explanation for filing Taxes
 Historical Info

>Video Explanation Tax Credits – Subsidies to buy Health Insurance are  generally available if your income  is under $45k for one person & $95k for a family of 4.
To find out the amount of your subsidy (Calheers) calculation  just put in your zip code and dates of birth in our FREE Instant CA Quote Engine   (Nationwide use KFF.org)  you will instantly  get the actual premiums, benefits, co-pays, deductibles & coverage's and can compare plans side by side, click here for Enhanced Silver upgrades.
Then email us your estimated Family – Household  Income for 2014 – MAGI Line 37 of your Tax Return.  We will send you within two working hours your subsidy calculation just like that shown above.   Then just subtract the monthly subsidy from the premiums you instantly viewed from our free quote engine.  Google Search Overall Tax Estimators.
Open Enrollment lasts till 3.31.2014, with coverage starting "basically" AB 1461 the 1st of the month after you enroll.  This website and our expertise is furnished to you at NO extra charge.  We get paid when you select us as your Certified Insurance Agent.
Definitions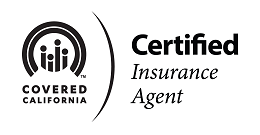 So, basically, what the above calculation shows is that the "average silver" plan – Benchmark Rate would run this couple $397 from which they can subtract the Advance Premium Tax Credit of $303 for a net premium of $94/month, as also shown in the Max % of Income.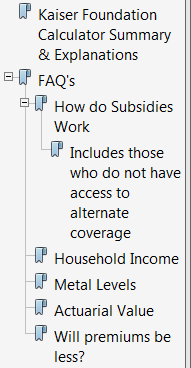 If you already have affordable insurance (less than 9.5% of income for EmployEE and covers 60% of expected costs) from your employer or a government program like Medicare,  Medicaid,  Medi Cal  you won't be able to get the Premium Tax Credit, coveredca.com   but you can still purchase guaranteed issue coverage using the premium and beenfits shown.
One BIG advantage to EmployER provided coverage is that it comes to you and your boss as a TAX FREE Benefit.   Have your employer contact us for a free consultation and proposals. If you are contributing to your Employer's Group Health Plan, your contributions can be Tax Deductible with a Section 125 POP (Premium Only) Plan.
CHFC study 8.14.2013 estimates 50% of applicants will get subsidies.
Learn more on Getting Financial Help Credits and Subsidies from Covered CA (The Exchange)
Call us 310.519.1335
310.519.1335" data-isfreecall="false" data-isrtl="false" data-ismobile="false">
310.519.1335
310.519.1335  Stay away from Covered CA, unless you need subsidies
http://youtu.be/_GiCZExAw48
Not in CA?  Use the Kaiser Foundation Calculator    –  Sample Calculation WITH Explanations of how it works
http://laborcenter.berkeley.edu/healthpolicy/calculator/
Individual & Families can also deduct premiums and expenses that are over 7 1/2 % of adjusted gross income.  IRS publication 502 html pdf10%PPACA 9013
Check out Health Savings Account's (HSA's) to have the deductible tax advantaged.
More on Individual Tax Credits Tax Credit Calculator
Consumer Links
§1.36b-1 Premium tax credit definitions
Check out related pages