1095 A  & FTB 3895 Covered CA Statement of Coverage & Subsidies
Smartphones
Try turning sideways to better view PDF's & Screen Shots
Covered CA will send you Form 1095 A – Instructions * HTML & Cover Letter * Covered CA Video  so that you can fill out Form 8962 to reconcile  Premium Tax Credit – Subsidy.  In addition this form will give you proof of coverage so that you don't have to pay the California mandate penalty of 2.5% of income.
If you don't get the form in the mail, just log into your Covered CA Account and get it.
For personal year around service from Covered CA, just appoint us as your agent, by completing this form.


CA Franchise Tax Board FTB form # 3895 is proof of coverage so that you can claim the 600%  Premium Assistance Subsidy (state subsidy) beyond the 400% Federal Subsidy  and reconcile any advanced state subsidy received, form 8962  and to file an accurate tax return to avoid paying the state individual mandate penalty of 2.5% of income.. The amount displayed on the Form FTB 3895 reflect how much was paid to your Health Insurance Company Insurance as a subsidy, besides what you paid as Net Premium
Email us [email protected] for the "Toolkit" or questions on this new form.
See our webpage on the California Mandate Penalty
2016 Revised 1095? Insure Me Kevin.Com
If you got the WRONG 1095 A form, you don't have to refile taxes per
Check out the analysis of #1095 Form from our Friendly Competitor insure me kevin.com    ♦  Tax Guidance on Friendly Competitors Blog
About 50% of people who got subsidies will have to return a portion of the $$$  CA Healthline 3.25.2015
Where to find 1095 A in your Covered CA portal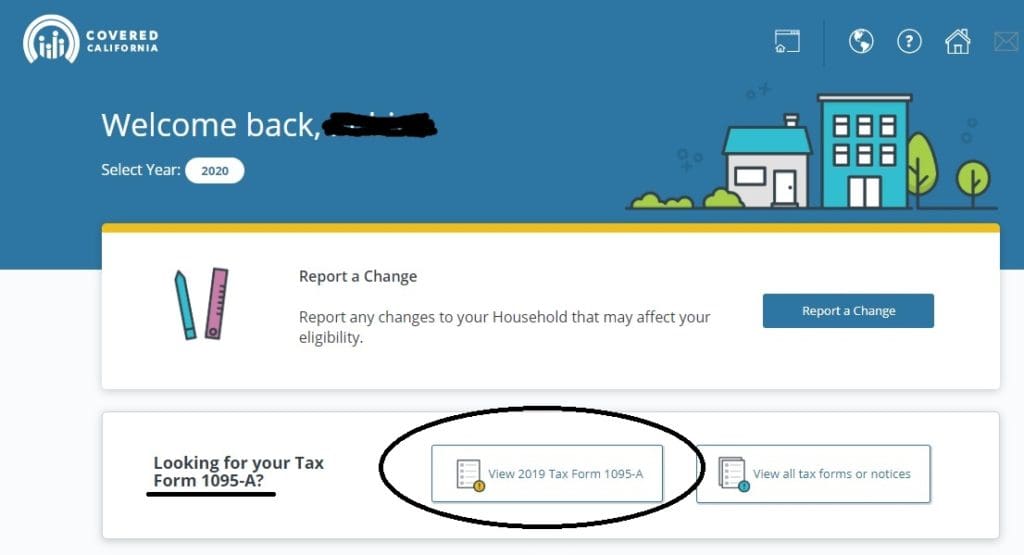 IRS on Health Insurance Marketplace.
IRS FAQ's Questions and Answers about 1095 a, b & c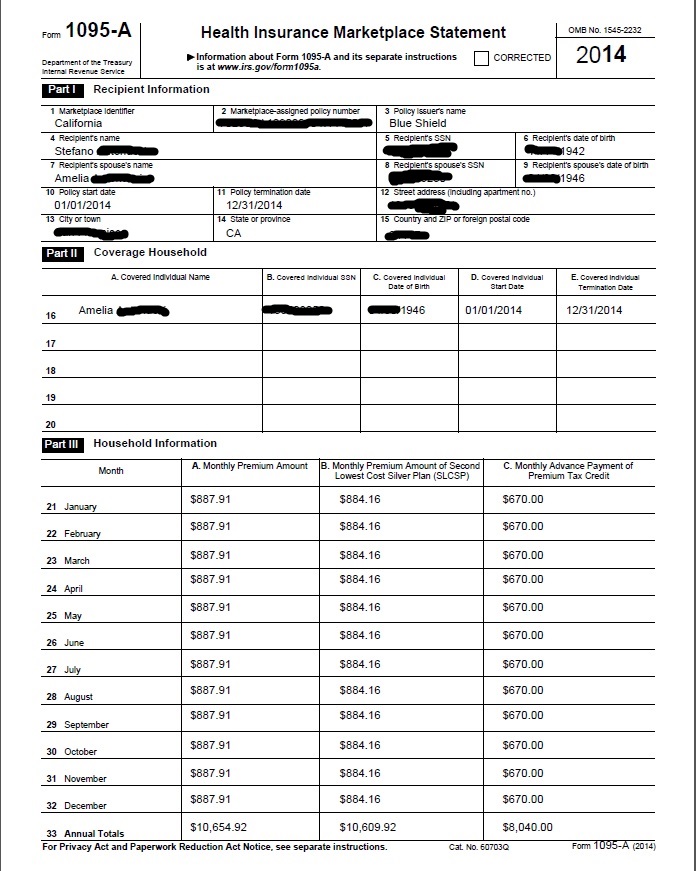 #Form8962 Premium Tax Credit
Reconciliation Form attaches to 1040
Subsidy is IMHO hocus pocus - smoke & mirrors
it all comes out when you file taxes!
Our webpages on our qualifications, reviews, testimonials, etc.
Our Webpage on Insurance Coverage for
Form 1095-C
   is provided by a large employer to employees so they can prove they had coverage for the year and 
not get fined in CA for not having coverage
, or so they can get coverage from Covered CA – no extra charge to use a broker, click on button below to get quotes and subsidy calculation,  if no coverage is provide.
Form 1095-C provides information about the health coverage offered by your employer and, in some cases, about whether you enrolled in this coverage.   Use Form 1095-C to help determine your eligibility for the premium tax credit.
If you enrolled in a health plan in Covered CA,  you may need the information in Part II of Form 1095-C to help determine your eligibility for the premium tax credit.
 If you did not enroll in a health plan in the Marketplace, the information in Part II of your Form 1095-C is not relevant to you.
Use Form 1095-C for information on whether you or any family members enrolled in certain kinds of coverage offered by your employer – sometimes referred to as "self-insured coverage".
If Form 1095-C shows coverage for you and everyone in your family for the entire year, check the full-year coverage box on your tax return.
If there are months when you or your family members did not have coverage, determine if you qualify for an exemption or must make an individual shared responsibility payment – tax penalty. 
You don't need to wait for your Form 1095- C to file your tax return. Do not attach Form 1095-C to your tax return – keep it with your tax records. Contact the issuer if you have questions about your Form 1095-B.
Understanding Form 1095-C,
Employer-Provided Health Insurance Offer and Coverage
Employers with 50 or more full-time employees, including full-time equivalent employees, in the previous year use Form 1095-C, Employer-Provided Health Insurance Offer and Coverage, to report the information required about offers of health coverage and enrollment in health coverage for their employees.  Form 1095-C is used to report information about each employee. Employers that offer employer-sponsored self-insured coverage also use Form 1095-C to report information to the IRS and to employees about individuals who have minimum essential coverage under the employer plan and therefore are not liable for the individual shared responsibility payment for the months that they are covered under the plan. An employer must furnish a Form 1095-C to each of its full-time employees by January 31 of the year following the year to which the Form 1095-C relates. Employers will meet the requirement to furnish Form 1095-C to an employee if the form is properly addressed and mailed on or before the due date. If the regular due date falls on a Saturday, Sunday, or legal holiday, employers may file by the next business day. The Form 1095-C that employers send may include only the last four digits of the employee's social security number, replacing the first five digits with asterisks or Xs. Forms 1095-C must be sent on paper by mail or hand delivered, unless the employee consents to receive the statement in an electronic format. The consent ensures that the employee can access the electronic statement. If mailed, the statement must be sent to the employee's last known permanent address, or if no permanent address is known, to the employee's temporary address. Individuals who worked for multiple employers that are required to file Form 1095-C may receive a Form 1095-C from each employer.