Advantages
Certainly the BIG advantage, is lower, more affordable premiums during the year.  Plus, you might qualify for Enhanced Silver Benefits!  Which lowers Co-Pays, Deductibles and the OOP Out of Pocket Maximum.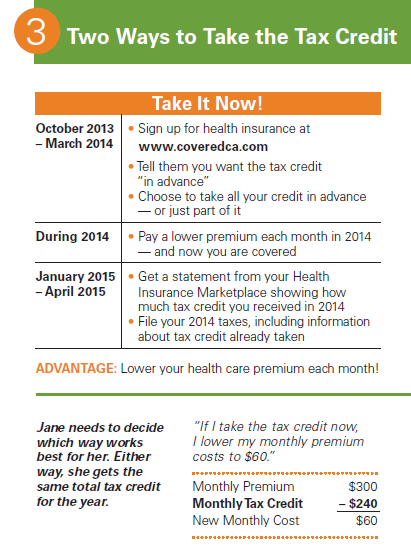 IRS.Gov Publication 5120 Take all, some or none of advance subsidies.
Covered CA Brochure – Subsidy NOW or Tax Time?
Disadvantages
If you took more creidt than what your tax return 1040 and 8962 show, you have to pay back the excess or a maximum amount.
You are mandated to report changes in expected MAGI income within 30 days.
Explanation of Advance Premium Tax Credit  –
Take Credit now or later
Medi-Cal?  Covered CA Subsidies?  Enhanced Silver?



Three Tax Considerations during Covered CA Open Enrollment
Advance credit payments lower premiums – You can choose to have all, some, or none of your estimated credit paid in advance directly to your insurance company on your behalf to lower what you pay out-of-pocket for your monthly premiums.  These payments are called advance payments of the premium tax credit  (APTC) or advance credit payments.  If you do not get advance credit payments, you will be responsible for paying the full monthly premium.

Possible SNAFU's – Insurance Company asking for excess credits back… OC Register 7.27.2016

A tax return may be required – If you received the benefit of advance credit payments, you must file a tax return to reconcile the amount of advance credit payments made on your behalf with the amount of your actual premium tax credit.  You must file an income tax return for this purpose even if you are otherwise not required to file a return.
 
Credit can be claimed at tax time – If you choose not to get advance credit payments, or get less than the full amount in advance, you can claim the full benefit of the premium tax credit that you are allowed when you file your tax return. This will increase your refund or lower the amount of tax that you would otherwise owe.
Questions and Answers on IRS.gov/ca for information about the premium tax credit.
VIDEO What is APTC Advance Premium Tax Credit
Interactive Tax Assistant (ITA)
Am I eligible to claim the Premium Tax Credit? 
Learn More About Your Health Insurance Tax Documents | Covered California VIDEO   
Tax #Estimators
ACA What You Need To Know  #5187 
Kaiser Foundation reports that 27% of uninsured individuals are eligible to purchase a bronze plan with $0 premiums after subsidies in 2019.  Silver plans with cost-sharing reductions (CSR) for single individuals with incomes below 200% of the poverty level 
can be purchased
 for roughly $20 to $130 per month after subsidies, depending on an enrollees' income.
KFF
 *