Publication 536 Net Operating Losses NOL
Tax Loss Carry Forward
VIDEO What is APTC Advance Premium Tax Credit
Interactive Tax Assistant (ITA)
Am I eligible to claim the Premium Tax Credit? 
Learn More About Your Health Insurance Tax Documents | Covered California VIDEO   
Tax #Estimators
ACA What You Need To Know  #5187 
Kaiser Foundation reports that 27% of uninsured individuals are eligible to purchase a bronze plan with $0 premiums after subsidies in 2019.  Silver plans with cost-sharing reductions (CSR) for single individuals with incomes below 200% of the poverty level 
can be purchased
 for roughly $20 to $130 per month after subsidies, depending on an enrollees' income.
KFF
 *
Report changes as they happen – within 30 days!
Visit our webpage on how to report changes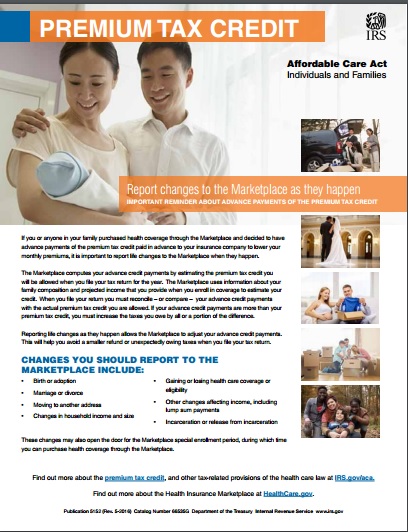 Explanation of Advance Premium Tax Credit  – Take Credit now or later
Free help to file taxes VITA
Volunteer Income Tax Assistance