This is an HISTORICAL  Covered CA page.
See menu at the top for current pages or our site map
Search engines, do not follow.  Links may have expired
The  Covered CA (CC) website nor the entire process (IMK Blog 2.12.2015) hasn't been that easy to navigate, find doctors or get real brochures and enroll.
On the other hand, we are seriously considering tearing up our contract with Covered CA for poor agent support, a flea bitten website and barely being paid minimum wage for all the extra work involved, (Ehealth Insurance and many of my peers have stopped doing business with CC) including explaining how the subsidies – tax credits work.  We will NOT wait on hold to call CC, so if you feel a need to call rather than email, we are not the agent for you.
We suggest using our Quote Engine , entering your expected income, line 37 1040 and getting your subsidy-tax credit  (we are mandated to advise you to put in the correct information) and you will see the calculation including your percent of Federal Poverty Level.  Please note that subsidies-tax credits  are a tax code  – 2014 Draft Tax Forms and crystal ball issue.    Current clients, who haven't authorized CC to get their financial information from "electronic sources" will be getting a letter to allow that.  If you don't allow it, you will still be covered, but lose your tax credits-subsidies. Blue Shield 8.1.2014 email blast
There is NO charge to use our professional advise (biography, testimonials, role of agent) as Covered CA pays us to help you.  To appoint us as your agent, please complete this form.   We can also enroll you over the phone, 310.519.1335  takes 15 to 20 minutes.
 Covered CA 2015 Brochure – Insurance Companies & Plan Rates 2014  Use our Quote Engine and see all plans at one time.  Learn more about the new requirement to prove your identity when applying for coverage 8.4.2014.
Covered CA will be sending some clients who enrolled over the phone or through an agent a letter about creating their own account.  They have sent us more detailed instructions to help you.  Email [email protected] or call us 310.519.1335 if you need additional help or information.  If you are not a client of ours, we need you to appoint us as your agent by signing and returning this form,  so that we get paid for helping you, at no charge to you.
Insurance Company Web Pages
Blue Cross – Anthem    Blue Shield     Cigna     Health Net     Kaiser
Click here for MORE video's from Covered CA
Current clients, who haven't authorized CC to get their financial information from "electronic sources" will be getting a letter to allow that.  If you don't allow it, you will still be covered, but lose your tax credits-subsidies. Blue Shield 8.1.2014 email blast
4,100 Health Net Members cancelled by Covered CA!!!  HN Bulletin   Friendly Competitor Commentary  Must act by Sunday 12.21.2014!!!  – Turns out to be a "hoax?"    Excerpt of Email from Covered CA 12.23.2014     Please be advised that Covered California is not terminating policies from Health Net. What this email is referring to is the Health Net PPO policies that are not going to get auto enrolled due to that particular plan no longer being offered by Health Net.
In order for those clients to get a new plan, they need to go in and manually choose one.
All of these clients that currently have a Health Net PPO plan have already previously been notified by Health Net that their plan is not going to be offered in 2015. If your client is currently on a Health Net PPO plan, they need to choose a new plan by 12/21 in order to receive a 1/01/15 effective date for whatever new plan they choose.
*************************************************
Historical
JUST ANNOUNCED!!!  As a certified agent, we can enroll you till SUNDAY in Covered CA for a 1.1.2015 effective date!!! Bulletin  Los Angeles Times
This web site is owned and maintained by Steve Shorr Insurance, which is solely responsible for its content. This site is not maintained by or affiliated with Covered California, and Covered California bears no responsibility for its content. The e-mail addresses and telephone numbers that appear throughout this site belong to Steve Shorr Insurance, and cannot be used to contact Covered California, directly, unless specifically stated.
Please call 800/896-3202 that number is for Health Consumer Alliance (HCA) is a partnership between many Legal Aid organizations. They provide free local assistance to individuals and families applying for or enrolled in Covered California or Medi-Cal. They should be able to assist you technical questions…http://healthconsumer.org/index.php?id=414
Ken Bezich CPA – Opinion
http://www.dailybreeze.com/opinion/20141014/covered-californias-no-bid-contracts-sow-health-care-distrust-letters
$184 Million awarded in no bid contracts, but yet agents are not getting $58 to enroll people in Medi-cal and measly commissions compared to prior years, let alone dealing with all the Snafu's http://www.utsandiego.com/news/2014/oct/12/ap-exclusive-california-gives-no-bid-health-pacts/?#article-copy
2015 Rates found by regulators to be reasonable http://www.latimes.com/business/healthcare/la-fi-covered-california-health-rates-20141002-story.html
Covered CA to address problems with dropped policies
http://www.sacbee.com/2014/09/18/6718532/health-exchange-addresses-dropped.html
Now we are mandated to register voters without getting paid?
insuremekevin.com/
Blue Shield will be sending an email about an upcoming authorization request they will soon receive from Covered California regarding their 2015 healthcare coverage subsidy. This is a very important notification outlining specific action they must take in order to be eligible for 2015 financial assistance for their health plan.
to qualify for financial assistance for their 2015 health plan, Covered California will need to check their eligibility again. must provide permission to Covered California by December 31, 2014, to check their information using computer sources in order determine their eligibility for a 2015 subsidy. If the insured does not provide authorization in time, they will remain covered in 2015, but will lose their financial assistance for the year.
Here's what's happening next
1. Members will receive an email from Blue Shield tomorrow stressing the importance of providing authorization to Covered California.
2. Members will receive a letter from Covered California in late August or early September.
3. Members will also receive a follow-up letter from Blue Shield of California, reminding them that they must take action in order to be eligible for a 2015 subsidy.
4. Members must provide authorization to Covered California by year-end.
5. Members will receive a subsidy eligibility notice from Covered California in October and will receive plan renewal information in November.
We believe that healthcare coverage should be accessible and affordable for all Californians, and we want to make sure your clients receive the financial aid for which they qualify.
Geez,
I thought Covered CA would be automatic renewal. For the measly commissions we are getting paid, the advertising that does not mention agents, how much meaningless work do we have to do? HHS proposes rules to allow automatic renewal, just like it's been not only in Employer Group market but the CA individual market as well.
Let's not overwhelm the process like what happened last year. Let those you are happy, just renew and not clog up the system on a website that still does not work!
Agent Website – Comments
cahba.com/
On the other hand, there are changes in premiums, income, deductions, 2nd lowest silver level plan, that could cause problems. Don't forget, it all comes out in the wash when doing your tax return.
californiahealthline.org/
healthreformquotes.com/
Survey – Report Covered CA – Health Care.Gov websites
healthaffairs.org/
30k people have problems with cancellation and delays california health line.org
Young invincibles do buy insurance
approximately 30% of students were uninsured before enrollment began, and 10% were uninsured after.
CSU students were perhaps more inclined to sign up for insurance than expected because many are low-income and therefore qualify for Medi-Cal,  medi-cal/
the state's free low-income health program that was expanded under Obamacare.
or subsidies  subsidy-calculation/     latimes.com/
Poll finds 6 in 10 American's say they are unaffected by Health Care Reform ACA  californiahealthline.org/
CMS Final Ruling on exchanges 436 pages cms.gov
Summary californiahealthline.org
Los Angeles Times 5.12.2014 Insurance Agents played Key Role in Covered CA Enrollment
"Originally Covered California was less than enthusiastic about agents. They wanted nothing to do with us," agent Edmond Haronian says. "I honestly think agents saved the day."
Covered California's executive director, Peter Lee, predicted a bleak future for insurance agents selling individual policies, saying they could easily go the way of travel agents.   sfgate.com/
Insurance Agents did 525,000 Californians — nearly 40% of the state's total
"Originally Covered California was less than enthusiastic about agents. They wanted nothing to do with us," Haronian said. "I honestly think agents saved the day."
Agents were also accustomed to translating complex insurance jargon and hustling to find new customers in their community.
Many consumers also value their service after the sale, knowing they will have someone to call when problems arise in finding an in-network doctor or getting a medical bill paid by their insurer.
Highland Park resident Les Nakashima said turning to an agent sooner would have saved him a lot of time and trouble with Covered California. He ran into numerous problems in February trying to add his wife to the family's exchange health plan.
"Getting through to Covered California was an absolute nightmare," he said. "My agent could have done everything for me."
Even with all the attention on the website, Covered California all along estimated about 80% of consumers would want personal help to sort through their new insurance options.
Many consumers are unaware they don't pay insurance agents for their help. Rather, agents receive commissions from health insurers. They get paid a flat fee or a percentage of the monthly premium.
Those industry commissions have been cut substantially in recent years. Blue Shield of California, for instance, pays agents a 4% commission on individual policies compared with 20% two years ago. Anthem Blue Cross switched to a flat fee of $18 per member per month for agents selling new policies.
Covered California paid enrollment counselors a flat amount of $58 for every successful application.
"The people we are seeking to insure next year will be harder," Lee said. "They will be less familiar with health insurance and they will need to sit across the table from an agent."  latimes.com/
More companies like CIGNA and UHC – PacifiCare might enter Covered CA and CA for 2015  californiahealthline.org
HHS Secretary Kathleen Sebelius is resigning after the rocky rollout of President Barack Obama's signature healthcare law  modernhealthcare.com
Covered CA enrollment might drop due to people finding jobs with coverage and income dropping to Medi-Cal levels.  californiahealthline.org
Covered CA enters TRIAGE mode. They might let you register, but then will kick you off and tell you to come back!   latimes.com
Financial Independence mandate for exchanges?
The board of California's exchange, Covered California, has estimated that the exchange will have a $250 million reserve for 2015, funded in part by a $13.95 monthly surcharge for individual plans.
Boy, things are really going on this. State Senator Gaines who is running for Insurance Commissioner is taking this case to court!
The lawsuit, argues that the exchange violated both federal and state law when it required insurers to cancel nearly one million noncompliant policies
Gaines — who also owns an insurance company — added that Covered California violated the law by refusing to extend such policies, even after Obama gave states permission to do so
Gaines is seeking a court order that would prohibit Covered California from requiring insurers to cancel noncompliant plans.
In addition, the lawsuit calls for more insight into the hundreds of millions of dollars that are spent on exchange marketing and outreach efforts
•$106.2 million in advertising that the lawsuit states "has failed to obtain significant enrollment, or a demographically or actuarially diverse enrollment;"
•$10 million on a contract with Weber Shandwick, a public relations firm; and
•$1.3 million for an infomercial.
californiahealthline.org
This is one reason I'm unhappy with Covered CA. They FORCED cancellations in CA and would not go along with the President's order to allow plans in place to remain in place, but force so much confusion…
The Obama administration's decision Wednesday to allow people to keep insurance plans that don't comply with the Patient Protection and Affordable Care Act for an additional two years was quickly criticized by ACA opponents as a midterm-election-year ploy, even as administration officials were denying politics was involved in the decision.
Unfortunately – this is par for the course for so many in Covered CA. As agents, even with advanced degrees and 30+ years, we can't do a whole lot more. If you can live with this… we can help you understand the process, select a plan, understand subsidies, etc.
Serenity Prayer
God, grant me the serenity to accept the things I cannot change,
The courage to change the things I can,
And wisdom to know the difference.
http://en.wikipedia.org/wiki/Serenity_Prayer
I've spent hours on the phone and on online chat. Blue shield says they never got my change info. Covered Ca says they've resent it. It goes in this vicious circle with no one accepting responsibility. I still have no insurance. Covered CA still shows my policy was effective Feb 1 but as that letter you have vroom Blue Shield states they still show the old policy from Jan 1. I've even been on a conference call with a supervisor from Covered CA and Blue Shield where the Covered CA person had "spent all day" with Blue Shield and had it straightened out. Then the Blue Shield guy quotes the old policy again. she promised to resend all the application materials to Blue Shield who would then need a week to process. She promised to follow up with both them and me after the week was up to insure everything was taken care of. That was 12 days ago and Blue Shield still has the wrong info and the woman from Covered Ca is nowhere to be found. If I could get through by chat or email or phone I might be able to find out where things are but I only get disconnected from all forms of communication.
Excerpt of email from BC
Good Morning,
First and foremost, I would like to sincerely apologize for the time it has taken to respond to your inquiry.
Due to the implementation of Health care reform, there has been a massive increase in correspondence questions
that are unable to address in a timely manner.
All information on all On Exchange applications will have to be corrected by contacting Covered CA.
Anthem will handle payment and billing issues with on exchange policies.
I apologize for any inconvenience.
Covered California by law is supposed to run on a premium added to customer costs, which Lee said currently equal 4 percent.
Republican state Sen. Ted Gaines, who recently called for an investigation into spending by Covered California, said he's alarmed by a $78 million deficit anticipated in the next fiscal year at the government-operated exchange. Gaines said he prefers having millions of dollars directed to the thousands of private insurance agents rather than into creating a huge government bureaucracy.
Covered CA expects enrollment to offset 2015 deficient.
Beginning Jan. 1, 2015, the Affordable Care Act no longer will provide federal grants to fund state health exchanges. As a result, Covered California will face a $78 million deficit in fiscal year 2015-2016.
Exchange budget statements do not include a definitive plan for how Covered California will continue funding its operations. Meanwhile, California law prohibits using the state's general fund to pay for the exchange.
Insurers pay an administrative fee for each policy sold on the exchange, which could boost revenue if enrollment numbers are high.
The fee is $13.95 per policy [per month?] in 2014 and will increase or decrease in 2015 depending on the number of individuals who purchased plans (California Healthline, 1/2).   californiahealthline.org
CBO Congressional Budget Office lowers estimate for enrollment in exchanges  californiahealthline.org
Historical and "extra" information
Blue Shield  explanation of their plans in the exchange.
Modern Health Reports  (requires free subscription)  that HHS reports rates will be 18% lower.  7.18.2013
Screen Shots of PRELIMINARY Online Enrollment Application
Web Based Agencies like E Health Insurance won't be able to "Online" Enroll  USA Today 7.20.2013
 But they will be able to on the Federal Exchanges Modern Health Care.com
But, the 7.23.2013 Agent Webinar clearly states Covered CA wants to… technical difficulties
$$$ Illustration Covered CA Page 14
Michael Lujan Marketing Director of Covered CA resigns.  Sacramento Biz Journal
Insurance Companies that offer plans both in and out of the exchange must price the plans the same (Citation Needed)
What about privacy – income – social security # ?
What Programs you qualify for based on Income and Family Size – Fact Sheet
Covered CA – Community Outreach 8.2013
Blue Shield Flyer Covered California Rev 5.2013
Federal Draft Application – No Financial Aid
Don't forget, you are entitled to use a agent at  NO Additional Cost.  After all, we are not communists.

Insurance Agents and Enrollment Counselors are knowledgeable of both subsidized and non-subsidized health coverage and qualified health plans. They are equipped with the information and expertise needed to assist families and individuals to enroll in coverage. https://apply.coveredca.com/apspahbx/login.portal
insure kids now.gov/ chip
wikipedia.org Patient_Protection_and_Affordable_Care_Act
Historical Page for Covered CA – Exchange
Are you an offical "Navigator"?
Enrollment Counselors, Insurance Agents, and Certified Enrollment Entities are comprised of trusted and known organizations and individuals.
Enrollment Counselors and Agents help consumers learn, navigate, and apply for qualified health plans offered by Covered California. They provide one-on-one, in-person assistance to help California's diverse population learn about their health insurance options.
Insurance Agents and Enrollment Counselors are knowledgeable of both subsidized and non-subsidized health coverage and qualified health plans. They are equipped with the information and expertise needed to assist families and individuals to enroll in coverage. https://apply.coveredca.com/apspahbx/login.portal
I thought I read something about the government paying intermediaries to learn/explain the new law and provider options.
So, between that and President Obama's promise that one could keep their current plan if they liked it, the enrollment deadline has been extended to 12.23.2013.
| | |
| --- | --- |
| Certification Number | 5000001509 |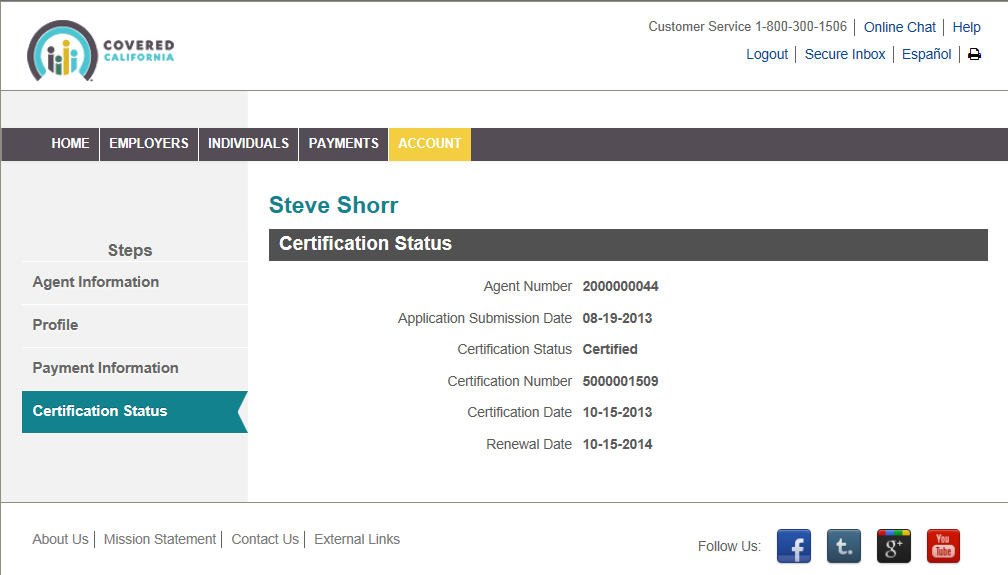 Certification # 
 SPECIAL Bulletin – If you can't get on the Covered CA website, you can send us a Paper Application by the 15th!!!
http://www.tedgaines.com/media/
The uneven performance of the independent exchanges in 14 states — which chose not to use the federal site, HealthCare.gov — has been among the biggest surprises of the Affordable Care Act. States including California, Washington and Kentucky have posted robust enrollment figures. But ironically, some of the biggest technical fiascoes have been in blue states where officials were most eager to expand coverage
"You have government employees, who are well-intentioned, good people but who don't understand software code, and basically have to trust that the vendors they hire know what they are doing," Corlette said. "There was such a gold rush on the part of these vendors that there was a lot of over-promising and underpricing."
The federal technical review suggested that Oracle threw "bodies, rather than [a] skill set" at the website problems, but also found that the state exchange had no leverage in its contract "to make [Oracle] accountable" when things went wrong.
That fight is already under way in Obama's home state of Hawaii, where legislators are looking at whether to bail out the exchange — which has spent $100 million and enrolled only 5,744 people in private plans — by providing the $15 million it will need for next year's operating costs.
Couldn't have said it better myself! [from ms. xxx]
On Friday, March 28, 2014 7:37 AM, Steve Shorr Insurance wrote:
Gentlemen,
We are probably going to need longer than an extension to 4.15.2014 http://healthreformquotes.com/individual/companies/covered-ca/snafu-pay-bill-get-id-cards/#comment-10753 to fix all the things screwed up with your flea bitten, bug infested malpractice claim waiting to happen website.
Ms. xxx simply wants to change from Blue Shield to Blue Cross EPO so that she can have the MD's she uses from the bogus narrow lists offered under Health Care Reform, where we were promised by the President that if you liked your doctor you could keep him.
I was able to terminate coverage, but the website gave me a fatal error when I tried to enroll Ms. xxx in a new plan. See screen shots below. Please do NOT tell us that we have to wait on the phone for hours to rectify this situation.
Blue Cross – Please do NOT tell me that you only take "orders" from Covered CA. They are complete incompetents. I'm ashamed to be doing business with them. You should be too. I figure that Health Care Reform is my "payback" for having a 2 S deferment in the Vietnam era to study for the complete fiasco and SNAFU we have here. snafu-pay-bill-get-id-cards/ However, I only have so much power. (Serenity Prayer Serenity_Prayer)
Steve
Excerpts….
A McKinsey & Co. survey of consumers eligible for the government health-law marketplaces finds that about 10 percent of those who bought coverage under the law were previously uninsured.
The great majority of those who signed up did so to get the federal subsidy. Obamacare moved people who were buying private, self-funded insurance to the long list of Americans beholden to government. Health Markets Inc. reports that 65 percent of those enrolling held previous coverage. Now we'll have millions of Americans without insurance and a new, large hole in the federal budget.
The young and healthy, we were told, would sign up in big numbers. But why should they? The law allows these "invincibles" to stay on their parents' plans until age 26, and unanticipated increases in the premiums drove other, younger people from the marketplace. It's not the young but the middle-aged and the old who account for nearly 70 percent of the sign-ups.
Read more: washingtontimes.com
Follow us: @washtimes on Twitter
contact Covered California at 1 (800) 300-1506
I tried at 3:46 PM today, pushed 1 for English, 2 for Agents and was hung up on, they said they have system problems.
Nice Video – Good Graphics – It would be nice if they mentioned agents can talk to you without waiting on hold for hours. Stay away, unless you absolutely need the subsidies, that your fellow tax payers are funding.   youtube.com/
Yea for him! Go Get 'em Problem is that he too is a politician and once those lips start moving — well you know.
President Obama… current plans can go two more years, but no one seems that excited…   modernhealthcare.com
alleges more than 900,00 Californians have had their health plans cancelled in violation of California and federal law — and millions more will be affected as noncompliant employer-provided insurance plans face cancellation in the future.   bizjournals.com/
Finally!!! Covered CA ads will mention that one can use an agent at no additional fee!
The new ads will also emphasize that the exchange's certified enrollment counselors and insurance agents offer help that is free and confidential.
Remember that agents are licensed, carry malpractice insurance and will be available year round.  latimes.com
Child Pages