Wellness and Prevention Programs from Kaiser
It's Monday morning, and all your employees are at their desks working—to some degree. Bill is having a mild asthma attack that's making it hard for him to concentrate, Anne is dealing with depression, and Dana is still worn out from the flu. They're at work, but not really all there. This is called "Presenteeism," and we want to help you find a way to make sure your employees are at their best.
Quality Dividend CalculatorTM 2011, gives you a simple way to estimate how your choice of health plan will affect the productivity and absenteeism of your workforce.
When employees get higher quality care, they stay healthier, absenteeism drops, and productivity improves
Fewer Days Lost with Better Medical Coverage
Healthy Life Styles
kp.org/news center employee health
Give yourself the winning edge with a customized online program from Kaiser Permanente in collaboration with Health Media®. You'll get the clear steps and ongoing encouragement it takes to reach your health goals.
Presenteeism refers to attending work while ill. 
The development of interest in presenteeism, considers its various conceptualizations, and explains how presenteeism is typically measured.  Presenteeism has important implications for organizational theory and practice and the
purchase of Employer Group Health Insurance
.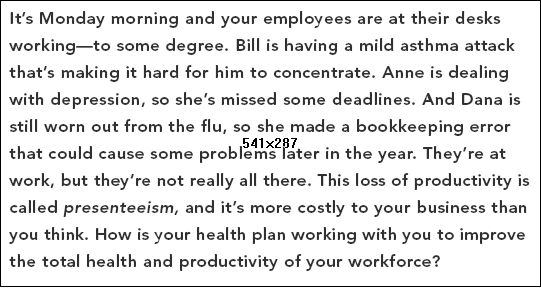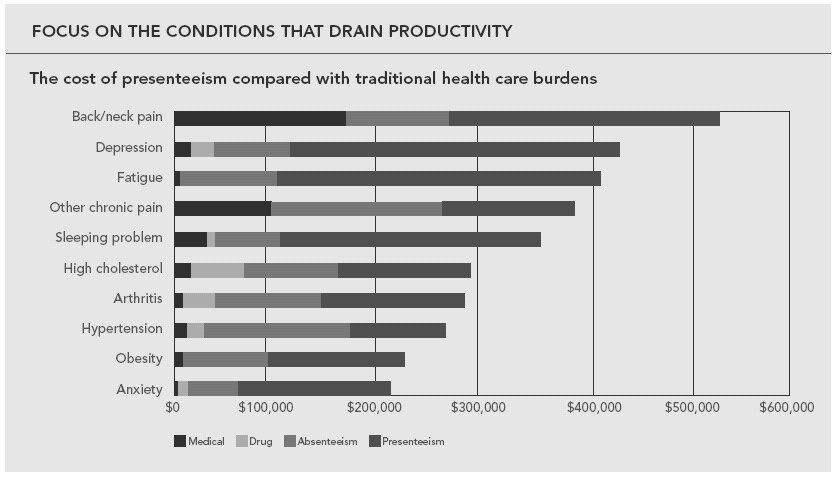 Get a Return on your Investment of your Health Insurance Premiums
Premiums are only 24 percent of your total health care costs. The other 76 percent are indirect costs associated with:
• Presenteeism—people showing up for work but not being as productive as they could be—63%
• Absenteeism and short-term disability—12%
• Long-term disability—1% For example, overweight and obese employees take more sick leave than nonobese employees and are twice as likely to have high-level absenteeism.
The average annual cost of medical expenses and absenteeism related to obesity can range from $460 to $2,500 per employee.