If you apply late, last minute for coverage, when does it start?
What if you apply on March 30th for an April 1st effective date and you don't get ID cards till April 24th,
do you have to pay April premium?
What about trying to collect on claims paid out of pocket?
Introduction
Here's a story about a bad situation, where a client waited till the last minute to get coverage.  They were very uncooperative in giving any information the Insurance Company required.  When they finally gave the check that was required with the application, they misunderstood what we told them on the phone.  Nor did they read the Insurance Company rules in the email we sent to memorialize the conversation.  Then they tried to extort the first months premium payment from us.
Kaiser for example now has a form that must be signed when
applications are sent in late to avoid any misunderstanding.
In order for your group, ___________to be considered for late enrollment for a/an _________effective date, both customer and broker will need to  sign this letter of understanding.
Complete group eligibility and enrollment documentation must be submitted. This letter and/or group submission do not guarantee approval, but rather consideration for a/an _____effective date.
Please note the following potential liabilities of a late enrollment:
 Customer is responsible for the full month's premium – no proration or refunds
 Effective date of coverage will not be changed to a future date
Potential impacts to members:
 Members will not have member ID cards, nor be active in systems, including medical facilities, until enrollment is complete and processed, which could take 7- 10 business days beyond submission
 Members may be billed or asked to pay at point of service. Kaiser Form *
We do not need the grief and threats of these types of emails from anyone!
Excerpt of extortion email:
When I talk to these folks, [Blue Cross]  I will tell them that falsified information, advising me that I was paying for the month in advance. 
***I did NOT advise that.  See email that I sent you to clarify the conversation!
If they don't agree, to move the insurance to the month of May, as our start date, I'll be terminating the service.  
If you would like to reimburse us for the 3 weeks of this month that we were unable to use the service, I will not bother with any of the above.  I'll also be cancelling my medical supplement with you, during my open period, next month.  
Let me know what you'd like to do. I'd like to chalk this up to miscommunication.  Next time, when a customer asks if she is paying for a service in advance, you might want to say "no, as a matter of fact, your paying for a month that's almost over."
IMHO the threat to say negative (criminal things) and demand $$$ is Extortion & Black Mail Penal Code  §518   ShouseLaw.com
Excerpt of our email to follow up the conversation
Hi xxx, 
Please see attached Blue Cross Checklist. It does not matter if you believe you've bought insurance for 35 years without a deposit check, as mandated in # 8. That's the requirement now. Please ask more relevant questions and not argumentative ones. Please use email so I can look up the answers and citations.
Hearsay – what someone else is alleged to have said
We also don't want to hear about alleged phone conversations with Covered CA or Insurance Company CSR's.  Get it in writing.  Here's someone who spent a year and a half trying to get their address changed, we did it in 6 minutes!  
If you got a letter from Covered CA or an Insurance Company, email it to us.   If we are your Covered CA agent, it should be in the agent portal though.  We can check.
Here's where we are trying to help someone who said Kaiser didn't tell them they must use Kaiser for all medical services.
Our Medicare Advantage Mandatory Training talks of documenting every sales call.
The training is secret…  I'm looking for public information
Best Practices for handling Personally Identifiable Information
Key Resources for Agent and Broker FFM Requirements and
Regulations
• Overview of FFM Standards of Conduct for Agents and Brokers
• Providing Accurate Information to the Marketplaces and Consumers
• Best Practices for Interacting with Consumers
• Requirements for Naming Your Business or Website
• Privacy Notice Statements
• Consumer Consent Record
• Authorized Functions of PII and Reporting PII Breaches
• Monitoring and Oversight
Medicare.Gov
During the meeting, Medicare plans and people who work with Medicare can't:
Communicate incorrect information about their plan type or use inappropriate statements like their plan is "the best" or "highest ranked."
Tell you about other plan options you haven't agreed to discuss, unless you specifically ask about them (to discuss these options, you need to complete a separate scope of appointment form).
Give you written information with a complete description of how the plan works.
During the meeting, Medicare plans and people who work with Medicare can:
Give you plan materials.
Tell you how to get more plan information.
Tell you about the plan options you agreed to discuss.
Q & A about people wanting concise simple answers to complex questions.
People that don't co-operate, want to buy the cheapest plan and can't get their employees to fill out the application or pay 1/2
Then make personal attacks!
Late Enrollee for Employer Plans 
Medical Loss Ratio 85% Group 80% Individual Plans 
SNAFU – Situation Normal – All Fouled Up
Wikipedia – Including Videos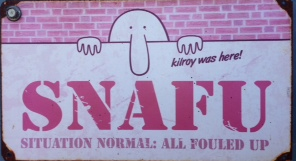 Steve Shorr
Website Introduction Video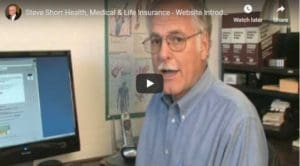 Instant Health Quotes & Enroll
15 Reasons to appoint us as your broker – No extra charge
Our Webpage on Insurance Coverage for