What if a breadwinner, business owner, individual
or an employee can't work, because of an accident or health problem? 
What plans to you have to pay the bills?
How long can you go without a paycheck?
Group and Employer Disability Paycheck Protection
Reasons to get Disability Coverage for your employees
Around 90 percent of all workers consider their ability to earn an income as their most important financial resource.
Increased benefit choices can increase employee loyalty to the employer.
Around 75 percent of employees consider benefits extremely important.
Around 80 percent of employees say benefits provide peace of mind.
Steve on Disability Income Protection
Video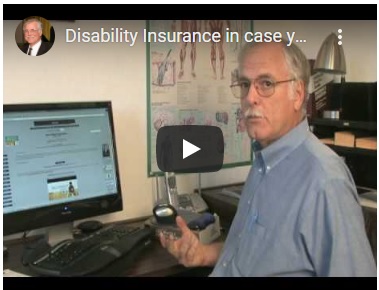 Email [email protected]
Statistics from Disability Can Happen.org 
Our other Webpages on Disability & Unemployment Coverage
Brochures

Business Owner – Overhead Expense Coverage
Blue Cross Long & Short Term, Voluntary and Employer Paid
Short.Term.Disability.Guide.to.Benefits.51.pages.
guide.to.benefits.voluntary.short.term.49.pages.
Long Term
Voluntary.Long.Term.Guide.to.beneifts.64.pages.
Group.Long.Term.Disability.Guide.to.Benefits.
General
Summary.BC.Disabilty.Guide. Quick reference guide
Life and Disability products Sales guide 24.pages
Barry Shore – no relation – Real Estate Executive
Video 
Barry Shore, a 55-year-old real estate executive, was enjoying a normal life when a rare neurological disorder struck suddenly, causing him to lose all movement in his body.
Throughout his ordeal, money is one thing Barry and his family haven't worried about thanks to smart insurance planning. Disability insurance payments have replaced more than half of Barry's income. And long-term care insurance has provided more than enough to pay for in-home care as well as physical, occupational and water therapy.
Swimming
Definition Total Disability – VIDEO
Own Occupation…