Northup Grumman
Medicare Medi Gap Supplements?
Can I use my own Insurance Agent or must I use the one that Northup suggests?
Yes, if you get a plan that Northup doesn't sponsor, see below.
Northrup Grumman main benefits page
Retiree Page – over & under 65
If you are age 65 or older, Medicare will be your primary health insurance coverage and you have the option to purchase additional coverage to supplement Medicare.
Summary Plan Description Retiree Medical Plan 234 pages
If you are age 65 or older, your primary health insurance will be Medicare and you have the option to purchase additional coverage that supplements Medicare. The Northrop Grumman Retiree Medical Plan does not offer Medicare supplemental insurance as group coverage to most retirees* and their eligible dependents age 65 or older. 1,2
Medicare Reimbursement and Stipend Program  
Retiree Eligibility
The Stipend Program is available to certain Medicare eligible retirees in the following heritage retiree groups:
 Defense (Advanced) Systems
 Interconnect Technologies
 Litton Corporate Office
 Litton Discontinued Operations
 Navigation Systems
 Rolling Meadows.
Your stipend amount is determined by your heritage group, the premium you are paying for your supplemental coverage and whether dependent coverage is available.  Information regarding the specific eligibility requirements for these heritage groups is set
forth below.
To receive a stipend, you must be enrolled in one of the following:
 Medical coverage under the Northrop Grumman Retiree Medical Plan or another Health and Welfare plan offered through Northrop Grumman
 Medical coverage under a plan that is not sponsored by Northrop Grumman 
 Medicare Part D prescription drug plan
 Long-Term Care plan.
The Stipend Program applies to medical, prescription drug, and long-term care coverage only. Other health benefits such as dental and vision do not qualify for the stipend payment.
You will be required to provide proof of coverage and payment on an annual basis.
Thus, as I see it, the only difference is that if you use our services, you have to send receipts to Northrup's HR department,  the recommended agent does it for you.  We think our service, experience and background makes it worthwhile.
Medicare Part A
(#Hospital Insurance)
Medicare Part A Hospital coverage helps pay for care in hospitals as an inpatient,... skilled nursing facilities, hospice care, and some home health care (see publication # 10969) but not Long Term Care.  
Most people get Part A automatically when they turn age 65 at no charge, since they or a spouse paid Medicare taxes while they were working.  You need to sign up close to your 65th birthday, even if you will not be retired by that time. (If you are getting Social Security benefits when you turn 65, your Medicare Hospital Benefits - Part A - start automatically.) 
Here's a chart it's just a illustration and is NOT official  that shows what Medicare pays, the gaps in Medicare and what you may get when you add a Medi Gap Plan or Medicare Advantage to cover those gaps.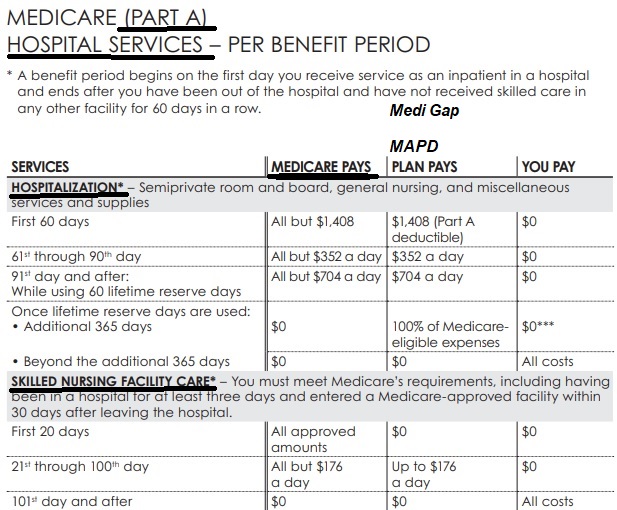 Part B - Outpatient helps Pay For Doctors' services, outpatient hospital care, and some other medical services that Part A does not cover, such as the services of physical and occupational therapists, and some home health care see publication 10969, but not Long Term Care. Part B helps pay for these covered services and supplies when they are medically necessary.
The chart below is a very brief summary.  Check the actual Evidence of Coverage for the plan you want to enroll in, Medicare & You or actual Medicare documents.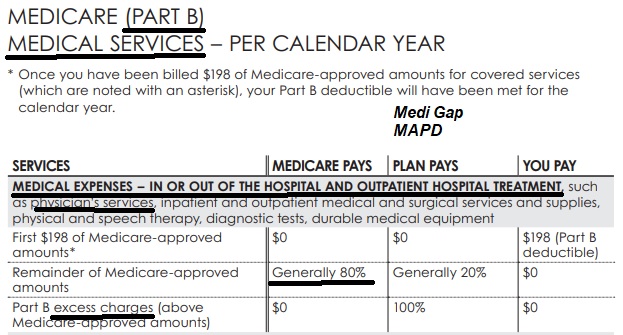 #Medicare10050 and You 2021   
Everything you want to know - Read Along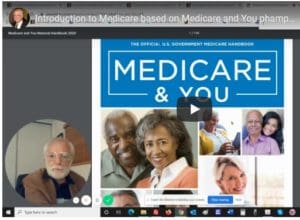 Your Medicare Benefits # 10116