Did the Insurance Company meet the Legal Requirements to cancel your policy for Non – Payment of Premium?
How might I successfully file an appeal?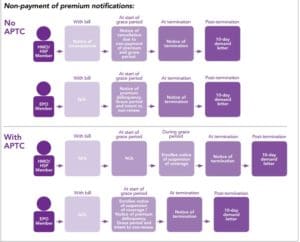 I got a refund check in the mail the other day. I called BCBS and they said it was a refund because I was late on a payment. I never received a cancellation letter. I never received bills from them either so that gave me no indication that my insurance had been cancelled. They said they realized this after they had an audit.
Any suggestions would be appreciated.
Our Reply
The specimen policy on page 39 deals with grace periods. The policy says may terminate, rather than shall. That's in your favor. Of course, I'm not an attorney and am unauthorized to advise on contract law.
I think you are going to wind up in a he said, she said situation with proving or not proving that late notices and your premium payments were sent or not sent. Were your checks cashed?
What dates does Blue Cross say they sent you late notices? US Mail or Email? What proof do they have they sent them.
According to the policy, you lapse 30 days after the late notice, not 30 days after premium was due.
See page 151 for more information on how to file a grievance. The policy says that you must provide ALL pertinent information and the details and circumstances of your concern or problem.
As an authorized agent, we help our clients with filing appeals, reinstatements, communications problems as a complimentary service as we are paid by the Insurance Companies to consult, enroll and service our clients. Here's instructions to appoint us in CA.
***
I just received a notice that my Anthem (non-exchange) policy was terminated because of lack of payment for February. I filed an appeal based on the fact that I thought that auto-payment had been set up.
Anything else I can do?
Will they reinstate my policy?
What documentation do you have to show that you had cause to think the auto pay was set up? Think of an appeal as a court case in front of an Administrative Law Judge. What evidence do you have? See our appeals page. If Blue Cross says no, do you have enough evidence to take this issue to Department of Managed Health Care?
The Blue Cross manual makes lapsing for non-pay look like a black and white issue of no reinstatements.
What does your Blue Cross Member portal show?
Do you have a copy of the automatic premium payment form that you filled out? Proof that you sent it? Proof Blue Cross rec'd it?
What about the alternate ways to pay premium?
There are always temporary plans.
Do you have an special circumstances to qualify for a special enrollment?
***
I don't have any documentation supporting my assertion that I thought I had set up autopay.
There aren't really any other options. One plus in Health Care Reform is no medical questions, guaranteed issue and no pre-existing conditions clause. The downside is one can only enroll at certain times.
Our Reply