Anthem 
We are having technical difficulties uploading the 2021 information.  
Please click on the Anthem Logo below to visit our affliate site or
email us [email protected] 
Authorized Blue Cross Anthem Agent # GFKGQSJSRZ
Blue Cross pays us, no charge to you
Instant Enrollment & Full Information
Click here to set a phone, skype or face to face complementary consultation 
Sample HANDWRITTEN request form  for us to be your broker, NO EXTRA CHARGE
Smart Phone
Iphone
Android?
Try turning your phone sideways to view pdf's and screen shots
Plan Highlights
Los Angeles & Orange Counties
Email us [email protected] for the rest of the State of CA or
visit our affiliate Anthem Website by clicking on the Logo above or below.
Summary of Benefits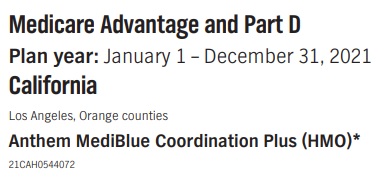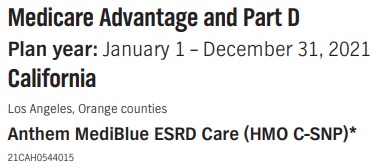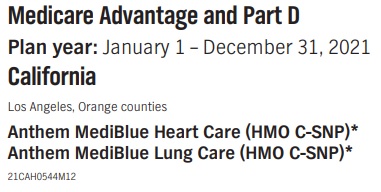 Diabetes C SNP
If you have Medicare and diabetes you can enroll in chronic condition special needs plans (C-SNPs).   Surveys show members experience better outcomes than you would in regular Medicare Advantage (MA) plan.  The survey used a claims-based approach to compare member outcomes on five clinical and utilization  measures, Avalere found that enrollees in a diabetes-focused C-SNP were:
• 22 percent more likely to have a primary care visit,
• 10 percent more likely to receive appropriate diabetes testing,
• 38 percent less likely to have an inpatient hospital admission,
• 32 percent less likely to have a readmission, and
• 6 percent more likely to fill (and refill) a prescription for an antidiabetic medication.
These findings held true when controlling for expected differences in enrollees' demographics and health status. The analysis suggests that C-SNPs can improve outcomes for beneficiaries with diabetes compared to non-SNPs.   AnthemInc.com * Avalere.com * 
Los Angeles & Orange  County
Email us [email protected]  for the most current documents or visit Blue Cross's affiliate website.
No extra charge for our services & expertise.
 

Summary of Benefits

–

 

Evidence of Coverage

 

See page 7 of the EOC Special eligibility requirements for our plan Our plan is designed to meet the specialized needs of people who have certain medical conditions. To be eligible for our plan, you must have diabetes mellitus.   NIH.Gov *

To determine eligibility for a special needs individual to enroll in a C-SNP, CMS requires that the C-SNP contact the applicant's existing provider – doctor to verify that the enrollee has the qualifying conditions. C-SNPs must reconfirm a beneficiary's eligibility at least annually.  CMS.gov * 

Sample Pre Enrollment Qualification Assessment

The Coverage chart is on page 50 of the EOC.  If it changes with annual revisions, just use the table of contents or search feature.

SNP FAQ's from CMS Site  
What is a Medicare MAPD Special Needs Chronic Condition #SNP – C-SNP Plan?
Medicare SNPs  Special Needs Plans are a type of Medicare Advantage Plan (like an HMO or PPO). Medicare SNPs limit membership to people with specific diseases or characteristics. Medicare SNPs tailor their benefits, provider choices, and drug formularies to best meet the specific needs of the groups they serve. Medicare.gov
A 
special needs plan (SNP)
 is a 
Medicare Advantage (MA)
 coordinated care plan (CCP) specifically designed to provide targeted care and limit enrollment to special needs individuals.A SNP may be any type of MA CCP, including either a local or regional preferred provider organization (i.e., LPPO or RPPO) plan, a health maintenance organization (HMO) plan, or an HMO Point-of-Service (HMO-POS) plan.  There are three different types of SNPs:
Chronic Condition SNP (C-SNP)
Dual Eligible SNP (D-SNP)
Institutional SNP (I-SNP)  cms.govSpecialNeedsPlans  *
Can I get my health care from any doctor, other health care provider, or hospital?
You generally must get your care and services from doctors, other health care providers, or hospitals in the plan's network (except emergency care, out-of-area urgent care, or out-of-area dialysis).
Are prescription drugs covered?
Yes. All SNPs must provide Medicare prescription drug coverage (Part D).
Do I need to choose a primary care doctor?
Generally, yes.
Do I have to get a referral to see a specialist?
In most cases, yes. Certain services, like yearly screening mammograms, don't require a referral.
What else do I need to know about this type of plan?
A plan must limit membership to these groups:
1) people who live in certain institutions (like nursing homes) or who require nursing care at home, or
2) people who are eligible for both Medicare and Medicaid, or
3) people who have specific chronic or disabling conditions (like diabetes, End-Stage Renal Disease, HIV/AIDS, chronic heart failure, or dementia).
Plans may further limit membership.
Plans will coordinate the services and providers you need to help you stay healthy and follow doctors' or other health care providers' orders.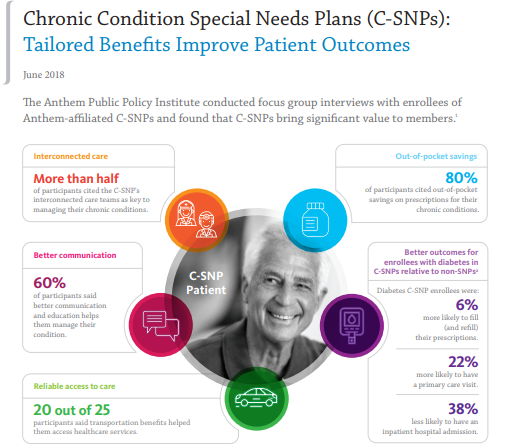 Scan Foundation Summary on Chronic Care Act 
Forbes  * Commonwealth Fund – Social Services
home-delivered meals, transportation for nonmedical needs, pest control, indoor air quality equipment (e.g., air conditioner for someone with asthma), and minor home modifications (e.g., permanent ramps, widening of hallways or doorways to accommodate wheelchairs).    Listening
telehealth is  the use of electronic information and telecommunications technologies to support long-distance clinical health care, patient and professional health-related education, public health and health administration. Technologies include videoconferencing, the internet, store-and-forward imaging, streaming media, and terrestrial and wireless communications.
Telehealth is different from telemedicine because it refers to a broader scope of remote healthcare services than telemedicine. While telemedicine refers specifically to remote clinical services, telehealth can refer to remote non-clinical services, such as provider training, administrative meetings, and continuing medical education, in addition to clinical services.
Learn More
Part C & D Enrollment Period
s
SNP is all the time

Special Needs Plans * #11302 Outdated 11.2011  *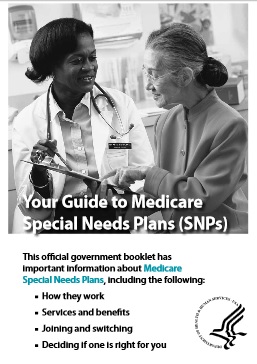 Medicare Coverage for Diabetes # 11022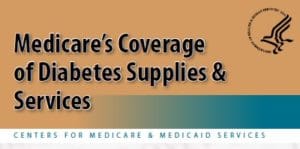 VIDEO's
Diabetes  Official Medicare VIDEO
Authorized Blue Cross Anthem Agent # GFKGQSJSRZ
Blue Cross pays us, no charge to you
Instant Enrollment & Full Information
Click here to set a phone, skype or face to face complementary consultation 
Sample HANDWRITTEN request form  for us to be your broker, NO EXTRA CHARGE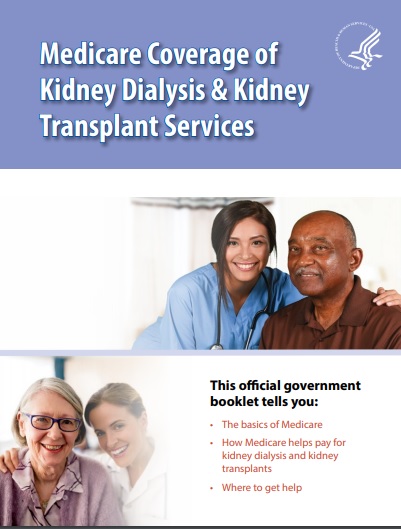 click to enlarge and view course CA Health Line.org
Transplant Costs & Insurance – Kidney.org  
Chronic Conditions List
Chronic alcohol and other dependence
Autoimmune disorders
Cancer (excluding pre-cancer conditions)
Cardiovascular disorders
Chronic heart failure
Dementia
End-stage liver disease
End-Stage Renal Disease (ESRD) requiring dialysis (any mode of dialysis)
Severe hematologic disorders
HIV/AIDS
Chronic lung disorders
Chronic and disabling mental health conditions
Neurologic disorders
Stroke  cms.gov/C-SNPs *  Medicare.gov *
Chronic care management services
If you have 2 or more serious, chronic conditions (like arthritis, asthma, diabetes, hypertension, heart disease, osteoporosis, and other conditions) that are expected to last at least a year, Medicare may pay for a health care provider's help to manage those conditions. This includes a comprehensive care plan that lists your health problems and goals, other health care providers, medications, community services you have and need, and other information about your health. It also explains the care you need and how your care will be coordinated. Your health care provider will ask you to sign an agreement to provide this service. If you agree, he or she will prepare the care plan, help you with medication management, provide 24/7 access for urgent care needs, give you support when you go from one health care setting to another, review your medicines and how you take them, and help you with other chronic care needs. You pay a monthly fee, and the Part B deductible and coinsurance apply.  medicare.gov/10050-Medicare-and-You
Medicare covers the substantial costs associated with End Stage Renal Disease (ESRD) for the vast majority of kidney patients. How will this coverage change under the newly implemented Affordable Care Act, also known as Obamacare?