Covered CA 2021 Individual Plans, Rates & Information
Less than 1% premium increase
2021
The preliminary rate change for California's individual market will be 0.6 percent in 2021, which marks a record low for the second consecutive year and follows California's reforms to build on and strengthen the Affordable Care Act.
Covered California's increased enrollment, driven by state policies and significant investments in marketing and outreach, has resulted in California having one of the healthiest individual market consumer pools and lower costs for consumers.
The impact of COVID-19 on health plans' costs has been less than anticipated as many people deferred or avoided health care services in 2020, and while those costs are rebounding, it now appears the pandemic will have little effect on the total costs of care in California's individual market for 2020 and 2021.
All 11 health insurance companies will return to the market for 2021, and two carriers will expand their coverage areas, giving virtually all Californians a choice of two carriers and 88 percent the ability to choose from three carriers or more. Covered CA Press Release * CA HealthLine *
IMHO it would be best to just wait till 11.1.2020.  That's when we will have ALL the bulletins & materials for 2021.  Open Enrollment starts then, not this "crazy" thing with early renewals.
​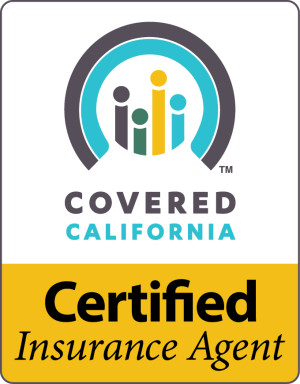 Covered CA Certified Agent  
No extra charge for complementary assistance 
Videos on how great agents are
Enrolling in health plans has helped people focus on their families and careers, and feel protected against unexpected medical issues.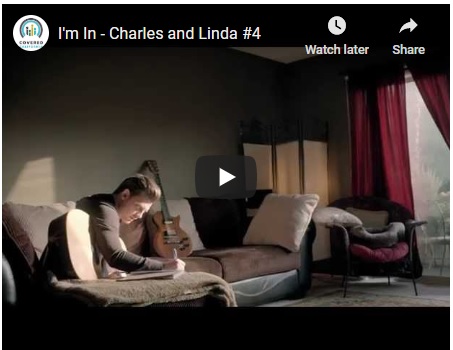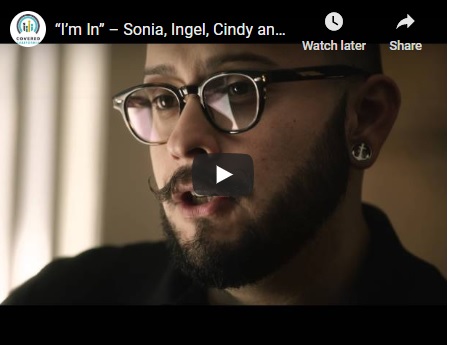 Renewal Procedures for 2020
The renewal period for members begins on Oct. 8, 2019.   Which is interesting as Open Enrollment isn't till 10.15.2019 and may change if AB 1309 gets passed.
To renew your health insurance for 2020, simply log in to your CoveredCA.com account or email us [email protected] for assistance.  Then click on the RENEWAL button to complete the renewal process. You may also use the Shop and Compare Tool to see your health plan options and rates.
It is important to look at your health plan during this renewal period because for the first time ever, almost a million people could receive additional financial help from the State of California to lower the monthly cost of health insurance. This means you may now qualify for financial help even if you didn't in the past. Or you may receive even more help than you did before! The amount of financial help you may get depends on your income, where you live and your family size.
When you renew your health insurance plan, you will be able to:
Review and update your Contact Information and Application.
Compare different plans to get the best coverage for your needs and budget. All plans, bronze to platinum, offer the same level of high-quality health care. The only difference is you choose the best payment option for you!
Find out if your costs have changed, or if you could receive financial help this year from the State of California to lower your monthly premium. If you previously have not applied for financial help, you will be asked if you would like see if you qualify for help. If you select "YES" then "Save & Continue," you will be guided through sections of your application to provide more information.  
Make sure the doctors or hospitals you want are included in the plans you are comparing by using our  Shop & Compare Tool, while shopping within your application or by contacting us – [email protected]
For questions or additional help renewing your health plan check our website.  While we try to be humble, we are the experts.
IMPORTANT: If you take no action to actively renew or change plans, you will automatically be enrolled, 30 days after the date on the renewal notice you received in the mail, into the same plan you had the previous year and using the most recent household size and income information you gave us. Covered CA.com *  Insure Me Kevin.com  
2020 Information
HISTORICAL 
Covered California unveiled its preliminary rates for the upcoming 2020 coverage year, revealing how consumers will benefit from new state initiatives, and announced that a major carrier – Anthem Blue Cross will be expanding into new areas and providing consumers with more choice.  July 9 Press Release * July 19 Press Release *
Quick Information on the 2020 Preliminary Rates 
The rate change was driven lower due to two new state initiatives designed to improve affordability and encourage enrollment.
An estimated 922,000 consumers will be eligible to receive financial help subsidies from the state which will lower the cost of their coverage. This includes, for the first time, many middle-income Californians who were previously ineligible for assistance because they exceeded federal income requirements cap from 400 to 600% of Federal Poverty Level as well as low-income Californians will also get additional help on top of the federal tax credits that they already receive.
Restoring the individual mandate was a key factor in driving premiums lower by between 2 and 5 percent per carrier with an average of 3.2 percent.
All 11 of Covered California's health plans will be returning for 2020, and a major national plan – Anthem Blue Cross – will be re-entering several parts of the state.  Blue Shield will expand also.  As a result, 87 percent of Californians will be able to choose from three carriers or more and 99.6 percent of consumers will have two or more choices.  LA Times 8.9.2019 *
Beginning in October, Covered California consumers will be able to visit our calculator  and enter their personal information to learn about their gross premium, federal and state subsidies and estimated price for 2020. Until that time, the rate information announced today only reflects the statewide average.
Here's Covered California's  regional pricing data for 2020 .
Links & Resources
2020 Preliminary Rates
Click here to get an instant proposal including APTC Subsidy Calculation
Set a phone, Skype or Face to Face  meeting to review the proposal
Guaranteed Issue - No Pre X Clause
Quote & Subsidy Calculation
Find out your premium with Covered CA
or Direct without Subsidies

No charge for our complementary services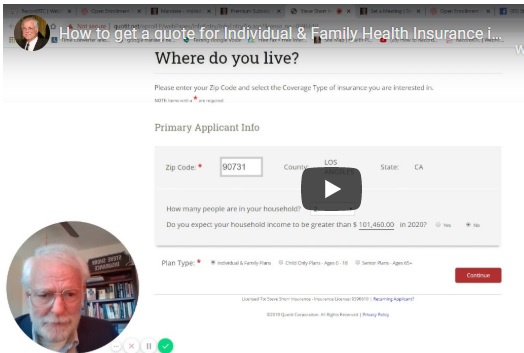 How to use our FREE Quote Engine, Subsidy Calculator  and get the MOST from the experience.
When you get a FREE quote, you can also see the benefits, view actual brochures, MD and Hospital Lists all ONE easy process with no obligation & it can be anonymous.   Enter your zip code, date of birth, family - household taxation relationships (MAGI - Definition),    Estimated MAGI - Modified Adjusted Gross Income for the upcoming - current year.  Last years tax return only gives an idea so that Covered CA can approve your advance tax credit to help pay premiums.
If you qualify for tax credits - subsidies and want them in advance (Pros-Cons) of filing your taxes click on "Health On Exchange" - Covered CA, illustrated below.
This website and are individual consultation are provided to you FREE of Charge!  We are paid by Covered CA and/or the Insurance Companies to help you.  When you fill out the Covered CA ONLINE Application, just appoint us as your agent under Find Help in the Upper Right Hand Corner so that we get paid for helping you.  Click here for screen shots for more detail of how to do it.  If you prefer, you can pay us a consultation fee in lieu of appointing us as your agent, for educational services only.
You can then see all the quotes on the exchange, showing the Cost Share Reduction - Enhanced Silver  if available, subsidy - tax credit amount and your net premium.    If you click "Off Exchange" you will see more plans and companies which  may have larger provider lists.   Scroll down for more screen shots.
Then click on "View Plan Details" - "View Doctor's & Providers" - to compare and get more information.  Please note that the quote engine does not show enhanced silver, but shows silver at 70%.  Check our chart for the better silver coverage.
Learn more about the right to change plans when Silver Level Enhanced Changes
To apply, click on apply now or use the links in the right hand column, ON THIS PAGE, but it will have you redo the quote for that specific company.   The price is the SAME, no matter if you use us, go direct to Covered CA or the Insurance Company, as mandated by law!  If applying through Covered CA, be sure to sign the form to appoint us as your agent.  It's not all the easy to figure out how to do it on their website.
If you have any questions email [email protected] or call us 310.519.1335