Narrow Networks - Myths & Facts 
Click icon below to enlarge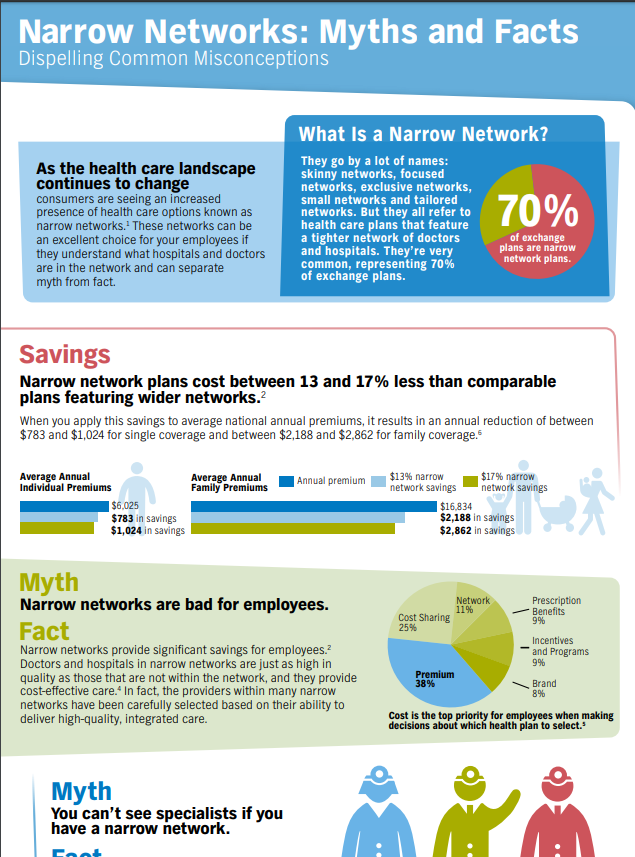 In & Out of Network - What's a network?  HN Video
Provider Lists – Definitions HMO, Tiered – PPO, PPO, EPO
Anthem Blue Cross Provider Lists –
What MD's can one see?
Network details:
PPO and HMO
PPO: With a PPO, you will be able to see any provider they want without a referral because no primary care doctor gatekeepers are required. Also, PPOs provide coverage for both network and non-network providers — though they'll still save when you stay in the network.
Tiered PPO: BC Tiered PPO plan is different from our standard PPO as it offers savings through tiered hospitals. Hospitals in those networks are split into two categories: Tier 1 & 2 List. You pay a lower cost share for hospitals in Tier 1. Plans using tiered hospitals will have "tiered" in the network name. Definitions from 2016 Agents Individual Plan Guide
EPO Plans are now Tiered PPO Plans
The exclusive provider organization (EPO) is now a tiered preferred provider organization (PPO) plan. If you are on a 2015 EPO plan you will be transitioned to a Tiered PPO plans effective 1/1/16 (unless you choose a different plan). While EPO plans offered in-network benefits only, the new Tiered PPO plans will offer both in-network and out-of-network benefits. That means you can have the flexibility of a PPO with the lower prices of a two-tier hospital network, plus out-of-network benefits. Of course, you pay less when you stay in the Blue Cross network. But if you need to, you have the flexibility to go out of the network.
In So Cal we offered EPO and the hospitals were tiered. In 2016 we will offer a PPO with the same tiered hospitals. So CC states we have to maintain our tiered structure. BC RSM
HMO: With an HMO, your clients have to choose a PCP to manage their care needs — including getting referrals to see other doctors. HMOs don't offer non-network benefits, except for emergency and urgent care or when a service is preauthorized. If they go outside the network for any reason, they'll have to pay 100% out of pocket.
On-exchange (standard) plan names:
Anthem + metal tier + actuarial value + product type (Example: Anthem Bronze 60 PPO)
Off-exchange (standard mirrored) plan names:
Anthem + metal tier + actuarial value + "D" (indicates may be purchased directly from Anthem) + product type
(Example: Anthem Bronze 60 D PPO)
Off-exchange only (nonstandard/nonmirrored) plan names:
Anthem + metal tier + "Pathway" (to easily identify them as off-exchange only) + plan type + deductible and
coinsurance values (Example: Anthem Bronze Pathway EPO 5000/25%) 2015 Producer Manual
Pathway is the same on and off the exchange. We are required by Covered CA to list it as Pathway X on provider finder. Email dated 11.17.2015
Earlier Definitions
Pathway PPO: Preferred Provider Organization (PPO)
plans include access to a network of hospitals and providers who contract with Anthem to offer their services at pre-negotiated discounted rates. Benefits for in-network providers are based on a maximum allowed amount. In-network providers have agreed to accept the maximum allowed amount as payment in full. You may also seek treatment from providers who are not part of the PPO network. However, if you choose an out-of-network provider, your share of the cost may be a lot higher. You will also be responsible for any amount not paid by Anthem. With plans in this type of network, you will not need a referral from your primary care physician (PCP) to see a specialist. BC Brochure PPO is up north and Inland Empire. Tiered PPO is LA, Orange, SD and San Fran. Per our BC RSM email
Pathway HMO: Health Maintenance Organization (HMO)
plans include contracted hospitals, clinics, doctors and other providers. With this type of plan, only HMO providers can provide you health care. If you select an HMO plan, you will also need to select a primary care physician (PCP). Or, you can have one assigned to you. The PCP will be your "gatekeeper," or person who evaluates your needs and access to health care. You will need a referral from your PCP to see a specialist. Only services received from an in-network provider are covered under this plan. In case of an emergency, coverage will be given even if you are outside of this network. (Page 26 2015 Brochure)
Pathway X Tiered (EPO):
An exclusive provider organization (EPO) plan is a type of managed care plan. The EPO network is made up of a select group of care providers, which includes PPO providers too! (Flyer) With the exception of an emergency situation, you will only get benefits from an in-network provider if your plan is part of this network. With these plans, you can see an in-network specialist without a referral from your primary care physician (Page 15 2015 Brochure) See Flyer
Whether the plan is being offered Off- or On-Exchange, it comes with the same network with the same choice of doctors and providers. (Page1 Broker Plan Guide Individual Market 1.1.2015)
♦ Tier 1 & 2 List (Rev 9.2015) ♦ Insure Me Kevin.com Blog ♦ (More)
How to use the Rx Formulary Finder
Visit our main Blue Cross Anthem Page
emergency situation – no balance billing

What is a provider networkWhat is a Provider Network
In & Out of Network - What's a network?  HN Video