My Medi-Cal
How to get the Health Care You Need
24 pages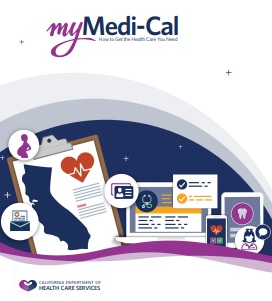 Medi Cal Explained CHCF 
More
February 2019 17 pages
10 Essential Health Benefits
Medi Cal Benefits
Western Poverty Law – Exact Legal Rules on Coverage for Low Income Californian's
Historical Guide 2006 CHCF 174 pages
CA State Senator Steven Bradford 35th District 
Report changes as they happen - within 30 days!
Visit our webpage on how to report changes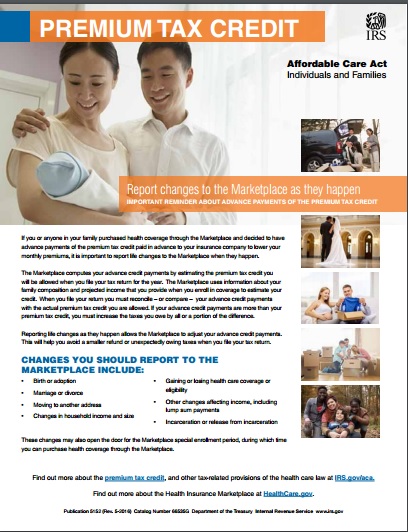 Covered CA's Webpage on Reporting Changes
FAQ's on Premium Subsidy & Projected Income
I am not getting APTC, and will get PTC next year, at tax time,
does it matter what I make monthly; in other words, if one month I make under $1,833, is that relevant?
***I understand how confusing it is, expecially when Covered CA asks so many questions about monthly income.  The point is when you file your taxes, what goes on line 37* Magi Income.
Although, Medi-Cal wants to write everyone and their calculations are based on monthly.
only the annual sum is important.
***Right. See MAGI Definition
monthly under 1833 for the month.
***Please talk to me in the bottom line MAGI income for the end of the year.    I don't know how many are in your household.  Now I have to multiply 12 x $1,833 = $21,996 if you have a household of 2 it's borderline, but you are right, that would put you in Medi-Cal.
Should we make it a point to have at least that much monthly income for the remainder of the year?
***The monthly amounts are all hocus – pocus with smoke and mirrors.   What counts is the annual.  Please use our quote engine and see what happens with your income on an annual basis.  Some people at Medi Cal might disagree.
Did you want to look at getting Enhanced Silver – Cost Sharing Reductions?
Do you sell health insurance not run through covered california?
***Yes.   Get quotes here.  If you want the subsidy though, you must have Covered CA.   Click here for instructions on how to appoint us as your agent, no extra charge.   Did you like our answer better than calling Covered CA?
income from the IRA – Annuity,
***Line 15 A of the 1040
Are you saying that I would drop into Medical [Medi-Cal] if the monthly income dropped below $1,833 for the next month or even four months, despite the fact that the annual quota has already been surpassed.
***No, not at all.   It's all annual MAGI.  This monthly is for people who want subsidies and can't figure out the annual amount they will put on line 37*   Medi-Cal does want to write everyone and not let them out.
You said the annual income is what matters,
***Right.  But please do not quote me.  I only read the official IRS publications, namely publication 974 and  Covered CA bulletins.
but the part I described above and your response confused me. Are you saying that the annual is what matters as long as you make a minimum of 1833 for each month of the year?
***Yes.   Please, forget the monthly amount.  It's just crap for those who can't figure out what their MAGI* incomewill be on line 37.
How about appointing us as your agent so that we can get paid to help you.   Sure, Covered CA says find free help, but it's not free.  It's slave labor until I get appointed.  There is no extra cost to you.
Since you are not taking the advance premium tax credit and if I understand you correctly, are not taking it in advance next year, just put that down and you shouldn't have to enter an income amount.
***Please use our quote and subsidy calculator.  You will note, it only asks for annual income.
****
As I understand it, insurance sign up starts in November.
***Right, now it's October for a January effective date.
I have not gotten a subsidy this year, because my projected income is above 63k.
***That's what the chart shows for a household of two, but it's best to get a complementary quote and subsidy calculation.
I did not want to drop into medicare [Medi-Cal] if I made less than $1,833 in a month).
***MAGI Income is ANNUAL – what shows on line 37 of your 1040.
MAGI Income – Medi-Cal Qualification?
However, I definitely do not want APTC. [Advance Premium Tax Credit]
***That's what the brochures on the above right and on this page talk about.  Take the credit now or later?  If your income drops below $34k you may qualify for Enhanced Silver Cost Sharing Reductions.
If I renew for CC in November and I indicate that I don't want APTC, would I still have to provide a breakdown of projected income, along with documentation?
***No, note the new rule I just found that says Covered CA – the Exchanges MUST vette everyone who asks for Premium Credits.  (42 U.S. Code § 18081  * CFR § 155.320)
When you asked if I would give up the subsidy, did you mean APTC, or do you mean the PTC that one gets as a refund on taxes.
***You have to stay in Covered CA to get either subsidy.
Does one have to fill out the financial part of the [Covered CA] application for next year in order to get the PTC on the tax refund following the benefit year?
***Yes, as Covered CA must vette everyone under 42 U.S. Code § 18081  * CFR § 155.320
Again, I have heard different opinions on this.
***That's because very few people actually read the CFR's, actual IRS documents and the documents don't always refer to the other relevant rules, codes & laws. Check our main page on take it (APTC or PTC)  now or later.