I can type anything I want
Guaranteed Issue Rights for Medi-Gap
when you enroll beyond age 65 for Part B as you had
Qualifying #Employer Coverage
Termination of Employment or Retirement Plan
You have the right to purchase a Medigap policy for 6 months if your, your spouse's or a family member's current employment or retirement plan coverage terminates, or you lose your eligibility due to divorce or death of a spouse or family member. The 6-month period to apply for a Medigap policy starts on the date you receive notice that your health benefits will end. If you do not receive advance notice, the 6-month period starts the date the benefits end or the date of your first denied claim. This protection of California law applies whether your group health benefits were primary or secondary to Medicare.
Loss of COBRA or Cal Cobra
You are also entitled to this protection when you become eligible for COBRA  (Our webpage on COBRA)  or have used up all your COBRA benefits. It does not apply if you stop paying COBRA premiums before you use all your benefits. COBRA benefits are always secondary to Medicare benefits unless you have ESRD and are in a 30-month coordination period. For more information on COBRA, see Medicare & Other Health Insurance.  CA HealthCare Advocates *
COBRA and Medicare are VERY VERY confusing.  Double check with us on your specific situation!!!

You received notice of termination, or your coverage was terminated from any employer-sponsored health plan, including an employer-sponsored retiree health plan. This includes termination for loss of eligibility due to divorce or death of a spouse.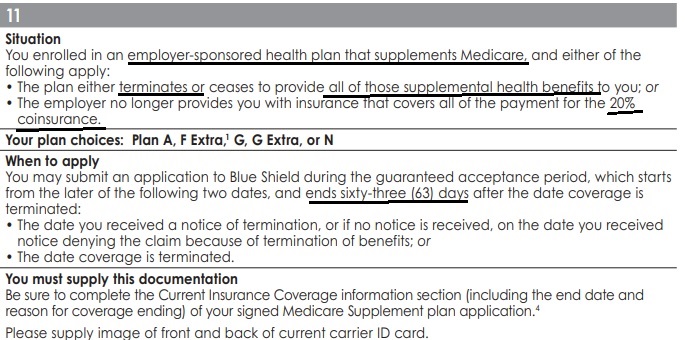 • The plan either terminates or ceases to provide all of those supplemental health benefits to you;
or
• The employer no longer provides you with insurance that covers all of the payment for the 20% coinsurance.
Why is there Both situation 4 and 11?