Kaiser Proof Form & Requirements
This is now an Historical Page
Please start your research into Special Enrollment Periods by reviewing our main page of California Code of Regulations on Qualifying Events

See the Insurance Company Plain English brochures at right for proofs required
What and how does Covered CA and the Insurance Companies make one PROVE that they had a Material Violation so as to allow one to enroll during the year, without waiting for Open Enrollment?
What about Proofs required for Other Special Enrollment Reasons – Triggers
Covered California, wants to tighten the rules for special-enrollment periods by making consumers provide documentation proving they're eligible.  There are concerns that some people are waiting until they get sick to sign up for health insurance during a special-enrollment period, driving up costs.  Some believe the difference can be attributed partly to people who are gaming the system.  In the future consumers may   have to show documentation –- such as a marriage license or birth certificate.  CA Health Line 2.19.2016   New York Times 2.25.2016
Verification tool kit  8.1.2016   ♦ Insure Me Kevin.com
Screen Shot from Health Net Application.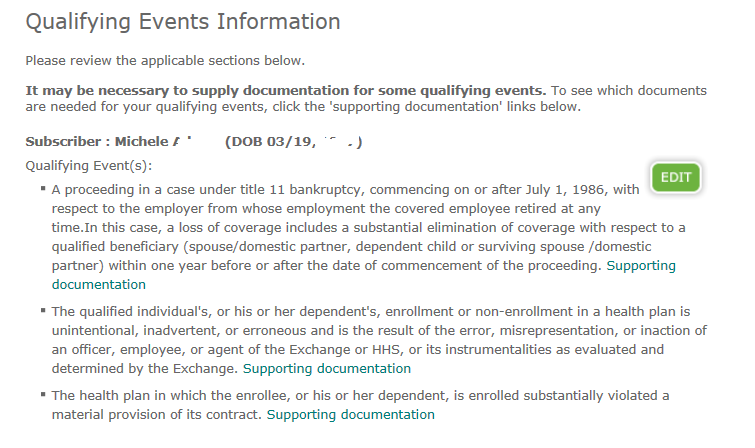 In the next screen, you will be asked to upload a pdf.   Check our Class Action Lawsuit page, we don't know for sure, it the pdf's there will qualify, but it's worth a shot, isn't it?
Note also that we as your agent are NOT allowed to sign the application for you.  The application may be considered part of the Contract – Policy.  The Insurance Company and Covered CA are relying on your statements to issue coverage.  Sure, Medical History – Pre-Existing Conditions are no longer asked, but there are other warranties to be concerned with.


On the other hand, Direct with Insurance Companies are truly doing the audit…
Subject: Kaiser Permanente Enrollment
Date: Thu, 25 Sep 2014 12:55:48 -0400
If you have experienced a triggering event, we will need a letter from you that describes the triggering event along with your application and documentation supporting your triggering event. Please submit your letter and documentation (copies only) along with your application and first months premium. If we do not receive a letter within 10 calendar days, the application will be canceled. Applicant may reapply and submit the letter regarding the triggering event, but he/she must do so within the 60-day special enrollment period
By submitting a signed application, letter, and documentation, you are confirming that a triggering event occurred. It is important that we receive your letter and documentation because we will rely on them to establish that you are eligible to enroll during a special enrollment period. If we determine that the triggering event did not occur, we may take legal action, [to ask you to pay for medical services rendered?]   including but not limited to, canceling your coverage retroactively.